Oops, sorry I'm a week behind so let me do two Lasang Pinoy Sunday entries this week. This entry is for last week's theme which was BAON. Baon means something you take with you. It could be lunch, snack or dinner, if you've put it in a container to eat elsewhere, that's your 'BAON'.
This first photo was Jade's lunch, her attempt at making bento for the Lasang Pinoy's Bento theme.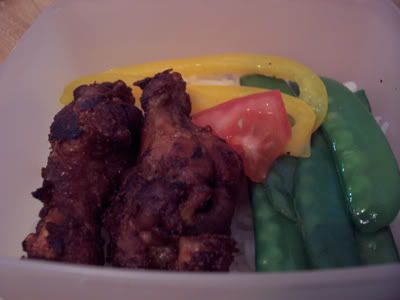 More often than not, my lunch is usually left overs. I just happened to remember about LaPiS last week and realized I didn't have any photo to submit. By this time, I was almost done with my lunch and I only had a couple of spoonfuls to go. I decided to go ahead and photograph it anyway. This was my pitiful lunch, eaten at my desk while blogsurfing. I had made chicken soup with rice AKA Arroz Caldo for which I fried up some deliciously crunchy garlic. Too bad you couldn't see them floating in the rice anymore.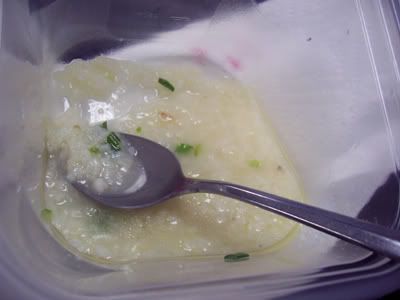 Want to see what everyone else is having for lunch? Click here and check the comments section to see everyone else's submissions.