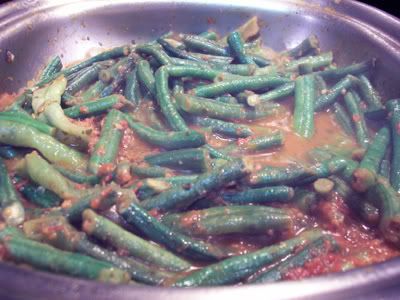 These are the green beans (sitaw) from our garden. These are the yardlong, asparagus, snake beans variety but you can also use regular string beans for this recipe. There was a handful of them left after Jade used some for a stirfry dish so I decided to cook them up when I fried up the okra on the previous post. I had some leftover salsa so I decided to make a sofrito and cook it in that.
What's Sofrito? Sofrito simply means a sauce that is cooked down. It is a common cooking method in Latin America and also in the Philippines. Sofrito is basically onions, garlic and tomatoes that is chopped and then cooked down. You can find more detailed descriptions in Wikipedia's definition of Sofrito.
The sauce I made previously consisted of:
Tomatoes
Onions
Garlic
Lime Juice
Italian Parsley
Basil Leaves
1 hot chili pepper
Salt & Pepper to taste
Put all the ingredients in a food processor and process until you have a fine sauce. You can use this just like salsa for dipping bread or chips in or you can use it as sauce for other dishes.
Here's how I used the leftover salsa to cook the beans:

Heat a couple of tablespoons of Olive Oil in a pan and add the blended sauce.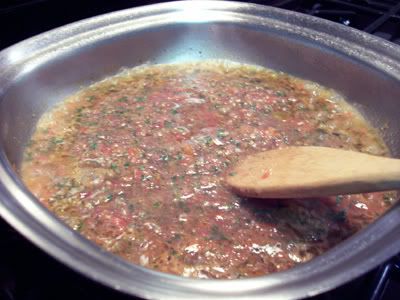 Let it cook until almost all the liquids have evaporated and it is starting to look thick.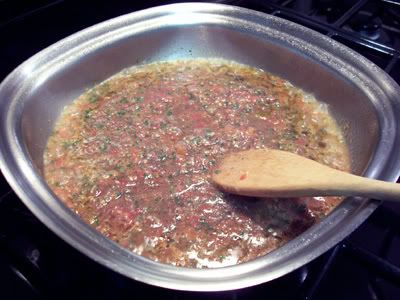 Add the beans and let it simmer for five minutes until the beans are tender.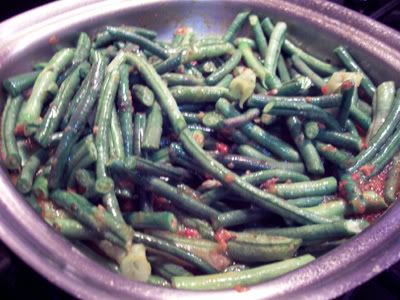 Serve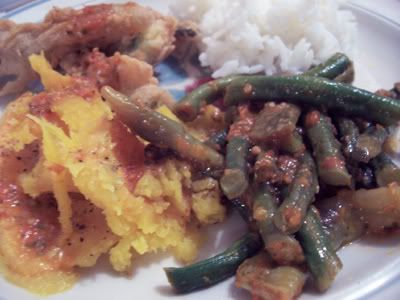 This was my vegetarian plate. I had cooked fried chicken and I just didn't feel like having any. I'm tired of my own fried chicken 🙂 What's on this plate: this spicy beans, baked butternut squash, and fried okra. The fried okra and baked squash were pretty bland so I drizzled some of the sofrito sauce from the beans over everything. It was yummy and delicious!