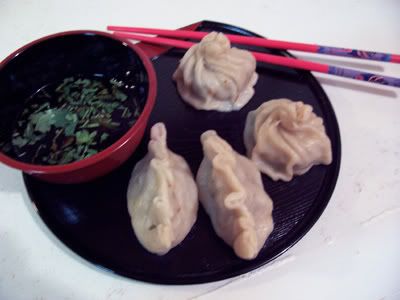 I was so glad to finally see a challenge that I was familiar with. This month's challenge for Recipes to Rival is shrimp dumplings! No big deal, right? WRONG! We've made potstickers, shumai and eggrolls, sure. But have we ever made our own wrappers? That's where the challenge comes in. This was the first time we've ever made our own wrappers and it was fun and challenging and even exasperating at times.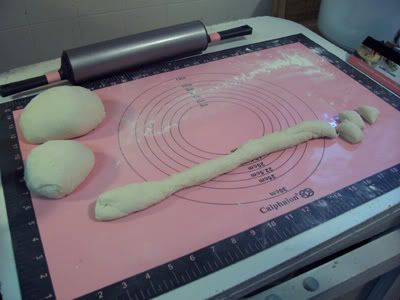 The first challenge was getting the dough thin enough. Until we figured out to not be afraid of using more flour to keep it from sticking all over the place. After we prepared the dough according to the recipe below, we divided the dough first in half then again. Take one fourth of the dough, roll it out into a one inch thick column then cut it into one inch lengths. Take each piece, roll it into a ball, flatten it then roll it into a 3-4 inch disk, as thin as you can get it without it falling apart.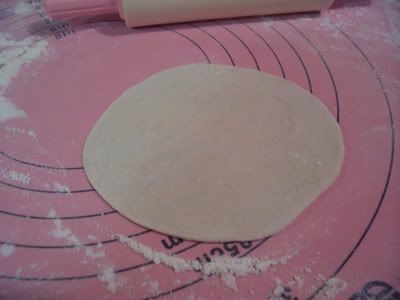 We found out that as thin as this dough is on the photo, it still wasn't thin enough. I wish we could have rolled them out even thinner.
We made two types of fillings since we have The Clone who doesn't eat anything seafood. So we made some with just pork and some with shrimp and pork filling. How we differentiated: (the girl does not like getting confused or tricked into eating seafood) we wrapped them two ways. The round 'sacks' were shrimp and pork and the traditional looking half fold are the pork only fillings.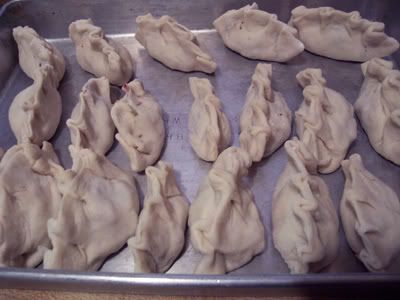 Oh, I did say something about exasperating didn't I? Here's the deal… when you're making your disks of dough, make sure they are more floured than you think you'd need. I decided to roll out all the dough first and stack them then fill them. After the first few disks, my daughters and I got rolling, literally and soon had a plateful of wrappers.
We then sat down to start wrapping, which also was problem free (we thought). The girls wrapped the pork and I was wrapping the shrimps. Then, after about the top ten wrappers, we realize they were all stuck to each other! No matter how carefully we tried to separate the wrappers, it was just not working. They started stretching and tearing and I just wanted to cry! Instead, I just balled all the wrappers up together again and started over. So while I got started rolling wrappers over again, the girls filled them almost as fast as I could finish rolling them out. We weren't about to stack them up again!
We made these dumplings over a week ago and we just finished the last of them tonight. The first night, we steamed them just as the recipe instructed. Since we made 48 good sized dumplings, we froze the rest of them first in the cookie sheet and when they were totally frozen we transferred them to plastic freezer bags. That way, they were all separate and easy to pull out just the number we want to cook each time. Since then, we've cooked dumplings soup and potstickers tonight.
If you'd like to challenge yourself too, try out this recipe:
Shrimp Dumplings

Prep Time: 20 min
Cook Time: 20 min
Makes 24

Dumplings
4 large shiitake mushrooms
3 scallions
1/2 garlic clove
8 ounces shrimp, peeled and deveined
6 ounces ground turkey
2 teaspoons soy sauce
1 teaspoon dark sesame oil
3 dashes of hot red-pepper sauce
24 dumpling wrappers (see recipe below)

Dipping Sauce (optional, you can choose your own though this one is very tasty!)

2 tablespoons soy sauce
2 teaspoons rice wine vinegar
1/2 teaspoon honey
1/2 teaspoon dark sesame oil
1/2 teaspoon minced fresh ginger or 1/8 teaspoon ground ginger

1. Coat a steamer basket with a non stick cooking spray and set aside. In a small saucepan, soak the mushrooms in boiling water to cover for 15 minutes, then drain. Remove and discard the stems; cut the caps into quarters.

2. In a food processor, combine the mushroom caps, scallions, and garlic and whirl until coarsely chopped. Add the shrimp and whirl until finely chopped. Transfer to a medium bowl and stir in the turkey, soy sauce, oil, and red-pepper sauce.

3. Place 1 tablespoon of the shrimp mixture in the center of each dumpling wrapper. Dampen the edges with water, the fold up the sides around the filling, pleating the edges. Place in the steamer basket, leaving 1/2 inch of space between the dumplings for the steam to circulate. Set over boiling water, cover, and steam for 15 minutes.

4. For the dipping sauce, in a small bowl, whisk together the soy sauce, vinegar, honey, oil, and ginger. Serve the dumplings hot with the dipping sauce.

Personalize it!
For a different flavor, use ground pork in place of the ground turkey. You can also drop a pinch of chopped scallions into the dipping sauce if you like

HOT WATER DOUGH:
4 cups all-purpose flour
1/2 teaspoon salt
1 1/2 to 1 3/4 cups boiling water

In a stainless steel bowl mix flour and salt. Slowly add hot water to flour in 1/4 cup increments. Mix with chopsticks until a ball is formed and the dough is not too hot to handle. On a floured surface, knead dough until it becomes a smooth, elastic ball. Place back in bowl and cover with a damp cloth. Allow to rest for at least 1 hour. Working on a floured surface with floured hands, roll out dough to form a long 'noodle', 1-inch in diameter. Cut 1/2-inch pieces and turn them over so the cut sides are facing up. Flatten with your palm and roll out thin using a rolling pin. The dumpling wrapper should end up about 3 inches in diameter. (2)

Source: Extraordinary Meals from Ordinary Ingredients, ©2007 The Reader's Digest Association, Inc.
Check out other Recipes to Rival participants. Thanks to Heather of Randomosity and the Girl  and Temperance of High on the Hog for hosting this round of Recipes to Rival.