This is the Easy Baba Ganoush recipe we made with the homemade tahini and to dip the lavash crackers in.
Baba Ganoush is a dip made from roasted eggplants common in the middle east. Jade who loves Middle Eastern cuisine orders this with her koobideh all the time. The use of roasted eggplant in this dish reminds me of the Filipino Eggplant Salad but of course the flavors are totally different. If you have eggplants that you need to use up, as we did when the eggplants from our garden all came in at the same time, try both the eggplant salad and this baba ganoush. They are both great with any grilled meat, I think.

INGREDIENTS:
1 medium Eggplant, peeled and cubed
2 Tablespoons Olive Oil
Juice of 1 Lemon [or 2 Tablespoons Red Wine Vinegar]
2 Tablespoons Tahini
2 Cloves Garlic
¼ Salt
2 Tablespoons Fresh Parsley
If you are going to grill the eggplants, there is no need to peel it first. Simply grill and peel off the charred skin.
I baked my eggplants in the oven this time so I first peeled it and cubed it. To remove that bitterness or that weird itch on your tongue after eating eggplants (not as much on the Asian/Japanese variety), place the eggplant in a colander and sprinkle with salt liberally. This will draw out some of the liquid and supposedly some of the bitterness with it. Let it soak in the salt for about 20 minutes. Make sure you put something under the colander to catch the excess liquid. After 20 minutes, it should look sweaty like this…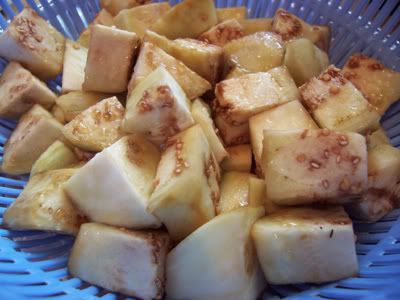 Rinse the eggplants thoroughly with cold water and pat them dry with a paper towel.
Place the eggplants in a large baking dish and toss with oil. Bake at 400 degrees F for about 25-30 minutes or until the eggplants are cooked through.
Put the baked eggplant and the rest of the ingredients in a food processor and blend until smooth. Reserve some of the fresh parsley to garnish the top if you wish. I also drizzle a bit more olive oil on top of the baba ganoush before serving.