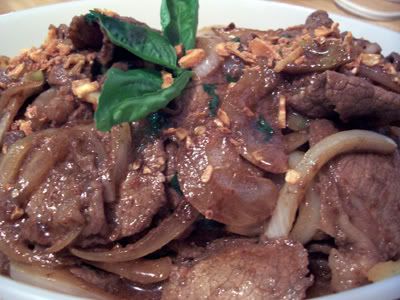 A quick and easy dinner like a stirfry is the working mom's savior. I work five days a week and don't usually get home until six o'clock in the evening. Some nights, when their homework isn't too much, the girls would cook dinner or at least get it started for me. But most nights, especially on days when I have been more disorganized than usual, I may not even have a meat defrosted to cook. This is when it helps when you have smaller chunks of meat that can quickly defrost in the microwave.
This beef strifry is a weekday fare just because round roasts are so readily available and easily defrosted. I keep one or two roasts in the freezer for quick weekday stirfries. This is one of them.
The most important thing to remember with most stir fries is to have all your ingredients ready. There's a fancy name to it like mis en place or something like that. Basically, it means get all your stuff ready before you start cooking 🙂

INGREDIENTS:
2 pounds lean Beef, sliced thin
1 Vidalia Onion, sliced
1 Banana Pepper and 1 Tabasco pepper, sliced
¼ cup Basil Leaves, chiffonade (sliced into thin strips)
4 Tablespoons Oil
Fried Garlic for garnish, optional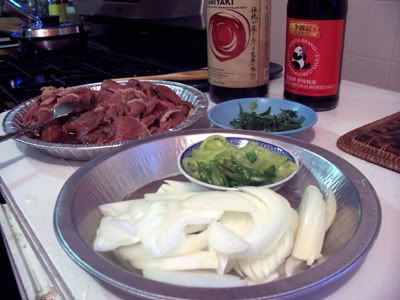 MARINADE:
Juice from 1 Lemon
½ Tablespoon Garlic Powder
1 teaspoon Red Pepper Flakes
¼ cup Soy Sauce
COOKING SAUCE:
Left over marinating liquid
1 Tablespoon Teriyaki Sauce
1 Tablespoon Oyster Sauce
1 Tablespoon Brown Sugar
Mix the beef with the marinade mixture and let it sit for 30 minutes while you prepare the other ingredients.
In a wok, heat two tablespoons of oil until smoking and sear the beef in batches. I seared one fourth of the beef mixture at a time then set it aside in a separate plate. Cover to keep warm while searing the remainder of the beef. Add another couple of tablespoons of oil if needed.
Add the marinating liquid and the rest of the cooking sauce into the pan and let it come to a boil. Add the meat back in the wok and let it simmer until almost all the juices have evaporated. Add the onions and peppers and stir fry until all the juices have almost dried up and the onions are slightly softened. Stir in the basil just before taking it off the heat. Garnish with fried garlic and serve.