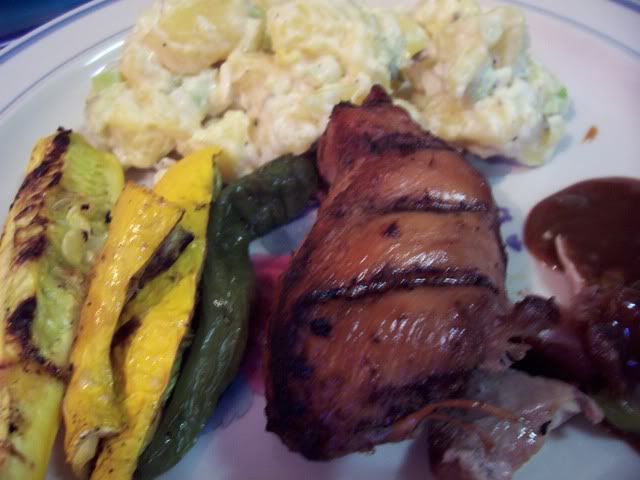 I started to call this a faux chicken satay but I didn't want to insult any satay purists out there. So basically, this is something like a Thai Chicken Satay but not really 🙂
I cooked this on the grill a couple of weeks ago before the weather turned too chilly, our last hurrah on the barbeque grills. These thighs are the boneless and skinless variety we get at Costco and were first marinated overnight. So here's what you do:
MARINADE:
1 cup Soy Sauce
Juice of 3 limes or lemons
½ cup brown sugar
1 teaspoon red pepper flakes
3 cloves garlic, minced
1 teaspoon fresh ginger, minced
1 teaspoon turmeric powder
Mix all the ingredients together. Add the chicken thighs to the marinade and let it sit in the refrigerator overnight. I used about 3 packs or 15 chicken thighs.
The next day, simply grill the chicken until they are done and serve with the following sauce which is a marriage between tomato based barbecue sauce and the peanuty satay sauce.
PEANUTY BBQ SAUCE
½ bottle of Honey Barbeque sauce (any brand)
1 cup creamy Peanut Butter (any brand)
1 cup Coconut milk
3 Tablespoons brown sugar
1 teaspoon curry powder
½ teaspoon red pepper flakes
Rind and juice from 1 lime or lemon (I prefer lime)
Combine all of the ingredients above in a small saucepan and simmer for 20-30 minutes until thickened. Try not to boil it too hard as the coconut milk has a tendency to curdle. Adjust your seasonings, add more salt or sugar if needed. Maybe you'd like it more spicy. Don't be afraid to add more pepper flakes.
I was reading Lisa's food blog not too long ago and learned that you can win $400 for your favorite BBQ recipe so I think I'll enter this one. It's great grilled in the oven too!