My gosh, I think I can blog again! Some people blogged all through election night but I couldn't do anything all night but stare at the TV; first, holding my breath and waiting for the results then when it came, just sitting, stunned that we have a new president and the first black president at that! What a night!
Anyway, I was supposed to post this last night. Well, I was supposed to post it over the weekend, but it was Halloween and Homecoming weekend, and well, it just didn't have a chance of getting done then. So here it is… (sorry, my final photo turned out a little dark).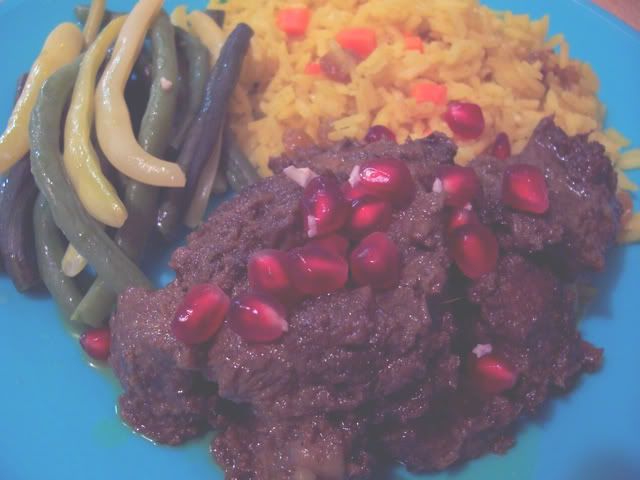 Our host for Recipes to Rival for October were Rayrena of Happy Cows and Belita of Culinary Adventure and they chose BEEF RENDANG for this month's challenge. Here's another recipe that's been sitting in my 'to-cook' list and I finally got a chance to cook it. So I actually had this cooked up a couple of weeks ago and I really thought I'd have it all written up and scheduled to post on time, but, you know life… it just likes to mess with you that way. So without further ado, here's the recipe and my thoughts (in red).

Excerpted from Cradle of Flavor: Home Cooking from the Spice Islands of Indonesia, Malaysia, and Singapore by James Oseland (W. W. Norton & Company, Inc., 2006) Copyright 2006 by James Oseland.

Beef Rendang (Rendang Daging Sapi)

Makes 4 to 6 servings

This extravagantly rich, dry-braised beef curry is a signature dish of the Minangkabau highlands of West Sumatra, Indonesia. It's a triumph of flavor, with lime leaves, nutmeg, and cloves. The dish is cooked by a process that inverts normal braising. The beef is slowly simmered in a spiced coconut-milk broth until the broth evaporates and the meat is left to sauté in the intensely flavored rendered coconut and beef oils left in the pot.

This recipe comes from Rohati, my cooking guru in Padang, West Sumatra. She offered me a few sage words of advice when she gave it to me. First, she said, allow plenty of time to make it. Rendang has its own lethargic cooking rhythm, so that the more you try to rush it, the longer it seems to take. I know what she means. I've often underestimated how long it takes to cook and have left hungry dinner guests waiting while it continued slowly to simmer away. Second, she said, use a shallow, wide pan, such as a skillet, rather than a deep soup pot. The less enclosed the cooking space, the easier it will be for the liquid to evaporate—in other words, the opposite of how you want to cook a curry. And third, Rohati advised me always to use the best-quality beef I can get. In America this means avoiding precut stewing beef, which is of inconsistent quality. Instead, choose boneless chuck or bottom round laced through with bright white fat and cut it into cubes yourself.

"Rendang is sacred food in West Sumatra," Rohati said. "If you skimp on ingredients, you risk upsetting Allah."

If you decide to use the maximum number of chiles this recipe calls for, you may need to use a standard-sized food processor, rather than a small one. An excellent garnish for this dish is a tablespoon of very finely sliced fresh or thawed, frozen kaffir lime leaves. Be sure to remove the center stem of each leaf before slicing it.

For the Flavoring Paste:
* 1 whole Nutmeg, cracked open with a nutcracker or a heavy, blunt object such as the bottom of a glass measuring cup (I used ground, about 1 teaspoon)
* 5 whole Cloves (I used ground, about 1 teaspoon)
* 6 Shallots (about 5 ounces), coarsely chopped
* 3 cloves Garlic, coarsely chopped
* 5 to 20 fresh red Holland chiles or other fresh long, red chiles such as Fresno or cayenne, stemmed and coarsely chopped (I used ground about ten of the Tabasco peppers in the photo)
* 1 piece fresh or thawed, frozen turmeric, 2 inches long, peeled and coarsely chopped (about 2 teaspoons), or 1 1/2 teaspoons ground turmeric
I found some fresh Turmeric at the Asian Market. This pack was $0.99. It looked like ginger but when you peel it it has that vibrant orange color. I used the two required and froze the rest for later use.

* 1 piece fresh ginger, 2 inches long, peeled and thinly sliced against the grain (about 2 tablespoons)
* 1 piece fresh or thawed, frozen galangal, 2 inches long, peeled and thinly sliced against the grain (about 2 tablespoons; optional)
I won't show you ginger, it's so commonplace now that most people can identify it on sight. Galangal, on the other hand, while it is in the same family, looks slightly different. It also has a much milder and delicate flavor than ginger. This piece, about 6 inches long, cost $3.17 at the Asian Market.

* 5 candlenuts or unsalted macadamia nuts I didn't find candlenuts or macadamia but I had plenty of pinenuts, so I used that instead.)

To make the flavoring paste, place the nutmeg and cloves in a small food processor and pulse until ground to a dusty powder, about 2 minutes.

Add the shallots, garlic, chiles, turmeric, ginger, galangal (if using), and candlenuts to the ground spices. Pulse until you have a chunky-smooth paste the consistency of cooked oatmeal.

For the remainder of the dish
* 2 pounds well-marbled boneless beef chuck or bottom round, cut into 2- to 2 1/2-inch cubes
* 2 1/2 cups unsweetened coconut milk
* 3 thick stalks fresh lemongrass, each tied into a knot The photo below is the fresh lemongrass. Nowadays, these can be found in the produce section of some grocery stores.

* 1 piece Cinnamon stick, 4 inches long
* 7 whole fresh or thawed, frozen Kaffir Lime Leaves

* 5 whole Daun Salam Leaves (optional) Since I couldn't find these and they were optional anyway, I just left them out.
* 1 teaspoon Kosher Salt
* 1 tablespoon very finely shredded fresh or thawed, frozen kaffir lime leaves (optional)

In a 12-inch skillet (nonstick works best), mix the beef and the flavoring paste until well combined. Add the coconut milk, lemongrass, cinnamon, whole lime leaves, daun salam leaves (if using), and salt. Stir well to combine and bring to a gentle boil over medium heat.

Immediately reduce the heat to medium-low and simmer uncovered at a slow, steady bubble, stirring every 10 to 20 minutes with a spatula to prevent the meat and coconut milk from sticking and scorching. You'll probably need to adjust the heat periodically to maintain an even simmer.

The meat, coconut milk, and flavoring paste will now go on a fascinating journey. At first, the broth will be thin and gorgeously bright orange.

As it cooks, the coconut milk will reduce, its fats (as well as the fat the meat renders) separating from the solids. It will become progressively thicker and darker, eventually turning brown.

Continue to simmer gently until the liquid has reduced by about 95 percent, stirring every 15 minutes or so to prevent sticking. Only the meat, oils, and a bit of very thick sauce will remain in the pot. This will take anywhere from 2 to 3 hours, depending on the skillet that you use, how hot the fire is, and the richness of the coconut milk. Test the meat; it should be tender enough to poke easily with a fork. Taste some of the liquid for salt, and add a pinch more if needed.

When all the liquid has evaporated, reduce the heat to low (the meat and the remaining sauce are prone to burning) and allow the beef to brown slowly in the rendered fat. (The fat may be foamy at this point, but it will settle down when the cooking stops.) Stir every 5 minutes or so to prevent sticking and scorching, being careful not to break the beef apart. Continue sautéing the beef until it's the color of roasted coffee beans, 5 to 10 minutes longer. The surface of the beef should be barely moist and have an appetizing oily sheen. (If there is too much oil in the pan for your liking, skim some of it off with a spoon and set aside for later use; it's wonderful for sautéing potatoes.)

Remove and discard the cinnamon, lemongrass, lime leaves, and daun salam leaves (if used), and then transfer the beef to a serving dish. (Alternatively, serve this dish with all the aromatics, for a more rustic presentation.) Garnish with the shredded lime leaves, if using. Allow the beef to rest for at least 30 minutes before serving. Slightly warm room temperature will best show off its intensely aromatic flavors. This dish will taste even better the next day.

My notes:
1) By the time I finished cooking, we were all so eager to have a taste that I couldn't find the patience to get a good picture of the cooked dish.

2) My photos don't do it justice, but if you like spicy dishes, then this is for you. What everyone has been saying about it being better the next day is absolutely true!

3) "For the lemongrass, remove the first couple outer leaves, trim away the dry tips and pound the stalk with the handle of your knife or a meat mallet, then tie into a knot." I followed this tip that was given with the recipe and it worked like a dream.

4) Instead of the pickle suggested, we instead served this with buttered green and yellow beans from our garden and marigold rice. The sweet golden raisins in the rice were a nice contrast to the spiciness of the rendang. Same thing goes for the pomegranate seeds sprinkled on top. The contrast in flavors and texture was really dreamy. 🙂