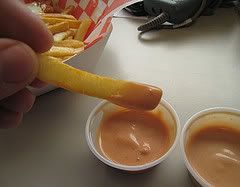 Have you ever heard of Fry Sauce? You probably have and just didn't know it was called fry sauce. That was certainly the case for me. I had been using fry sauce and different variations of it over the years and never knew it had a name! I actually thought at first that I had invented it 🙂
Fry sauce, if you didn't know, is a combination of mayonnaise and ketchup that you dip your french fries in! Simple right?
You'd think so, wouldn't you? But there are so many variations to take on this especially if you love sauce on your french fries beyond ketchup.  So Drew over at The BenSpark decided to hold a competition to find the Ultimate Fry Sauce recipe. The contest is closed now, and I think Drew finally finished taste testing the different entries. Watch the video and read about his adventure in making all the sauces then go back on November 10th to find out the winning recipe.
I submitted a recipe, a very simple one but my favorite one. Looking at all the ingredients he got to make the other entries though, I'm starting to get worried. Some of those ingredients got me thinking, "Now, why didn't I think of that?". Thinking about fry sauce also got me wanting some fries. So I'm thinking maybe I'll go by the store after work and get some potatoes…