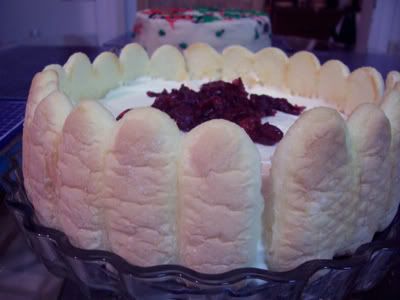 With the holidays coming up, this dessert will be a good addition to any holiday menu. It's quite easy to make and I made it just as the recipe was from the Christmas With Southern Living 1997
Cookbook. The girls and I enjoyed this last holiday season and I kept forgetting to post it so I guess this would be a perfect time to do it. Especially since I'm already contemplating what to make this time around.
The only Charlotte Russe my daughters were familiar with was the clothing store so they were interested to find out that it is also a Russian molded dessert similar to the tiramisu.

INGREDIENTS:
2 (3-4 ounce) packages fat-free white chocolate instant pudding mix (Jell-0 brand) – they only came 'fat-free' but I used whole milk instead of skim milk as suggested on the package
2 ¾ cups whole Milk
2 teaspoons grated Orange Rind
2 Tablespoons Orange Juice, divided
1 teaspoon Vanilla Extract
1 cup Whipping Cream, whipped
19 Ladyfingers, split
1 (12 ounce) tub Cranberry-Orange crushed fruit

Prepare both packages of pudding mix according to package directions, using 2¾ cups milk. Stir in orange rind, 1 tablespoon orange juice and vanilla. Gently fold in the whipped cream.

Line the bottom and sides of a 9″ springform pan with lady fingers. Spoon the pudding mixture into the pan and chill in the refrigerator for at least 4 hours or until dessert is set.

To serve, combine the crushed fruit (cranberry-orange) and the remaining 1 Tablespoon of orange juice and serve on the side or on top of the cream and ladyfingers mixture.
The girls enjoyed using the stemmed glasses to serve their dessert in.