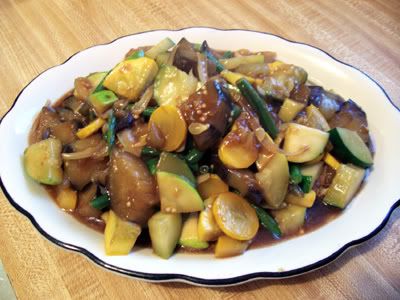 Here's another stir fried dish. We do love to stirfry don't we? These were the last harvest from our garden this year. We just had one of each vegetable, so I decided to combine them in one dish. Kind of like an 'a little bit of this and a little bit of that' stirfry. Here's how we cooked up this dish…

First lesson in cooking, especially in a quick cooking method like stirfry, get all your ingredients together.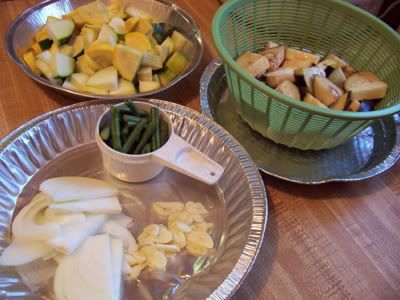 INGREDIENTS:
1 globe Eggplant, cut into 1 inch pieces
1  Zucchini, cut into 1 inch pieces
1 Yellow Squash
1 cup Long Beans (sitaw)
2 cloves Garlic
1 medium sized Onion, sliced
Oil
Cooking Sauce:
2 Tablespoon Soy Sauce
1 Tablespoon Oyster Sauce
1 teaspoon Cornstarch
¾ cup Water
For globe eggplants and any of the larger eggplants, I recommend peeling most of the purple skin (leave some for color) before cutting them up.  Then put them in a colander and liberally sprinkle some salt on them. Leave them to 'sweat' while you prepare the other ingredients. Salting is supposed to take away some of that bitter, scratchy taste on your tongue that you get when eating eggplants. After about 15-20 minutes, you'll notice the eggplants would have released a brownish liquid.  Rinse the salt from the eggplants thoroughly and pat them dry with a paper towel. Of course, if you were using those long, skinny Japanese eggplants, you can skip the salting and peeling part. They are usually milder and thinner skinned.
Heat a couple of tablespoons of oil in a wok or heavy skillet and add the eggplants. Stir fry until they start browning on the edges.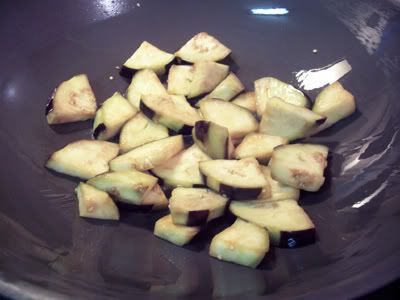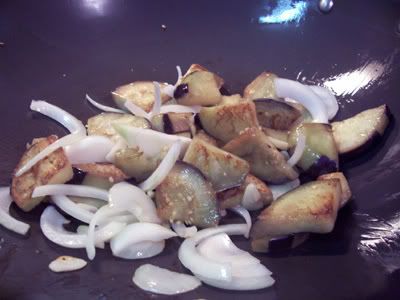 Add the garlic and onions and cook for a couple of minutes, stirring constantly.Then add the beans and zucchini squash.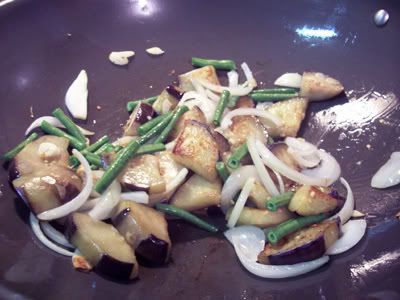 Stir together for a minute, pour in the cooking sauce and cover. Let it cook for 5 minutes until it is bubbly and thick and you're done! Everything is still crisp and oh so good, you can eat this by itself over rice.