December was a month of French terms and recipes in our kitchen starting with the French Yule Log we did for Daring Bakers and continuing with the Recipes to Rival challenge which is this duo of Gruyère Cheese Gougères & Galatoire's Oysters en Brochette appetizers.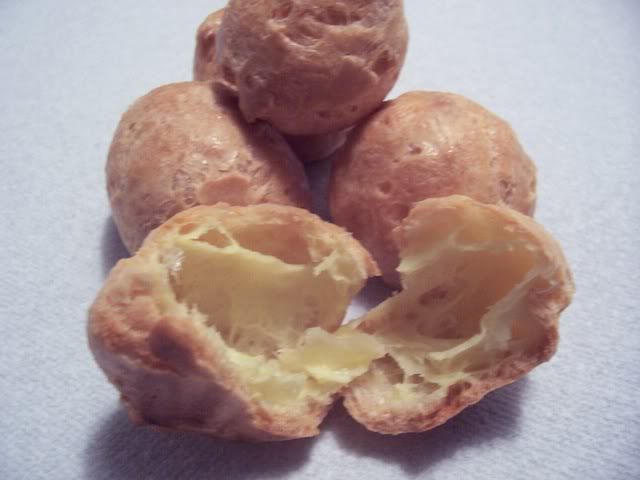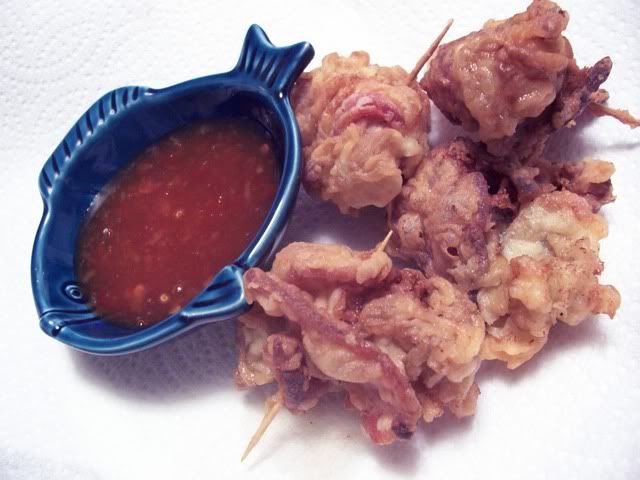 Our hosts for December were Temperance of High on the Hog and Jen of Delightful Delicacies. who actually chose three appetizers for the Recipes to Rival challenge but since my family aren't too crazy about blue cheese which was the main element of the last recipe, we opted to do the two that are featured here. These were perfect for noshing on New Year's Eve but they would also be perfect for anytime you want some unique and easy appetizer to serve. To see all three recipes, check out the Appetizer Trio on the Recipes to Rival Blog.

Comments in red are mine, the rest of the text were as assigned for the Recipes to Rival challenge.

Gruyère Cheese Gougères
Copyright 'The French Laundry Cookbook' By Thomas Keller, November, 1999
Makes about 4 dozen gougères

Gougères are a classical preparation often served at wine tastings in France. The puffs are made from a savory pâte á choux, or cream puff dough-flavored here with Gruyère. They are best served hot out of the oven, offering that creamy-dough gratification. Don't add the cheese, and the puff is a base for a dessert.

1 cup water
7 tablespoons (3-1/2 ounces) unsalted butter
1 tablespoon kosher salt, or more to taste
Pinch of sugar
1-1/4 cups (5 ounces) all-purpose flour
4 to 5 large eggs
1-1/4 cups grated Gruyère (5 ounces)
Freshly ground white pepper

Preheat the oven to 450 degrees F. Line two baking sheets with Silpats or parchment paper.

In a medium saucepan, combine the water, butter, salt, and sugar and bring to a boil. Add all the flour at once, reduce the heat to medium, and stir with a wooden spoon for 2 minutes, or until the mixture forms a ball and the excess moisture has evaporated (if the ball forms more quickly, continue to cook and stir for a full 2 minutes). See photo below.

Transfer the mixture to the bowl of a mixer fitted with the paddle and beat for about 30 seconds at medium speed to cool slightly. Add 4 eggs and continue to mix until completely combined and the batter has a smooth, silky texture. Stop the machine and lift up the beater to check the consistency of the batter. The batter in the mixing bowl should form a peak with a tip that falls over. If it is too stiff, beat in the white of the remaining egg. Check again and, if necessary, add the yolk.

Finally, mix in 3/4 cup of the Gruyère and adjust the seasoning with salt and white pepper.

Fill a pastry bag fitted with a 3/8-inch plain pastry tip with the gougère batter. Pipe the batter into 1-tablespoon mounds on the baking sheets, leaving about 2 inches between the gougères as the mixture will spread during baking. (I used 1 teaspoon mounds based on Temperance's notes below)

Sprinkle the top of each gougère with about 1/2 teaspoon of the remaining grated cheese and bake for 7 to 8 minutes, or until they puff and hold their shape. Reduce the heat to 350 degrees F. And bake for an additional 20 to 25 minutes. When the gougères are done, they should be a light golden brown color. When you break one open, it should be hollow; the inside should be cooked but still slightly moist. Remove the pans from the oven and serve the gougères while hot.

Having learned my lesson from the eclair challenge, I made sure these were nicely browned before taking them out of the oven.

Notes:
These were good hot or cold. I did two diffrent sizes (Tablespoon and Teaspoon) and had a slight prefrence for the smaller ones. Feel free to try using a diffrent cheese, it makes a big differance in the taste. You can make them up in advance and stick them in the freezer, let them thaw for 10 minutes and then bake in oven as usual and you have warm fresh Gougères. I also thought that stuffing them would be a really good idea.

After the little gougeres were done and everyone was breaking them open, they all had the same comment: "it needs something to fill it". I hadn't prepared a filling, so the girls pulled out a turkey salad I had fixed earlier and started eating these gougeres filled with a spoonful of turkey salad. It was yuummy!!

THEN the Clone had the bright idea to fill the puffs with cheese and these mini pepperonis. So I thought, why not try it since I already had the challenge done on the first batch anyway and I still had some leftover batter.

We ended up with these cute little pacman balls that looked liked they could gobble you up. We gobbled them instead! 😀

~~~~~~~~~~~

The second appetizer:
Galatoire's Oysters en Brochette
Copyright New Orleans Times-Picayune December 21, 2000
Serves 4 as an appetizer or two as main course

From Wiki: Oysters en Brochette is a classic dish in New Orleans Creole cuisine. Raw oysters are skewered, alternating with pieces of partially cooked bacon. The entire thing is then breaded (usually with corn flour) and then either deep fried or pan sauteed. The traditional presentation is on triangles of toast with the skewer removed and topped with a Meuniere sauce. When done right, the dish should have a crispy exterior and a soft savory center with a textural contrast between the bacon and the oyster. It was usually offered on restaurant menus as an appetizer; but was also a popular lunch entree.

At one time it was a ubiquitous option on menus across the spectrum of New Orleans restaurants. Today it is rarely seen (no doubt owing to health concerns over the combination of fried oysters, fried bacon, and butter). An exemplary version can still be found at Galatoire's.

A variation served as an hors d'oeuvres is Angels on Horseback. Single oysters are wrapped in partially cooked slices of bacon, each skewered with a toothpick. They are floured and deep fried and then passed on cocktail platters with a dipping sauce.

12 strips bacon, cut in half
2 dozen oysters, raw
1 egg
3/4 cup milk
Salt and pepper to taste
Flour
Oil for deep frying
Toast point and lemon wedges for serving

Fry bacon until not quite crisp. Alternate six oysters and six half strips of bacon folded on each of four 8-inch skewers. Make a batter with egg and
milk and season well with salt and pepper. Dip each skewer in batter.
Roll in flour and deep-fry in hot oil until golden. Serve on toast points
with lemon wedges.

Meuniere Sauce:
Copyright Tom Fitzmorris's 'New Orleans Food: More than 225 of the City's Best Recipes to Cook at Home (New Orleans Cooking)'

2 sticks butter
Juice of 1/2 lemon
1 tsp. Worcestershire sauce

1. Start the sauce before the Oysters en Brochette. Place the butter in a small saucepan over very low heat. Let it melt, then let it bubble until it stops. Skim the foam off the top. Keep the butter over the lowest possible heat on your stovetop. (you want it to brown)

2. Add the lemon juice and the Worcestershire slowly to the butter sauce just before serving. Careful! This may make the butter foam up again and perhaps splatter!

Notes:
For a GF option leave off the breading and stick it under the broiler. If Meuniere isn't your sauce of choice there are alot of other options out there. To prevent wooden toothpicks and skewers from burning soak them in water first.

As you may have noticed on the photo, I didn't use the Meuniere Sauce included with the recipe. It was just too scary to pour a butter sauce on top of something bacon wrapped and deep fried. lol! Instead, I used a bottled Thai sweet chili sauce. It was sweet, spicy and I thought it paired perfectly well with the bacon wrapped oysters.