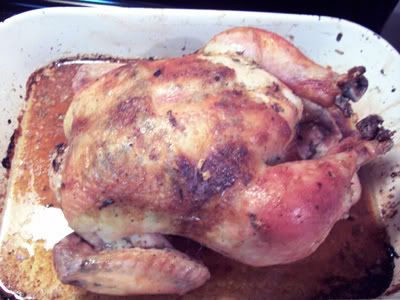 This is way too simple but I just realized I don't have a chicken roast recipe posted here yet. So here it goes. When I'm feeling organized, I try to roast a couple of chickens on the weekend then use them to create other dishes during the week or simply use them to make lunches for the girls. My youngest daughter loves soups so nothing in the chicken goes to waste. After I've cut off all the meat from the roast, I put the bones, stuffing and pan drippings in a stock pot, add more water, and before you know it, I've got the makings for chicken soup!
I vary the herbs and spices I use when baking chicken, depending on my mood and what I have on hand, but the basic ingredients and method remains the same. Here's what I do…

1-2 whole Chicken, washed and trimmed of excess fat
4 cloves whole garlic, smash and peel
1 small onion, quartered
1 lemon
1 Tbsp. Kosher Salt
1 tsp. Ground Black Pepper
Optional: oregano, basil, rosemary, thyme, parsley, cumin, curry, paprika (choose one, two or all 🙂 )
1 cup water
Wash chickens inside and out and trim all excess fat. Pat it dry with a paper towel and place in a baking pan. Combine the salt & pepper in a bowl and mix well. If you're adding fresh or dried herbs or spices add them with the salt pepper mixture.
Rub the inside cavity and outside of the chicken with the salt/pepper/herbs mixture. Place the garlic and onions inside the cavities (you can also add carrots, celery, lemon grass or any aromatics of your choice). Cut the lemon in half and squeeze the juices over the chicken. Pour 1 cup of water in the pan, around the chicken.
Place the pan of chicken in an oven preheated to 400 degrees F for 20 minutes. After 20 minutes, turn the heat down to 350 degrees and bake for another hour or until the chicken is done. Check for done-ness by using a meat thermometer or by poking it in the thigh and if the juices run clear, it's done. If it's still bloody, leave it there for another 20-30 minutes.
Some instant meals you can make with pre-cooked chicken:
Sandwiches – that goes without saying. Either simply slap 'em between two pieces of bread or go fancy and make chicken salad.
Enchiladas & Burritos – wrap up some chicken, black beans, tomatoes, lettuce and some salsa and you have instant burrito or chicken wrap for a quick lunch. For enchiladas, take some shredded chicken, refried beans and grated cheese, roll in corn tortillas. Smother with canned (or from scratch) enchilada sauce, top with more cheese, back until bubbly and you've got some delicious enchiladas!
Lettuce Wrapped Chicken or MuShu Chicken – use either chinese pancakes or lettuce to cup chopped chicken meat. Drizzle with hoisin sauce and garnish with green onions and cilantro. Delicious!
Super Salad – Make a huge green salad with all the trimmings including some shredded chicken and you're a hero! Also try making a super fast oriental style chicken salad with bottled dressing.
A couple of roasted chickens can almost get you through a whole week of meals! That is, if your family doesn't start complaining "chicken again?!!!" like my family.  😀