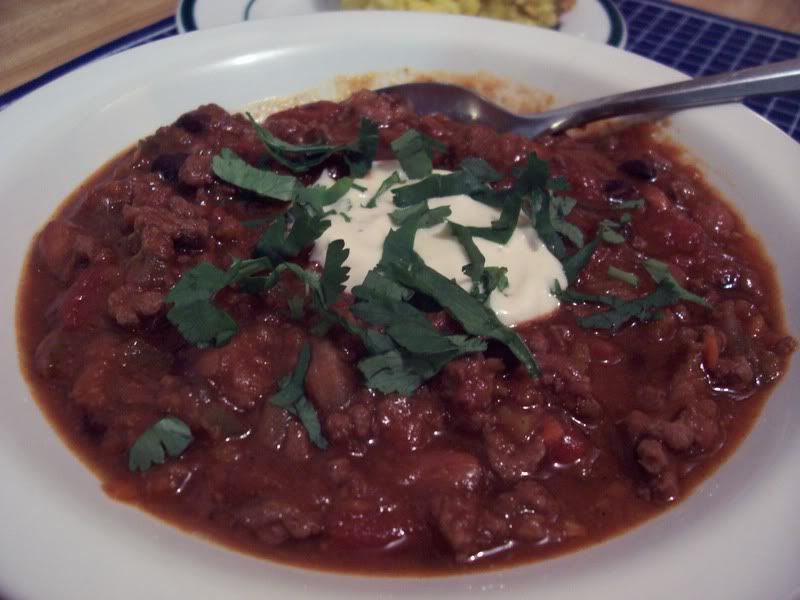 When my daughters saw what we were having for dinner, they immediately assumed it was our usual chili con carne. However, after they had their first bite, all of them commented… "you did something different". I didn't tell them ahead of time I that I was trying out Ted Murphy's Turkey Chili recipe.
They were pleasantly surprised and so was I, actually. I changed the recipe up a little bit, but I think the primary flavors from Ted's chili were in there. I really liked the addition of chocolate and beer to the recipe. It gave it a deeper, more robust flavor. I also cut down on the spiciness a little since my daughters can't take too much heat. Instead of adding the 10 Tablespoons of Cholula hot sauce, I decided to let everyone add their own hot sauce to their individual bowls instead. My husband and I were the only ones who opted to add more. The girls loved it just as it was and everyone had a second bowl.
Here's my version of the turkey chili:

INGREDIENTS
2 lbs. Ground Turkey
6 cloves Garlic, minced
1 large Onion, diced
1 large Green Bell Pepper, diced
3 large Jalapeno Peppers, diced
1 rib Celery, diced
2 cups grated Carrots
2 15 oz. cans of Mexican flavored diced tomatoes with chilies
1 15 oz. Black Beans
1 15 oz. Pinto Beans
1 small can Tomato Paste
1 square Baker's unsweetened chocolate
4 Tablespoons ground Chili Powder
2 Tablespoons Cumin
1 Tablespoon Cinnamon
1 tall can of Dark Beer
Heat a skillet and add the ground turkey. Cook until all liquids have evaporated and the meat is starting to brown. Add garlic and onions. Cook until fragrant, about two to three minutes. Add the celery, bell peppers, carrots and jalapeno. Stir for a minute. Add the rest of the ingredients and simmer for a couple of hours or until it is nice and thick.
Alternatively, you may also put everything in a crockpot (slow cooker) and let it cook for four hours. If you need tips on how to do this, you gotta watch Ted's video.