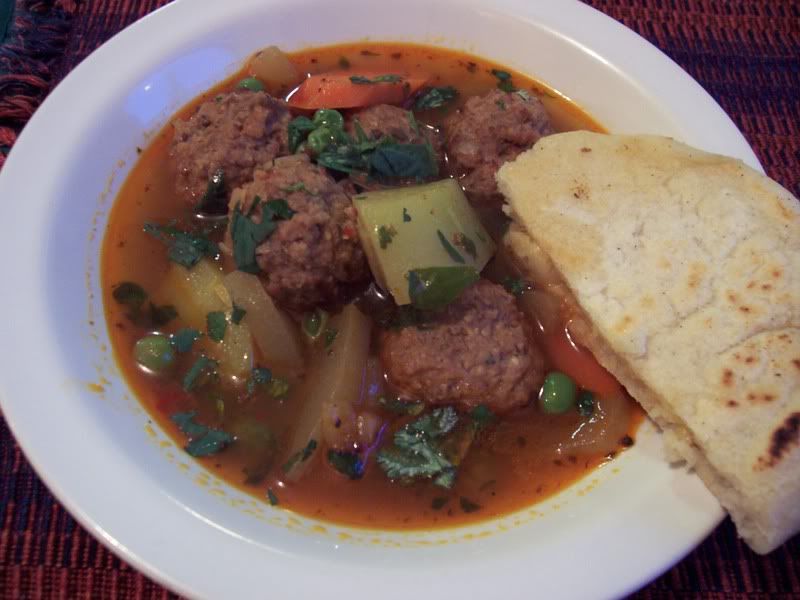 The most recent Four Foods for Friday asked whether we use 'from scratch' or 'ready made' meatballs. My answer was that we use both. Sometimes we make our own just as when Jade made the Wedding Soup and the Filipino style Meatball Soup with Noodles. We just recently tried out the frozen Italian meatballs from Costco and we've enjoyed the convenience they provide while also tasting quite good. The girls like having them to snack on after school or to take for their lunch. On a busy weeknight, I'm not averse to dropping them in pre-made tomato sauce either for a quick spaghetti dinner.
Since we've all been feeling under the weather this past month with the cold or the flu, we've been wanting more soups to soothe our aching throats and bodies but just don't have the energy to go all 'from scratch'. So on one of those nights when we were craving for soup, we decided to use the frozen meatballs for this albondigas soup and were we all pleasantly surprised! Between the five of us, we just about finished the whole pot!

INGREDIENTS:
2 Tbsp. Olive Oil
1 Onion, chopped
2 cloves Garlic, chopped
1 Tbsp. dried Oregano
1 tsp. Cumin
1 dried Chile Guajillo (soaked in hot water & pureed)
1 Tbsp. Tomato Paste
45 frozen Italian Meatballs
6-8 cups Chicken Broth
2 cups Opo Squash, diced
2 Chayote Squash, cut into 1 inch cubes
2 Carrots, peeled and sliced into quarter inch thickness
1 cup frozen Peas
3 Tbsp. fresh Cilantro, chopped (can also use Italian Parsley)
Heat the olive oil in a heavy bottomed pot and saute' the garlic & onions until they are fragrant and almost translucent. Add the opo squash (I happened to have some opo in the freezer and wanted to used them up. Zucchini squash is a good substitute if you don't have opo), the chili puree, oregano, cumin and tomato paste. Stir to mix everything and heat through. Add the broth and meatballs and let it come to a boil. Lower heat to a low boil and let cook for 15 minutes, covered. Add the rest of the vegetables (chayote, carrots, peas) and let it cook for another 10-15 minutes or until the chayote squash is just tender. Sprinkle soup with cilantro or parsley just before serving.
This soup was paired up with pupusas, which we'll post a recipe for later. Stay tuned!