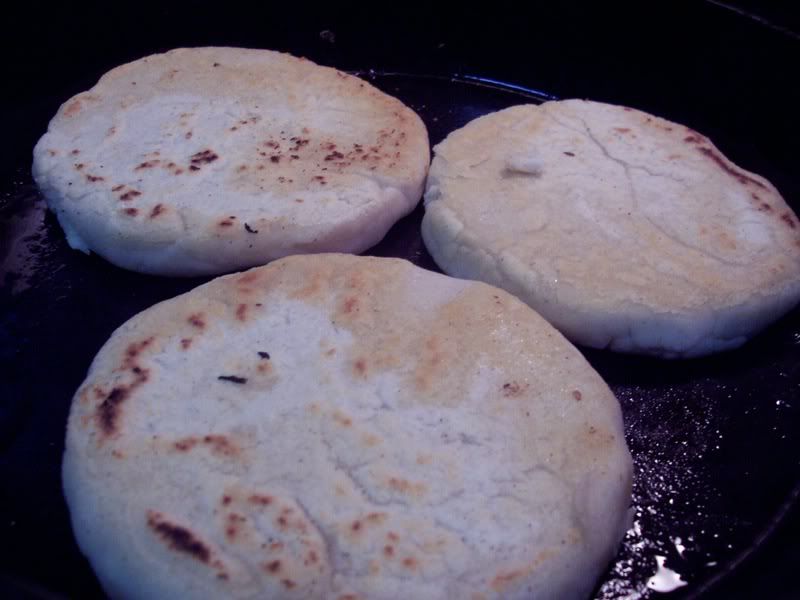 We made some pupusas to go with the albondigas soup and while it's still a recipe in progress we thought we'd post our first attempt here now.
Pupusas is a cousin to the tortilla. It is thicker and it is also filled. Usually, the filling is meat based but it could also be just plain cheese as in this case or something sweet as for dessert. It is also a Latin cuisine staple but I've found them most prevalent in Salvadoran restaurants. For the recipe, I searched online and decided to follow the most basic and simplest recipe.

INGREDIENTS:
3 cups Masa Harina (corn flour – I used the left over flour from when I made tamales)
1½ cups hot Water
&frac;12; teaspoon Salt
1 Tablespoon Oil
Grated Cheese (for filling)
Place the flour in a mixing bowl and mix in the salt. Make a well in the center and pour in the hot water and oil. Mix with a spoon or spatula. Well, you can use your hand if you can stand the heat. 🙂
Mix the dough well until it comes together smoothly. If it looks dry, you can add a little more hot water until you get the desired consistency.
Getting the right consistency, it seems, is the key to having good pupusas. I made this batch a little on the dry side because I was afraid that if I add too much water the texture would be altered somehow. But, what do I know! From the videos I've watched, and there's a few of them on YouTube, the additional water does not harm the recipe.
Once you get the right consistency, divide your dough into 4 and roll each fourth into a long cylinder then cut that into 1-2 inch pieces. Roll each piece into a ball and flatten. Start rolling out the disk until it is about a fourth of an inch thick. Place a handful of grated cheese or your filling of choice in the center of the disk and place another disk on top of it.

Flatten the two disks together to seal the cheese in. Roll until it is about a quarter inch thick and cook on a lightly greased griddle, heated to medium high, until lightly browned.
Serve up with your favorite soup or chili and you're in business! Next time I make these, I'll try them with a meat filling.