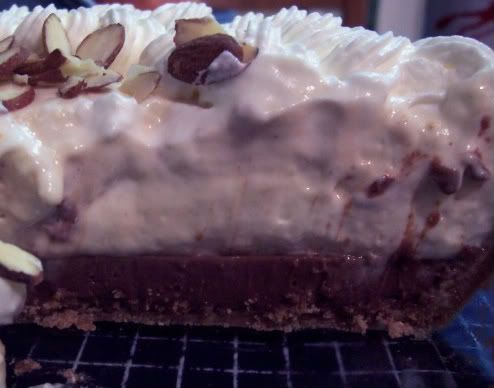 The theme for this week's Lasang Pinoy Sunday is MELTed Bliss. When I think of anything melting, I can't help but think of Chocolate. Our latest kitchen creation with melted chocolate was this Black Bottom Pie (recipe to be posted later). This dessert was so blissfully sinful, it really is shameful. The crust is crushed gingersnap cookies and butter, a chocolate mouse layer, a rum mouse layer and a whipped cream topping. Yummy!!!
As usual, we couldn't wait long enough for it to chill so the top layer was still not quite set and a little MELTy, but the flavors were all there and oh so delicious!
Happy Sunday, everyone!
Click here to visit other LaPis Melted Bliss participants.
To join this weekly food photo blogging event, visit the Lasang Pinoy Sundays About Page.