Cooked From the Heart » desserts » Black Bottom Pie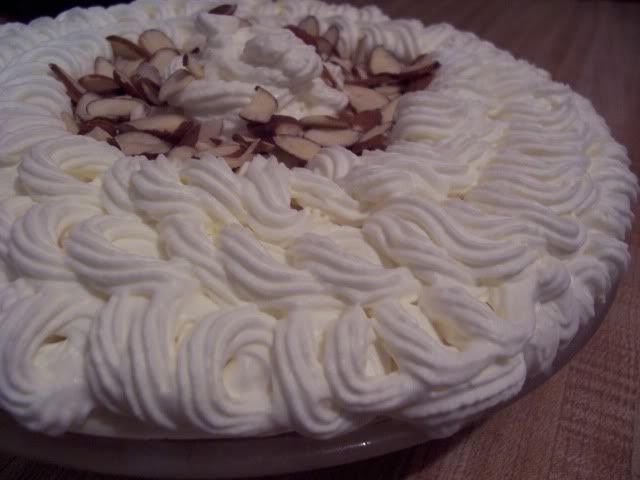 I ran across this recipe for Louisiana Hotel Black Bottom Pie while surfing the web one night. Wouldn't you know it, I would stumble across a luscious recipe like this in the middle of the night. I almost couldn't sleep thinking about it! The very next day, I made sure I got all the necessary ingredients when I went to the store.

INGREDIENTS
CRUST:
14 Gingersnap Cookies, crushed
5 Tablespoons of Butter

FILLING:
1 Tablespoon Plain Gellatin
4 Tablespoons Cold Water
1¾ cup Milk
½ cup Sugar
1 Tablespoon Cornstarch
¼ teaspoon Salt
4 Egg Yolks

CHOCOLATE LAYER:
¼ cup (2 oz.) semi-sweet Chocolate
1 teaspoon Vanilla

RUM LAYER:
4 Egg Whites
½ teaspoon Cream of Tartar
½ cup Sugar
2 Tablespoons Rum

TOPPING:
1 cup Heavy Whipping Cream
2 Tablespoons Powdered Sugar

INSTRUCTIONS:
Preheat oven to 300°F

In a medium bowl, mix crushed cookies & melted butter and press into a 9 inch pie pan and bake for 10 minutes. Cool.

In a small bowl, dissolve gellatin in cold water. In a medium saucepan, scald milk and add in ½ cup of sugar.

Separately mix cornstarch with salt & beaten egg yolks and add to milk mixture. Cook on top of a double boiler, stirring constantly until it thickens. Stir in gellatin and divide this custard in half.

Melt chocolate, stir in vanilla, and mix with half the custard. Pour into the baked pie shell. Tip pan around so chocolate coats all sides. Cool remaining half of the custard.

Beat egg whites with cream of tartar, adding in sugar a little at a time until stiff. Fold into the remaining custard. Stir in rum and spread over the chocolate layer. Chill well, overnight if possible.

Before serving, whip cream until stiff, adding in powdered sugar and slowly pile or pipe on top of the pie.

You can sprinkle sliced almonds as I did or shaved/grated chocolate on top of the pie.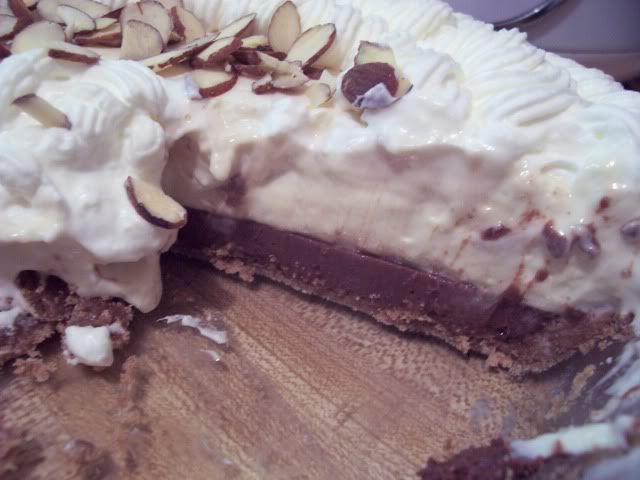 Of course, we couldn't wait for the pie to chill overnight so we cut into it before the rum custard layer could properly set that's why it still looks soft in this photo. The chocolate layer was a bit more 'tight' that I thought it would be. It was more like a ganache than pudding or mouse like. Then I realized that I added a half cup of chocolates instead of a fourth! Even with the textural difference, it was still chocolaty and delicious! The rum layer, after it had set up, took on a creamy ice cream like texture; and the whip cream? Well, it's whipped from honest to goodness heavy whipping cream, for goodness sake! Need I say more?