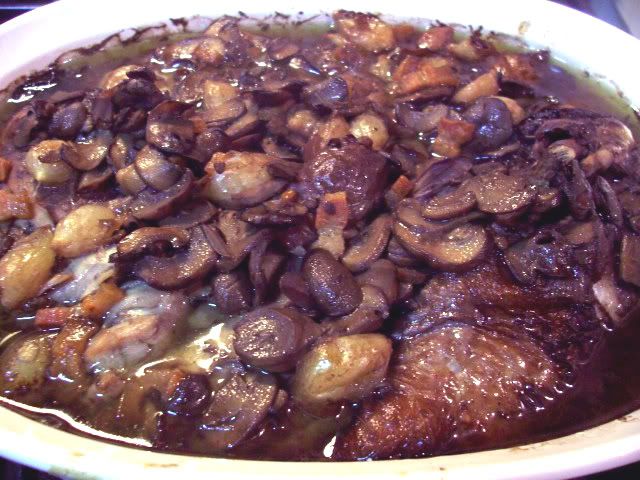 I'm a bit late posting since we had a minor emergency yesterday when I planned to put this post together and didn't get a chance to finish it. First, the emergency: my daughter's school called to let us know that she had gotten hit in the eye with a softball and that she was having trouble seeing. I rushed to the school expecting the worst and was pleasantly surprised to find that she wasn't that badly hurt after all. I did end up taking her to the optometrist just to make sure her eye is ok. The eye was not damaged from getting hit, but she ended up needing glasses so we went ahead and got her fitted for one. She'll get her first pair in a couple of weeks. By the time we got all that done, it was time for dinner and I was exhausted. Funny how a little scare like that can drain you.
So today, it's back to business it is. This Coq au Vin was cooked up for Recipes to Rival which, this month, was hosted by co-founder Temperance of High on the Hog. Coq au Vin, literally means Cock of the Wine, meaning cock that has been cooked in wine. I've made several 'drunken' dishes before but have never attempted this dish of all drunken dishes. All I can say is, this will be cooked again in our kitchen. Everyone loved it and the girls got a kick out of eating something that had so much wine in it. lol!
Here's the recipe with additional notes as presented for Recipes to Rival. Notes in red are my comments.

Coq au vin is a peasant recipe, As Anthony Bourdain has said "Coq au vin is an old, tough bird you have to drown in wine to get it to taste good. That'll be $28.95 please."

This is one of those recipes that is deceptively hard, with a little prep work it is easy as pie, maybe even easier.  The secret is the mise en place. Do it all ahead stuff it in the fridge and throw it all together when you are ready.

Excerpt from the Les Halles Cookbook, by Anthony Bourdain
…

Another easy dish that looks like it is hard. It is not in fact, this is the kind of dish you might enjoy spending a leisurely afternoon with. There are plenty of opportunities for breaks. It's durable, delicious, and the perfect illustration of the principles of turning something big and tough and unlovely into something truly wonderful. Knock out your prep one thing at a time, slowly building your mise en place. Listen to some music while you do it. There's an open bottle of wine left from the recipe, so have a glass now and again. Just clean up after yourself as you go, so your kitchen doesn't look like a disaster area when you start the actual cooking.  You should. with any luck, reach a Zen-like state of pleasurable calm. And like the very best dishes coq a vin is one of those that goes on the stove looking, smelling and tasting pretty nasty, and yet later, through the mysterious alchemical processes of time and heat turns into something magical.

Coq au vin
from the  Les Halles Cookbook, by Anthony Bourdain, Serves 4

1 bottle/1 liter plus 1 cup/225 ml of red wine
1 onion, cut into a 1-inch/2.5 cm dice
1 carrot, cut into ¼-inch/6-mm slices
1 celery rib, cut into  ½ inch/1-cm slices
4 whole cloves
1 tbs/14 g whole black peppercorns
1 bouquet garni (thyme, parsley, oregano)
1 whole chicken, about 3.5 lb/1.35 kg, "trimmed" – meaning guts, wing tips and neckbone removed

salt and freshly ground pepper
1 tbs/28 ml olive oil
6 tbs/75 g butter, softened
1 tbs/14 g flour
¼ lb/112 g lardons (I used smoked pork side)
½ lb/ 225 g small, white button (I used brown cremini)mushrooms, stems removed
12 pearl onions(frozen), peeled
pinch of sugar

Equipment:
3 large, deep bowls
plastic wrap
fine strainer
large Dutch oven or heavy –bottomed pot
tongs
wooden spoon
small sauté pan
small sauce pan
1 sheet parchment paper
whisk
deep serving platter

DAY ONE
The day before you even begin to cook, combine the bottle of red wine, the diced onion (that's the big onion, not the pearl onions), sliced carrots, celery, cloves, peppercorns, and bouquet garni in a large deep bowl. Add the chicken and submerge it in the liquid so that all of it is covered. Cover the bowl with plastic wrap and refrigerate overnight.


Chicken, herbs and aromatics


Chicken in wine and herbs marinade

DAY TWO
Remove the chicken from the marinade and pat it dry. Put it aside. Strain the marinade through the fine strainer, reserving the liquids and solids separately.  Season the chicken with salt and pepper inside and out. In the large Dutch oven, heat the oil and 2tablesppoons/28 g of the butter until almost smoking, and then sear the chicken, turning it with the tongs to evenly brown it. Once browned, it should be removed from the pot and set it aside again.


Browned Chicken

Add the reserved onions, celery, and carrot to the pot and cook over medium-high heat, stirring occasionally, until they are soft and golden brown. That should take about 10 minutes.


Aromatics

Sprinkle the flour over the vegetables and mix well with the wooden spoon so that the vegetables are coated. Now stir in the reserved strained marinade. Put the chicken back in the pot, along with the bouquet garni. Cook this for about 1 hour and 15 minutes over low heat.

Have a drink. You're almost there…

While your chicken stews slowly in the pot, cook the bacon lardons in the small sauté pan over medium heat until golden brown.


Brown the smoked pork sides (bacon)

Remove the bacon from the pan and drain it on paper towels, making sure to keep about 1 tablespoon/14 g of fat in the pan.

Saute the mushroom tops in the bacon fat until golden brown. Set them aside.


Mushrooms sauteeing

Now, in the small saucepan, combine the pearl onions, the pinch of sugar, a pinch of salt, and 2tablespoons/28 g of butter.


Pearl Onions

Add just enough water to just cover the onions; then cover the pan with the parchment paper trimmed to the same size of the pan. (I suppose you can use foil if you must.)


Covered Onions

Bring to a boil, reduce to a simmer, and cook until the water has evaporated. Keep a close eye on it. Remove the paper cover and continue to cook until the onions are golden brown.


Pearl Onions, browning

Set the onions aside and add the remaining cup/225 ml of red wine along with salt and pepper and reduce over medium-high heat until thick enough to coat the back of the spoon.


Wine reduced

Your work is pretty much done here. One more thing and then it's wine and kudos…

When the chicken is cooked through – meaning tender, the juice from the thigh running clear when pricked – carefully remove from the liquid, cut into quarters, and arrange on the deep serving platter. Strain the cooking liquid (again) into the reduced red wine.


Cooking liquid after the chicken was removed. Strain and remove solids.

I placed the cooked chicken that has been quartered into an oven safe dish then added the rest of the ingredients back in with the sauce, then put it back in the oven to keep warm until dinner. (about 30 minutes) The additional cooking time helped to meld the flavors together, I think.
Now just add the bacon, mushrooms, and pearl onions, adjust the seasoning with salt and pepper, and swirl in the remaining 2 tablespoons/28 g of butter. Now pour that sauce over the chicken and dazzle your friends with your brilliance. Serve with buttered noodles and a Bourgone Rouge.


Plate of Coq au vin with rice and spinach

Tips
1. An old bird is best, hard to find though. Ideally you are looking for a stew chicken or an old rooster, I recommend a Kosher or Halal meat market (remember they have no pork though).
2. Bouquet garni is a bundle of herbs usually tied together with string, most recipes include parsley, thyme and bay leaf
3. Lardon may refer to different pork products cut from a pig's belly and used for larding in French cuisine. In this case you are looking for slab or country bacon, cut into small oblongs (lardons) about ¼ by 1 inch.  I used salt pork, which did not smell like bacon cooking but tasted pretty good.  Either way a good thick bacon with alot of nice fat and not alot of additives is what you are looking for.
4. the wine should be red, other than that pick what suits your pallet and wallet.  But here is a helpful guide as well, Wine With…Coq au Vin