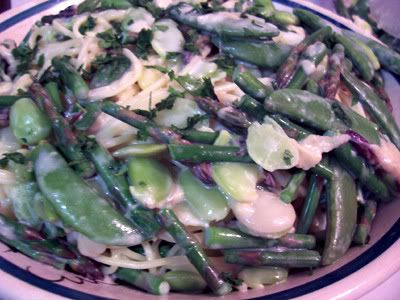 Spring for me always looks green. I love it when the early vegetables start showing up in the markets and in our backyard. This past weekend we picked all kinds of greens like collard, mustard and turnips that all grew by themselves as soon as the last frost melted away. I gathered enough greens for our dinner and a couple of bags for the freezer! That's not a bad harvest from plants you didn't even plant!
This pasta dish is to celebrate the bounties of spring. The vegetables aren't from my garden but they do always remind me of impending bounty from the garden.
This photo my my contribution to Lasang Pinoy Sundays (sorry it's a day late, it's been my MO this week to post a day late. lol!). To see other participants for this week's theme, check out our host, Ces.