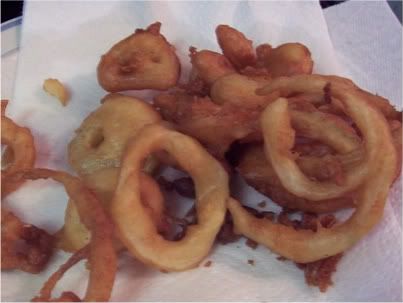 It's been a crazy busy week at work last week and it will continue for two more weeks so I haven't had too much time to cook much less post on the blogs. Luckily, my big girls have been such a big help in the kitchen and even remember to take photos for my food blog. Isn't that nice?
So this week, for Lasang Pinoy Sundays (LaPiS), I am offering up some easy peasy onion rings that my daughter SLICEd UP and cooked up all by herself. The batter she used, I'm surprised to find out, because it was crispy delicious, was instant pancake batter!
She cooked up these delicious onion rings and paired it up with turkey and ham sandwiches, also SLICED in half! Visit SpiCes to see what other LaPiS participants SLICED up this week!