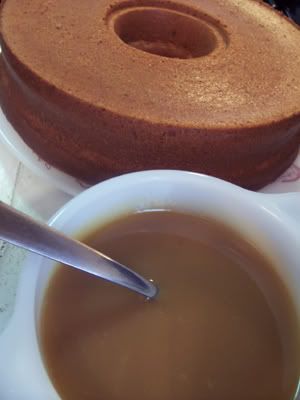 I can't believe it's been years now since a blogging friend sent me the Donna Hay Modern Classics Book 2 cook book. While I have never been much of a baker, I found this book to be inspirational and has been a great motivator to get me baking. We love making banana bread muffins from over ripe bananas but this banana cake recipe from the Donna Hay cook book looked interesting so I decided to try it. Plus, who can resist caramel sauce, right?
This turned out to be simply fantastic. It was gone in no time and surprisingly, it was good even without the caramel sauce which was the selling point for me to begin with!

BANANA CAKE
½ cup Butter (1 stick)
1 cup Sugar
¼ cup Brown Sugar
3 Eggs
2 cups all-purpose Flour
2 teaspoons Baking Powder
1 teaspoon ground Cinnamon
¾ cup Sour Cream
1 cup mashed Bananas
Preheat oven to 350° F. Mix the butter and sugar until light and creamy then start adding the eggs one at a time until they are well incorporated into the mixture. Sift the flour, baking powder and cinnamon together in a separate bowl then slowly add them to the mixture. Add the sour cream and bananas and mix well.
Pour the batter into a greased fluted baking pan (10 in.) and tap against the counter to even out and remove any large bubbles. Bake in the 350° F oven for 40 minutes or until done (use the toothpick test). Cool and serve slices with the caramel sauce.
CARAMEL SAUCE
¾ cup Brown Sugar
1 cup Heavy Whipping Cream
Place the sugar in a heavy bottomed sauce pan over medium heat and cook, without stirring until it is melted. Swirl the pan around while it's cooking so you don't burn the sugar too much. When the sugar is totally dissolved, slowly add the cream (it will splatter at first) and stir the mixture until the syrup is smooth. Cook several more minutes until it thickens to your desired consistency (8-10 minutes). Cool and spoon sauce over banana cake.