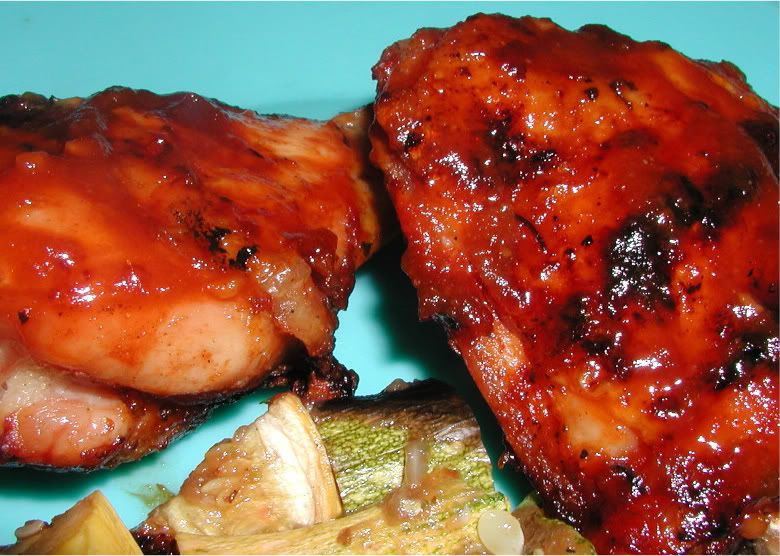 We did the traditional cookout last 4th of July and I decided to try out Emeril's Homemade Barbecue sauce which was published on Reader's Digest last month. I usually don't like barbecue sauce on my grilled meats but when I saw this recipe I decided to try it and was I ever glad I did! Everyone loved it. The sauce had a fresh, spicy and tangy flavor without the artificial smoke taste in the bottled varieties. It's still grilling weather so I'm sure we'll be making this sauce again.

I made a few variations to the recipe since I didn't have everything on hand like the cane syrup. I also had a half a jar of store bought salsa that I wanted to get out of the refrigerator so I decided to throw that in here. Aside from those two changes, everything else was as the recipe called for.
EMERIL'S HOMEMADE BBQ SAUCE
2 Tablespoons Olive Oil
1 small Onion, chopped
2 Cloves Garlic, chopped
4 cups Ketchup
½ cup dark Brown Sugar, packed
2 Tbsp. cane syrup 1 cup bottled Salsa
¼ cup Cider Vinegar
¼ cup Worcestershire Sauce
3 Tablespoons Red Hot Sauce
2 Tablespoons Yellow Mustard
2 teaspoons Creole Seasoning (see recipe below)
1 teaspoon crushed Red Peppers
Heat olive oil and saute garlic and onions until soft and fragrant. Add the rest of the ingredients and simmer 15-30 minutes until blended and thickened.
CREOLE SEASONING
2½ TBSP. Paprica
2 TBSP. Salt
2 TBSP Garlic Powder
1 TBSP Black Pepper
1 TBSP Onion Powder
1 TBSP Cayenne Pepper
1 TBSP Dried Oregano
1 TBSP Dried Thyme
Combine everything and save. Use as needed.