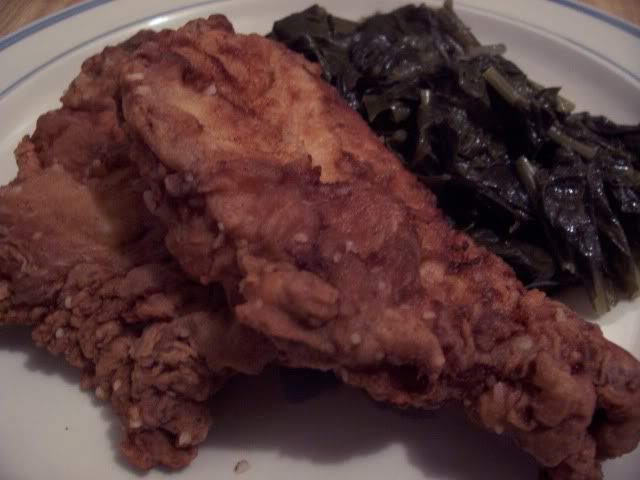 I almost didn't post this recipe because it's so simple and we cook it all the time. So when my family started asking for pork chop this week, I realized it must have been a while since I've cooked them. They usually don't have to ask!
Whether you serve them with or without gravy, they are tender and delicious. The buttermilk marinade does a great job of making them tender and keeping them moist and also the crunchy crust is all about the buttermilk. Just serve them with lots of veggies then you won't feel so guilty for eating something fried. 😀 This time, they were served with some collard and turnip greens from our garden.
INGREDIENTS:
Center Cut Pork Chops
2 cups Buttermilk
Salt & Pepper
Marinade the pork chops in buttermilk with a bit of salt and pepper for 2-4 hours. If you didn't plan ahead, a 30 minute soak will also do.
Oil for Frying
2 cups Flour
1 teaspoon Garlic Powder
1 teaspoon Black Pepper
Kosher Salt, as needed – start with 1 Tbsp add more or less depending on your taste
Heat the oil in a cast iron or heavy bottomed pan. Combine the flour and seasonings. Remove the chops from the marinade, shaking off excess liquid, and dredge in the flour mixture. Fry over medium heat until the chops are nicely browned and cooked through. Keep them warm in the oven while you fry the rest.
Easy, right?