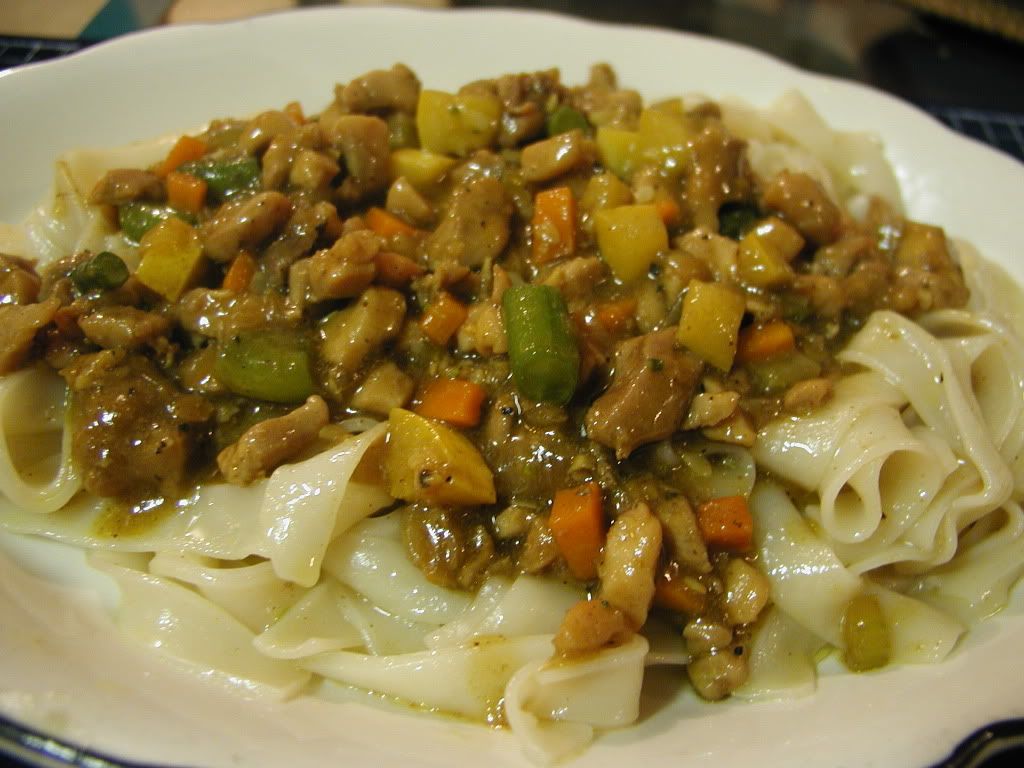 We had this as a quick weekday meal last week. Whether you have it over rice or noodles, it's delicious in either case. I also realized, just before I started cooking, that I was out of coconut milk which is what I usually use when I make chicken curry. Even without the coconut milk, it was still delicious. The family decreed that it tasted different but was just as good.Having it over rice noodles is what made this dish special. The green beans and the summer squash were from our garden.
Also, when I cooked this dish, I made double the proportions provided below because I wanted to have enough left overs for another meal. We had curry over rice the next time around and it was still delicious.

INGREDIENTS:
1 pack wide Rice Noodles, soak in warm water
4 Chicken Thighs, chopped
3-4 Tablespoons Soy Sauce
1 large Onion, chopped
4 cloves Garlic, chopped
2 Tablespoons Ginger, minced
1 cup Carrots (2 small), cubed
1 rib of Celery, cubed
2 yellow Summer Squash, cubed
1 cup Green Beans, cut into small pieces
¼ teaspoon Cardamon
1 teaspoon Cumin
2 Tablespoons Curry Powder
1 teaspoon Red Curry Paste
2 cups Chicken broth
4-5 Tablespoons Oyster Sauce
2 teaspoons Cornstarch, dissolved in ¼ cup water
Oil
This dish can be ready in an hour. The trick is to get everything ready before you start cooking. Chop the chicken and pour the soy sauce over it. Stir and set aside. Let the chicken marinade. In a separate bowl, put the noodles to soak in warm water then start chopping your ingredients.
In a wok or skillet, heat about three tablespoons of oil. Add the garlic and ginger and stir for about a minute until it is fragrant. Add the onions, celery and carrots and stirfry for three more minutes. Add the cardamon, cumin, curry paste and curry powder. Fry for a minute then add the chopped chicken. Stirfry until the chicken becomes opaque. Cover and cook for five to ten minutes or until the liquids have almost evaporated. Add the oyster sauce, green beans and summer squash and stirfry for a minute. Add the chicken broth, cover and cook for five more minutes. Stir in the cornstarch to thicken the gravy. Stir through and remove from the heat.
Take the chicken and vegetable curry our of the wok and reserve. In the same wok, add two cups of water and bring to a boil. When it is boiling, add a couple of tablespoons of oil to keep the noodles from sticking. Drain the noodles from the water that it has been soaking in and add to the boiling water in the wok. Stir, and cover. Within three minutes the water should have all been absorbed and the noodles cooked through. Transfer to a platter and top with the chicken curry sauce. Sprinkle with either chopped cilantro or green onions.
The sauce, because of the red curry paste, is pretty spicy. If you'd rather have your curry mild, omit the spicy curry paste and just use the powder.