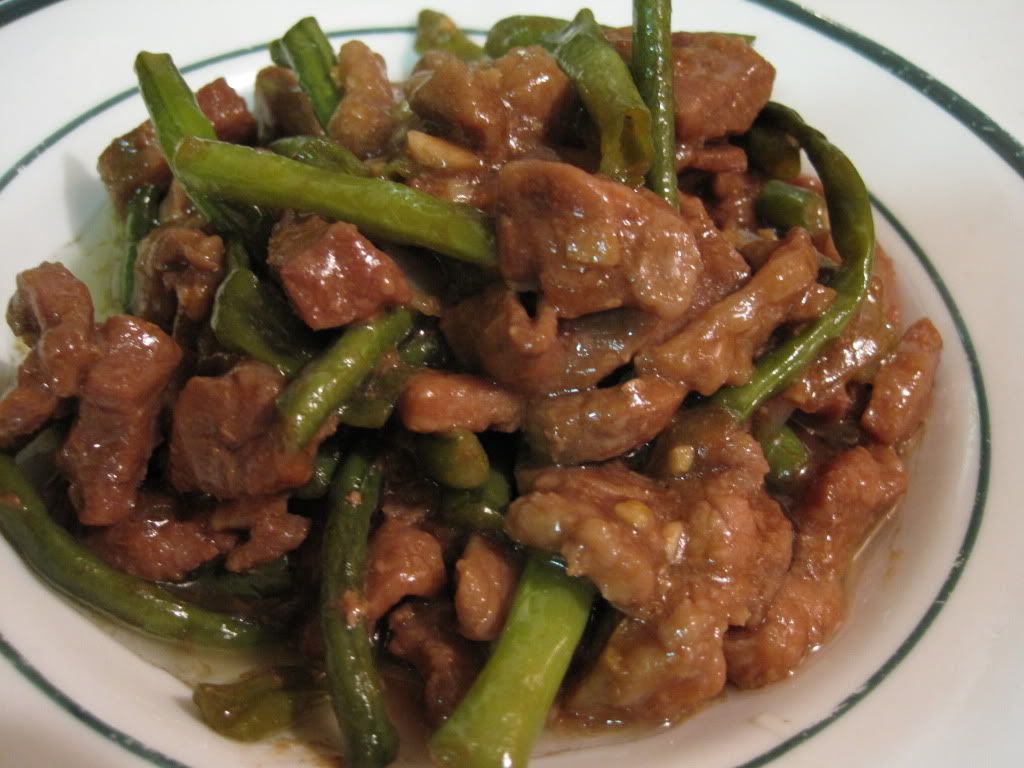 I was feeling lazy, didn't really feel like cooking the other day, and I wanted to play with my new camera but I still have to feed the family. So I decided to do something quick and enlist some help from the big girls. I had Asi chopping the garlic and onions and The Clone cut up the beans for me. All I did was cut up the meat and cook it the lazy stir fry way.
What's the lazy way? Read on…

INGREDIENTS
1-2 pounds of pork loin or shoulder, chopped to serving pieces
3 Tablespoons Apple Cider Vinegar
4 Tablespoons Soy Sauce
½ teaspoon red pepper flakes
4 cloves garlic, chopped
1 large Onion, sliced (well it was supposed to be sliced but Asi had her iPod on and didn't quite hear my instructions. She thought I said chop *_* )
4 Tablespoons Oyster Sauce
½ cup Water
1 teaspoon Cornstarch, dissolved in water
Here's where the lazy stir fry begins…
In the wok, so you don't dirty up another dish to wash, combine the pork, vinegar, soy and pepper flakes. Mix together. Cover the wok and turn the heat on to high. See, I figure I can do the marinating and browning all in one go by doing it this way. And while the thing is cooking, I could be tinkering with my new camera and trying to figure out how to use it.
Let the pork cook until all the liquids have cooked out and it starts to sizzle and render some fat. When it's starting to brown, add the chopped garlic and let it cook for another minute or two. Add the onions and long beans and stir fry for another two minutes. Add the oyster sauce and water. Cover, and cook until the beans are tender. About 6 minutes. If the sauce seems too watery, drizzle in some of the cornstarch mixture to thicken. Remove from the heat and serve.
Wasn't that fast? Get a bowl of rice and top it with this and you're good to go! OK, now back to the camera thingy 🙂 BTW, I took this picture with my new Canon Powershot, courtesy of my sisterO for my birthday. It took me forever to figure out how to get the flower icon to come on!