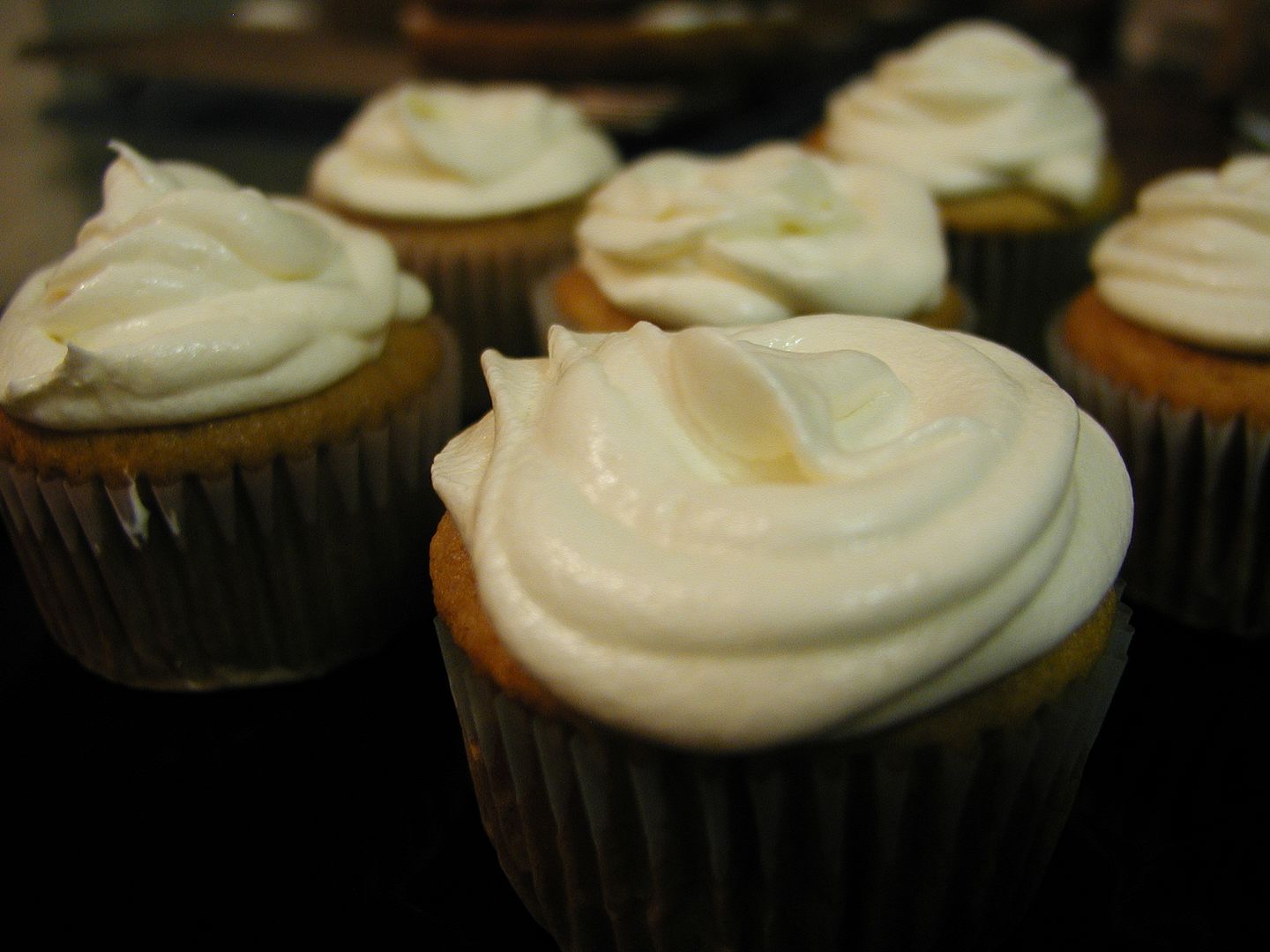 This Banana-Cardamom cupcake recipe was found this on the Cook Worm's blog. Now you know how I like to make banana bread to use up old bananas. Well when I saw this recipe I just knew I had to try it the next time I had a surplus of bananas. Well, I didn't have to wait too long. I got my bananas and got to work on these beauties.
I knew before I even started cooking that these were going to be a hit in our house, what with the cream cheese frosting and all. It turned out, they also liked the cake part! They even like the cardamom flavor instead of cinnamon! As for me, I think I may have been eating too much curry because I can barely taste or smell the cardamom after it cooked. I loved that this had yogurt as the dairy in it. It made for a very moist cake. Try this next time you have some over ripe bananas that you need to use up.

Banana-Cardamom Cupcakes with Cream Cheese Frosting

2 cups all-purpose flour
2 large bananas, mashed (about 1 1/2 cups)
1/2 teaspoon ground cardamom
1 teaspoon baking soda
1/4 teaspoon salt
4 ounces (1 stick) unsalted butter, at room temperature
1 cup granulated sugar
1/2 cup plain, unsweetened yogurt
1 teaspoon vanilla extract
2 large eggs, at room temperature

Preheat oven to 350ºF and line a cupcake tin with paper liners.

Whisk flour, salt, cardamom, and baking soda together in a medium bowl. In a separate bowl, mash the bananas with a fork. In a standing mixer fitted with the paddle attachment, beat the butter and sugar on medium speed until light and fluffy, 2-3 minutes. Add eggs one at a time, beating each time until fully incorporated. Add the yogurt and Turn speed to low and add the flour mixture in three batches, mixing just until combined. Stir in the mashed bananas. Scoop batter by 1/4 cup-measures into prepared pan.

Bake at 350ºF for 15-18 minutes, or until a tester comes out clean. Cool in pan 5 minutes, then transfer to a rack to cool completely.

Basic Cream Cheese Frosting
This recipe makes enough frosting for two batches of cupcakes, unless you really plaster on the frosting!

8 ounces cream cheese, room temperature
4 tablespoons (2 ounces, 1/2 stick) unsalted butter, room temperature
2 1/2 cups confectioner's sugar
1 teaspoon vanilla extract

In the bowl of a standing mixer fitted with the paddle attachment, blend the cream cheese and butter at medium speed until well mixed, about 3 minutes. Add vanilla and mix. Add confectioner's sugar, 1/2 cup at a time, until frosting reaches the desired sweetness. Beat on high speed for about 3 minutes or until light and fluffy. Pipe or spoon onto cupcakes, then grate a little nutmeg over each one, if you like.