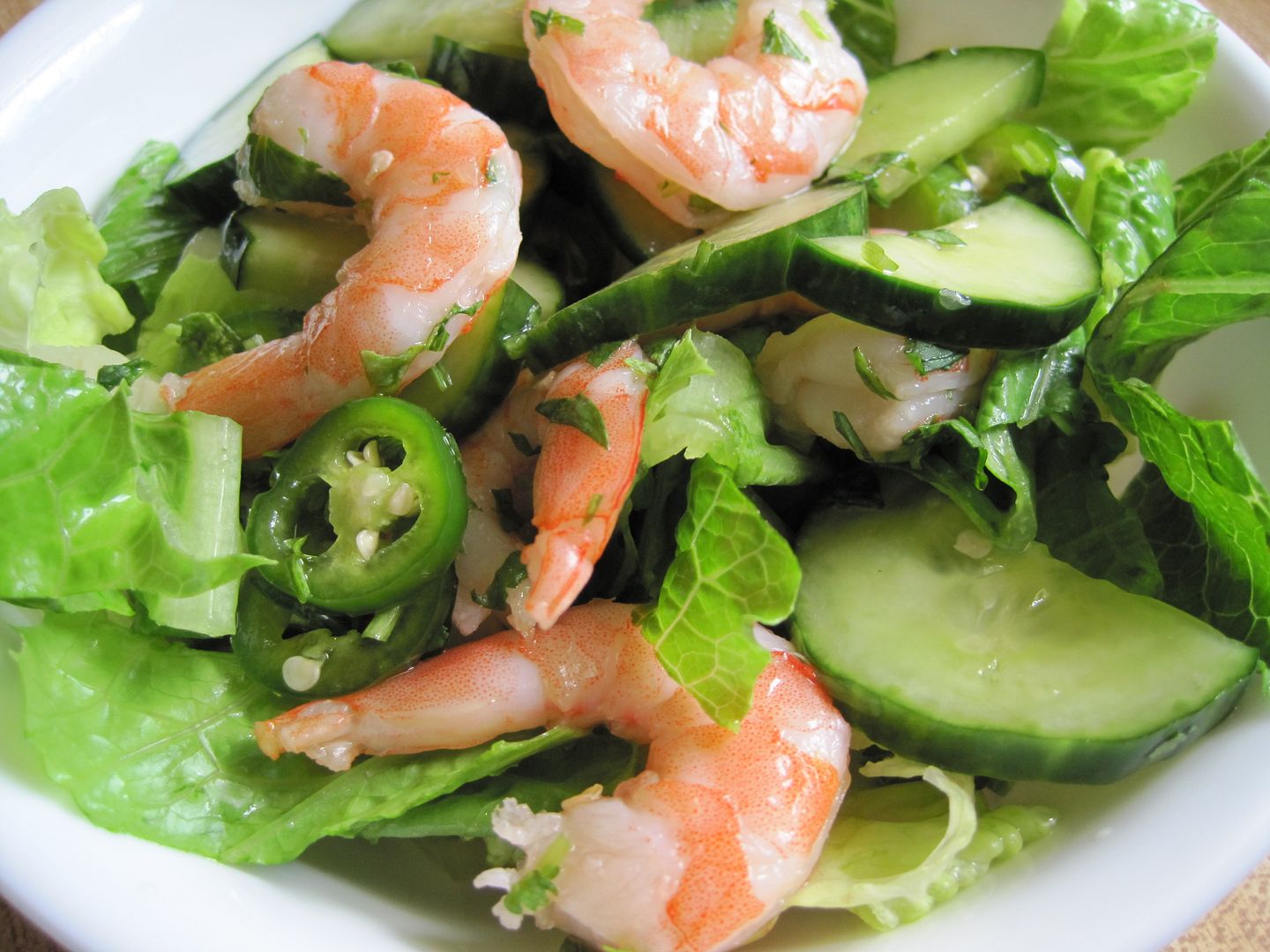 Chez Pim just made a delicious looking Thai cucumber salad (Yum Tang Gwa) and after seeing that post I just had to have some. Luckily, I had most of the ingredients on hand including the cucumbers which were fresh from our garden and the shrimps in the freezer. I had my cucumber and shrimps over romaine lettuce drizzled with more of the lime and fish sauce dressing that the cucumbers and shrimp were marinated in. It was a delicious lunch!
Here's my slightly altered version:

INGREDIENTS
2-4 Cucumbers, sliced into half moons
¼ Cilantro, coarsely chopped
¼ Mint, coarsely chopped
2 Serrano Chilis, sliced into thin rounds
1 cup cooked Shrimp
4 Tablespoons Fish Sauce
1 Lime, juiced
2 Tablespoons Rice Wine Vinegar
4 Tablespoons Sugar
Mix all the liquid ingredients (fish sauce, lime, vinegar) in a small bowl and add the sugar. Stir until sugar is dissolved. Taste and adjust the flavors. Depending on what you like or how you're feeling that day, you may have to add more lime or sugar or fish sauce. It's to your taste.
In a large mixing bowl, add the cucumbers, cilantro, mint and chili. Pour the dressing over and mix. Add the shrimp and mix some more.
You can eat it as is or over lettuce like I did. Or you can try Chez Pim's way which is probably way more authentic than mine. 🙂