Inspired by Jane Doiron's book, Make Ahead Meals for Busy Moms, I have been trying to be more organized and cook something ahead of time so that I'm not always so harried to get dinner on the table during the week. Some of the tips on the book are really helpful and I have started utilizing some of them including the one about freezing a pan of lasagna for another day.
That's what I did when I made this double batch of lasagna that is loosely based on Jane's recipe in the book. You know me, I just can't leave any recipe well enough alone. I have to go and mess with it. Jane's recipe is really simple and easy to follow AND easily adaptable which is what I did here.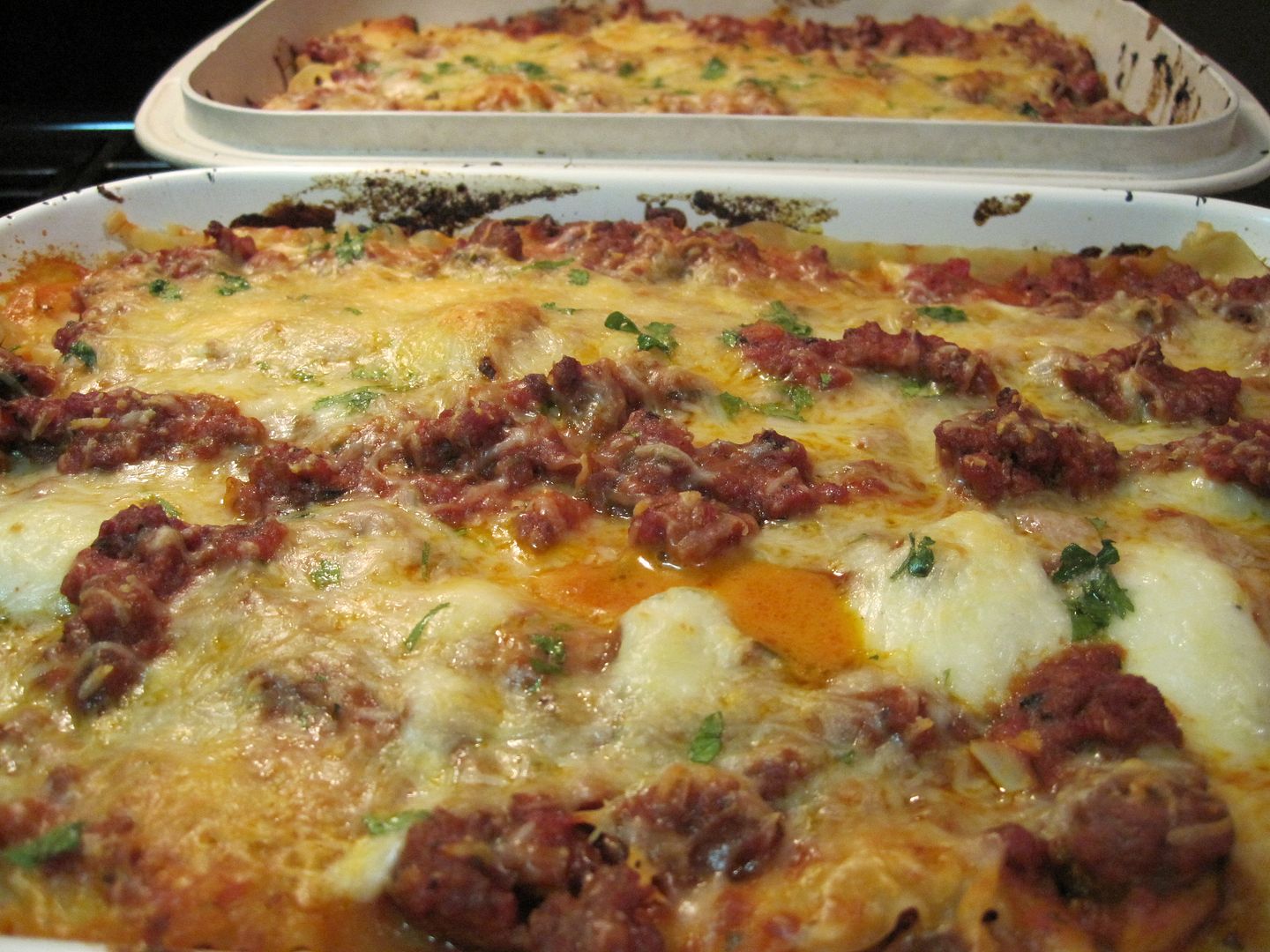 It just so happened that I had some extra ingredients that needed to be used up and I adjusted the flavors a bit to suite my family. Here's my version of make-ahead lasagna…

INGREDIENTS
2-3 lbs. lean Ground Beef
5 Italian Sausages, casing removed
1 Large Onion, chopped
1 head garlic, peeled & chopped
3 small globe Eggplants, peeled and cubed
1 Tablespoon dried Oregano
1 teaspoon dried Red Pepper Flakes
1 jar of Spaghetti Sauce (I actually used an equivalent to one large jar of sauce. The girls had two jars of partially used sauce in the refrigerator and I was using them up so they're out of the refrigerator)
Salt, to taste
Place the peeled & cubed eggplants in a collander and liberally sprinkle with salt. Place the ground beef and sausages in a large pot over medium high heat. Brown the ground beef and sausage until it has rendered fat and drain most of the oil. Add the onions and garlic and cook for a minute or two. In the meantime, rinse the eggplants and dry off most of the water from them. Add the eggplants to the ground beef and let it cook for 5 minutes or so until the eggplants are partially cooked. Add the oregano and pepper flakes, and the spaghetti sauce. Simmer for about 30 minutes to an hour, depending on how much time you have. While the sauce is simmering, prepare the rest of the ingredients.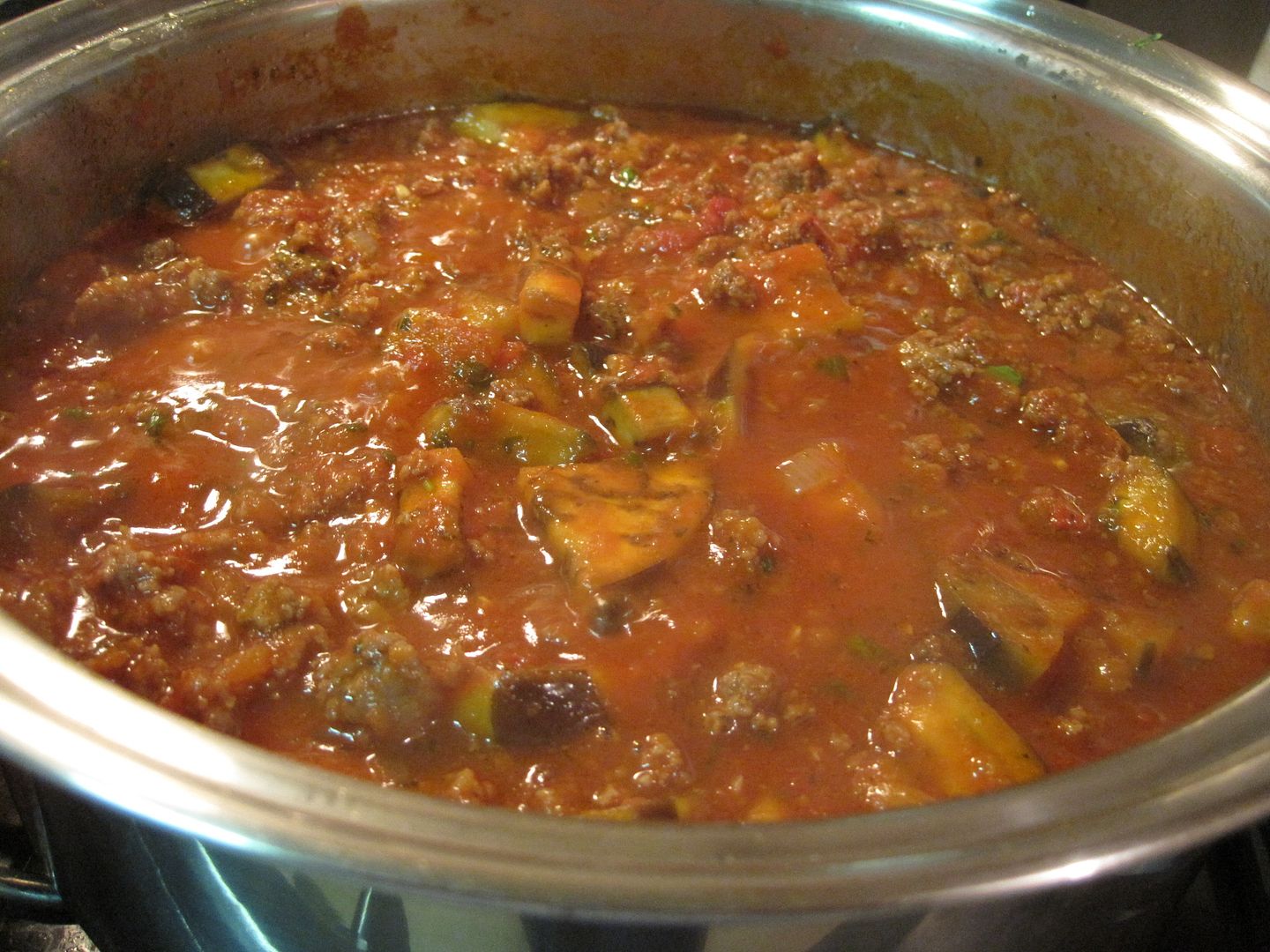 1 lb. pack of dried Lasagna Noodles, pre-cooked (boil them for 10 minutes until they are pliable but not overcooked)
16 oz. Mozarella Cheese or a combination like I used (8 oz Mozarella Cheese & 8 oz. 6-cheese Italian Blend)
2 cups Ricotta Cheese
1 cup Parmesan Cheese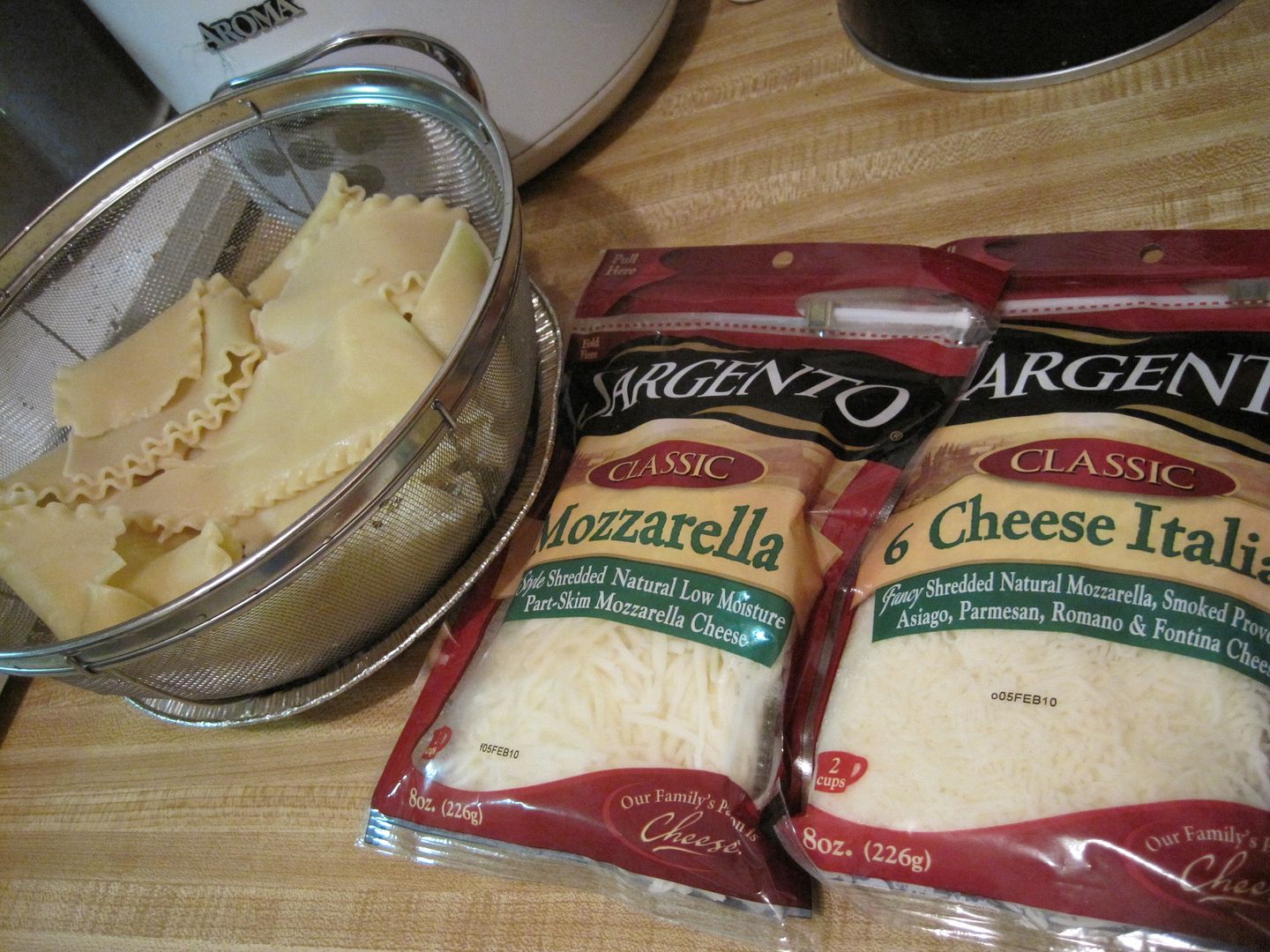 BECHAMEL SAUCE – I used the recipe we used in the spinach lasagna recipe. The only difference is that I added Italian parsley this time, just because I have them and they are looking so pretty in the garden right now.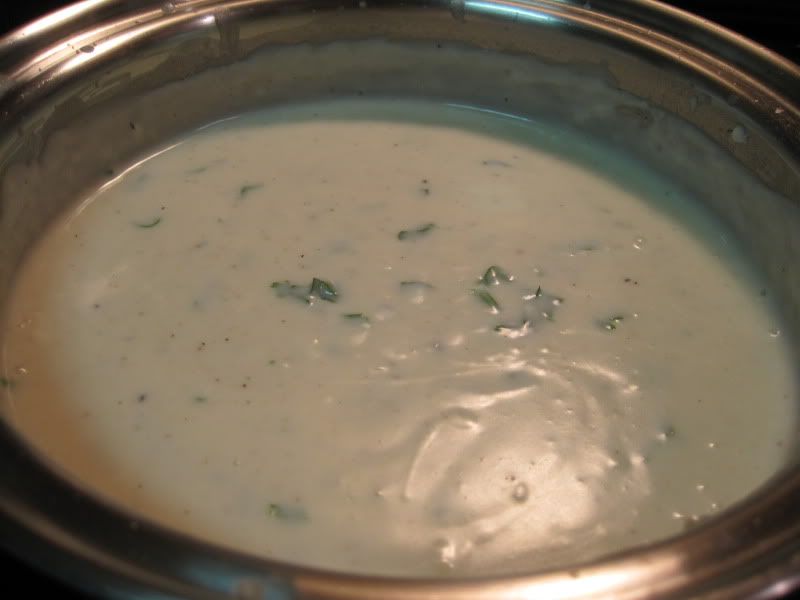 4 tablespoons (2 ounces/60g) unsalted butter
4 tablespoons (2 ounces/60g) all purpose unbleached (plain) flour, organic stone ground preferred
2&2/3 cups (approx 570ml) milk
Salt and freshly ground pepper to taste
Freshly grated nutmeg to taste
¼ cup Italian parsley, chopped
Using a medium-sized saucepan, melt the butter over low to medium heat. Sift over the flour, whisk until smooth, and then stir (without stopping) for about 3 minutes. Whisk in the milk a little at a time and keep the mixture smooth. Bring to a slow simmer, and stir 3 to 4 minutes, or until the sauce thickens. Cook, stirring, for about 5 minutes, until the sauce thickens. Season with salt, pepper, and a hint of nutmeg. Add the parsley and turn off the heat.
Now that you have all the elements ready, you can start layering them. Start by putting some of the red sauce in the bottom of your baking pan. Place strips of lasagna pasta to cover the bottom of the pan. Pour some sauce over the pasta, place dots of ricotta across the layer, follow that with a few tablespoonful of bechalmel or white sauce, sprinkle with the cheeses, then start over again, until you've used up all the pasta and have filled two pans. I think I ended up with 3-4 layers in each pan.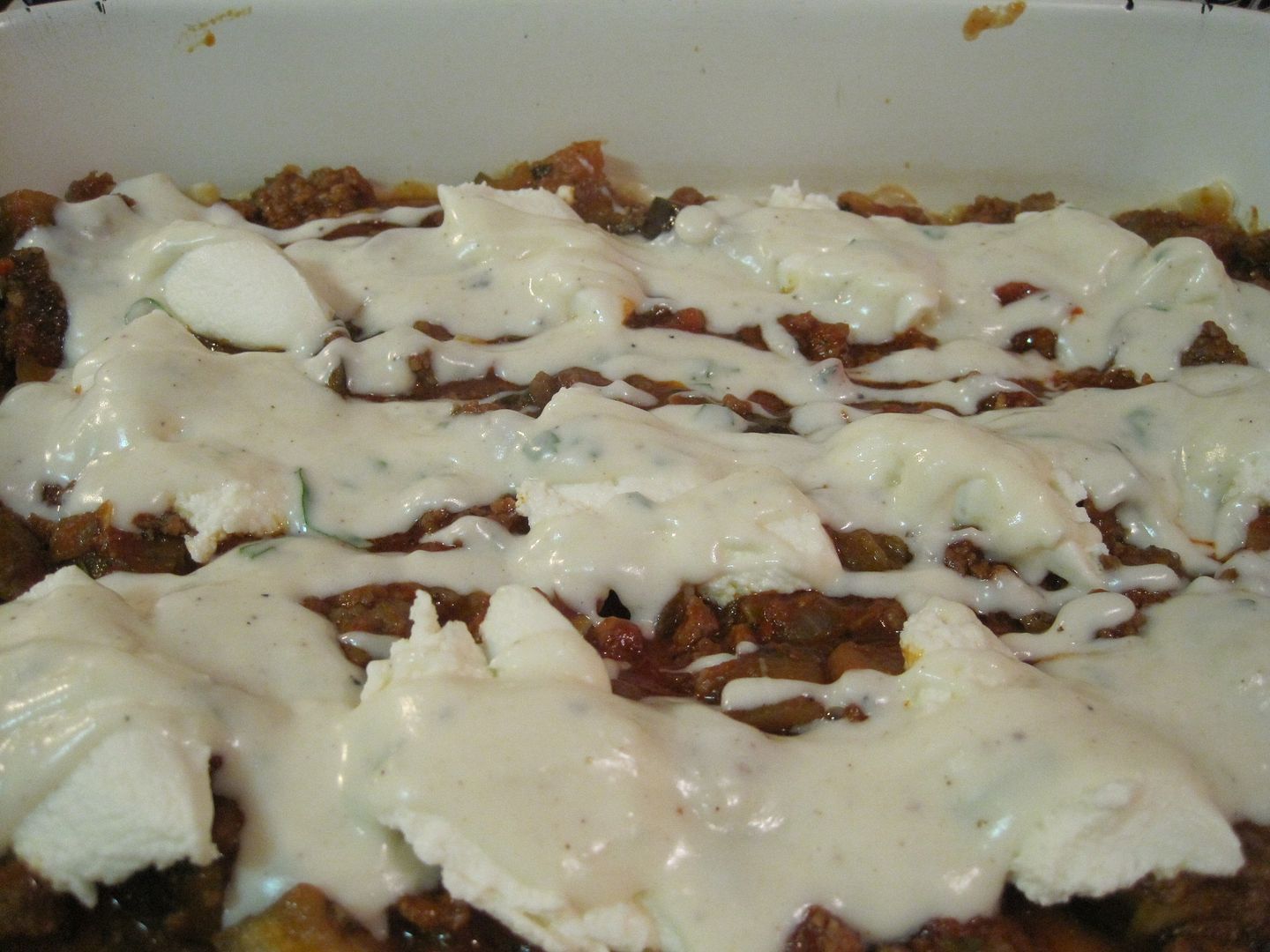 To finish off the top, add more cheese and some chopped parsley.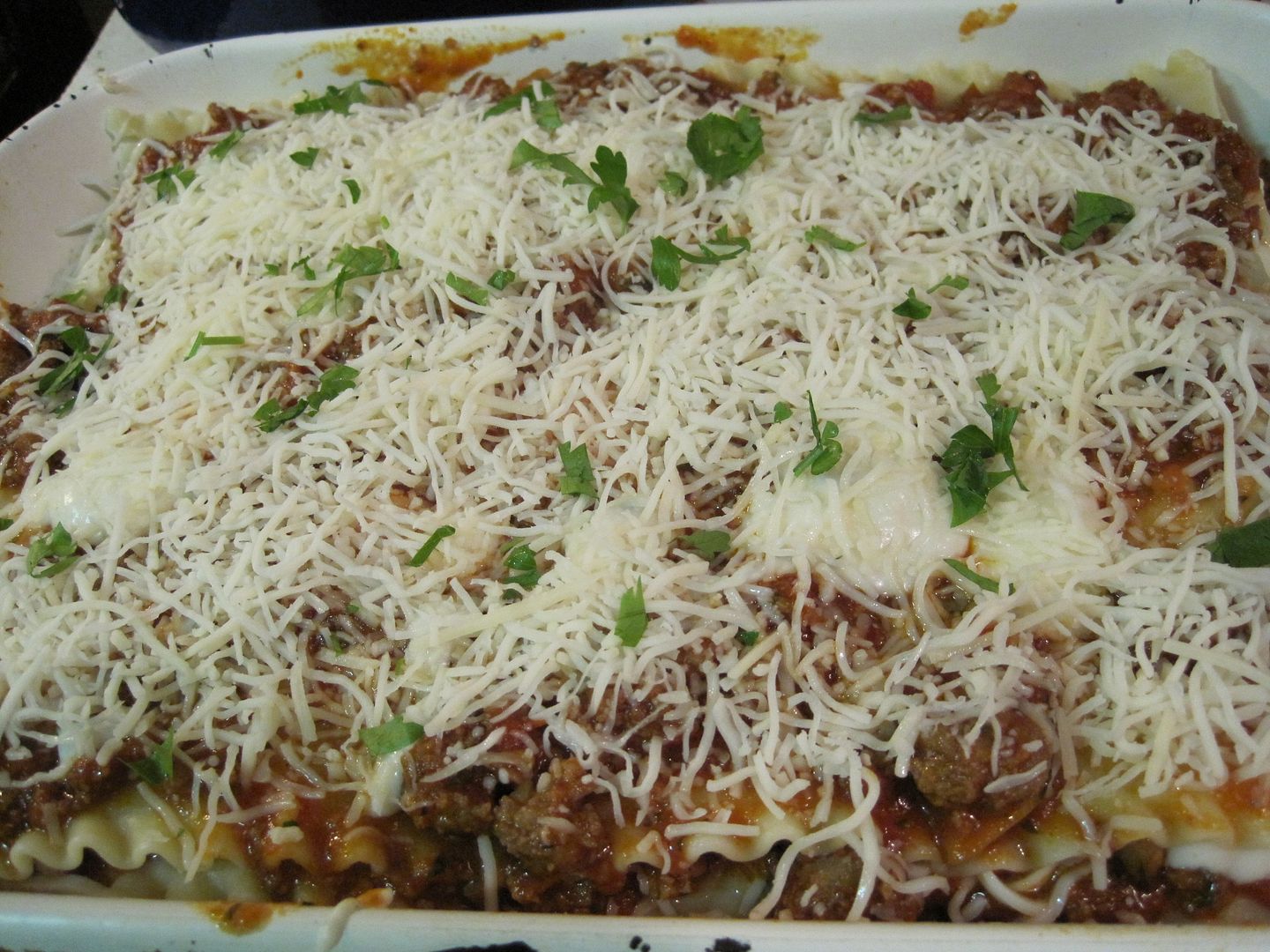 At this point, you can either bake them both then freeze one cooked pan of lasagna OR freeze the second pan at this point and cook it later. I went ahead and baked both pans and froze the second pan to make it easier for the girls to warm up later.
Cover the pans loosely with foil and bake in a preheated, 350 degree F oven for 30 minutes. Remove the foil covering, and bake for an additional 30 minutes until it is all nice and bubbly.
By the way, the second pan of lasagna that was frozen, simply take it out the morning you intend to serve it and let it thaw in the refrigerator. Then you only have to reheat it for 30 minutes or so when you're ready to eat it. OR, you can do it the lazy way like my kids who dug into the pan before I got home from work and heated individual pieces in the microwave.