I love apple pie! My favorite one is either Mrs. Smith's dutch topped or Marie Calender's deep dish 🙂 Yeah, I'm not ashamed to admit it. I liked the frozen kind that you just pop in the oven. My previous attempts at making apple pie always ended up with filling that was too runny, undercooked, overcooked, cloyingly sweet or not sweet enough. And always, I always used the frozen pie crusts. I didn't think it was worth the effort of rolling out your own dough and all that when you can buy perfectly good crust for a dollar and something.
Well, OK, I was also too timid to make my own dough. I've tried it before, mind you. One came out hard and thick, once, it was too doughy, and once, it just was not edible at all. It wasn't worth the trouble for me. I liked the boxed frozen stuff from the store.
Then one weekend while I was cleaning out the refrigerator, I discovered six apples (fuji, golden delicious, gala) in the bottom of the vegetable bin. No telling how long they have been there, but they were getting that slightly dried out look to them. So, I decided right then and there to make apple pie out of them. BUT, I didn't have my store-bought crust! But heck, I've got several Daring Baker challenges under my belt now, so why not confront the pie crust challenge too? After a short internet search, I came up with a recipe that I combined from one or two recipes and this is what I came up with.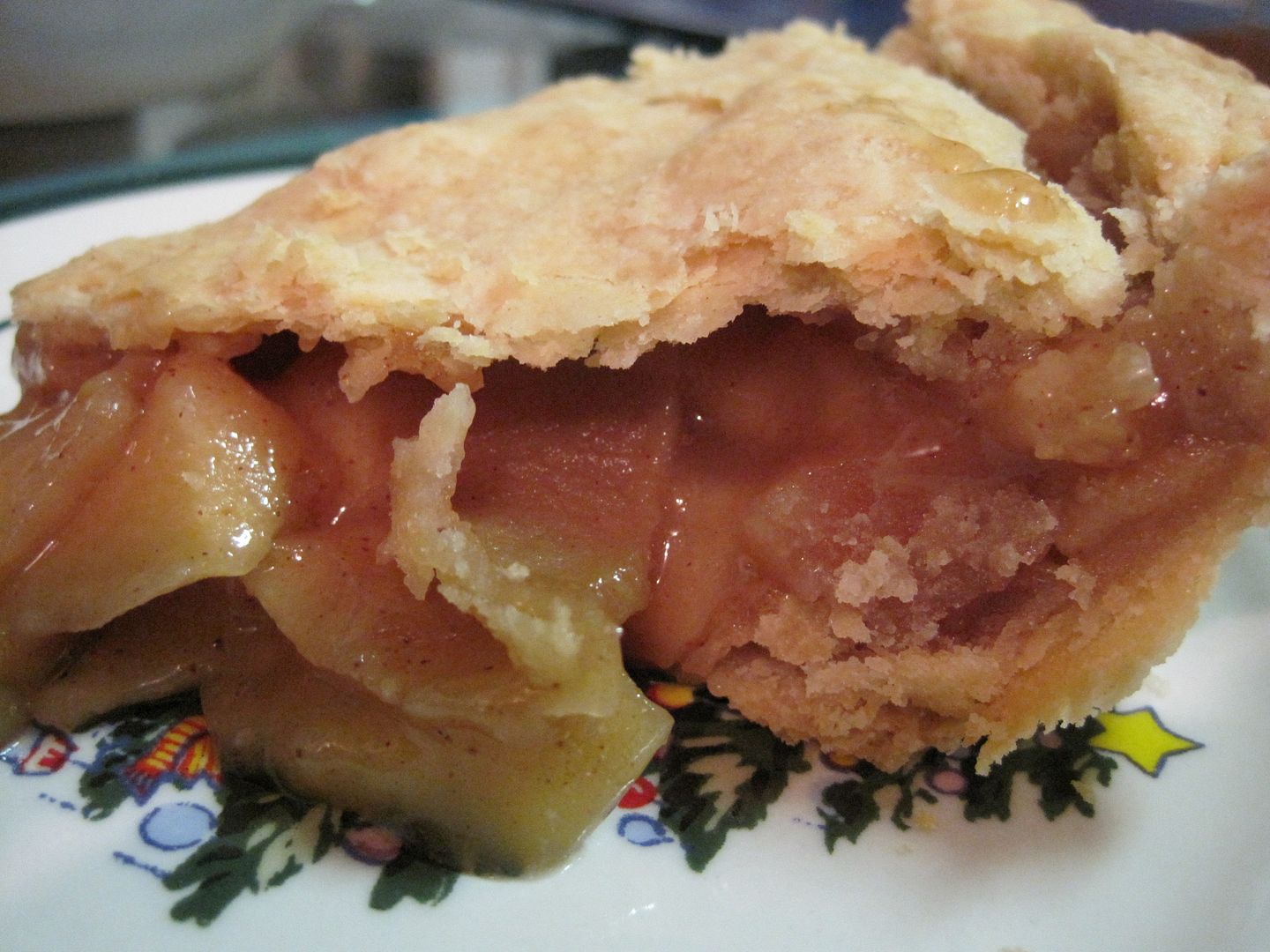 I am not the best photographer, but I think you can see in this photo how perfect this pie was. The crust was perfectly flaky and the filling was "just right." We've deemed this version my finest yet, so I decided to finally post an Apple Pie Recipe.

CRUST INGREDIENTS:
2 ½ cups All-purpose Flour
2 Tablespoons Sugar
½ teaspoon Salt
½ cup unsalted Butter (1 stick)
¼ cup Shortening
6-8 Tablespoons of Cold Water (add 1 spoonful at a time, as needed)
Combine all the ingredients above except for the water. Mix the butter and shortening into the flour mixture until it is crumbly and has no large lumps. Then start adding cold water, one tablespoon at a time until the dough starts to clump together. Gather it into a ball and wrap in plastic. Put in the refrigerator to chill (about 30 minutes) while you prepare the filling.
FILLING INGREDIENTS:
5-6 cups Apples, peeled, cored and sliced
½ cup Flour
¾ cup Granulated Sugar
¾ cup Brown Sugar
1 teaspoon Cinnamon
3 Tablespoons Butter
Mix all the ingredients above, except for the butter.
ASSEMBLE YOUR PIE
1. Take out your pie dough from the refrigerator and cut it in half. Roll each half into a disk the size of your pie pan. Place the first disk on the pie pan, letting any excess hang over the side.
2. Pour the filling mixture into the pie pan, mounding the apples. Place pats of butter over the filling mixture.
3. Cover the whole thing with the second disk of pie dough. For a rustic look like mine, just fold the excess dough in on the edge of the pie pan and crimp. Make four cuts on the top crust to let out steam while it's cooking.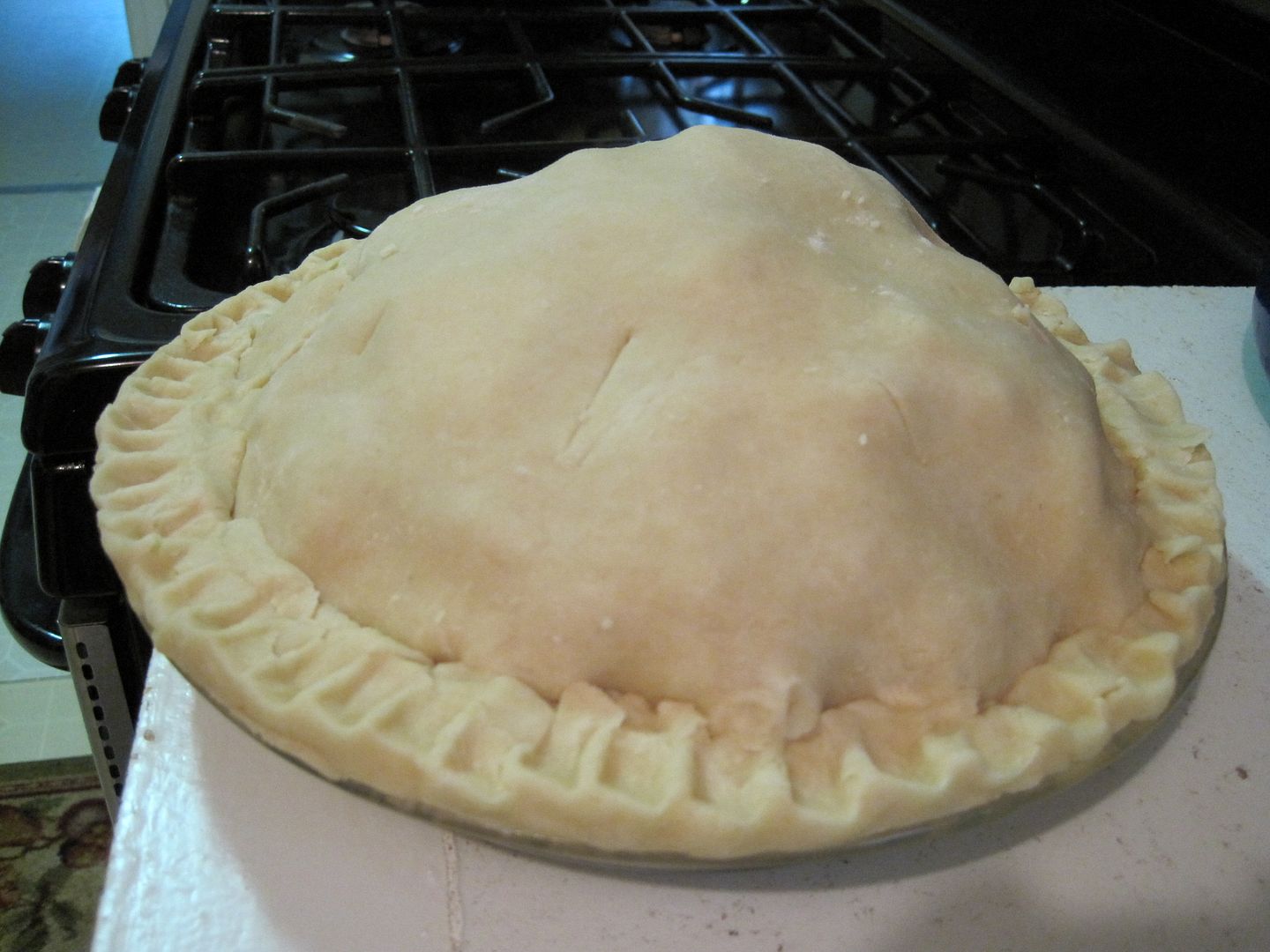 BAKE
Pre-heat the oven to 400 degrees F. Put the pie in the oven with a drip pan under it because it will probably drip some of the juices while it's baking. I just set my pie pan on a foil covered cooking sheet to minimize clean up. Anyway, bake the pie for 10 minutes at 400 degrees then lower the heat to 350 degrees F. Bake for a hour and 15 minutes, give or take a few. I would check at the one hour mark and if it looks nice and brown and bubbly, I would take it out. If it's not quite brown and bubbly yet, then leave it in for another 15 minutes.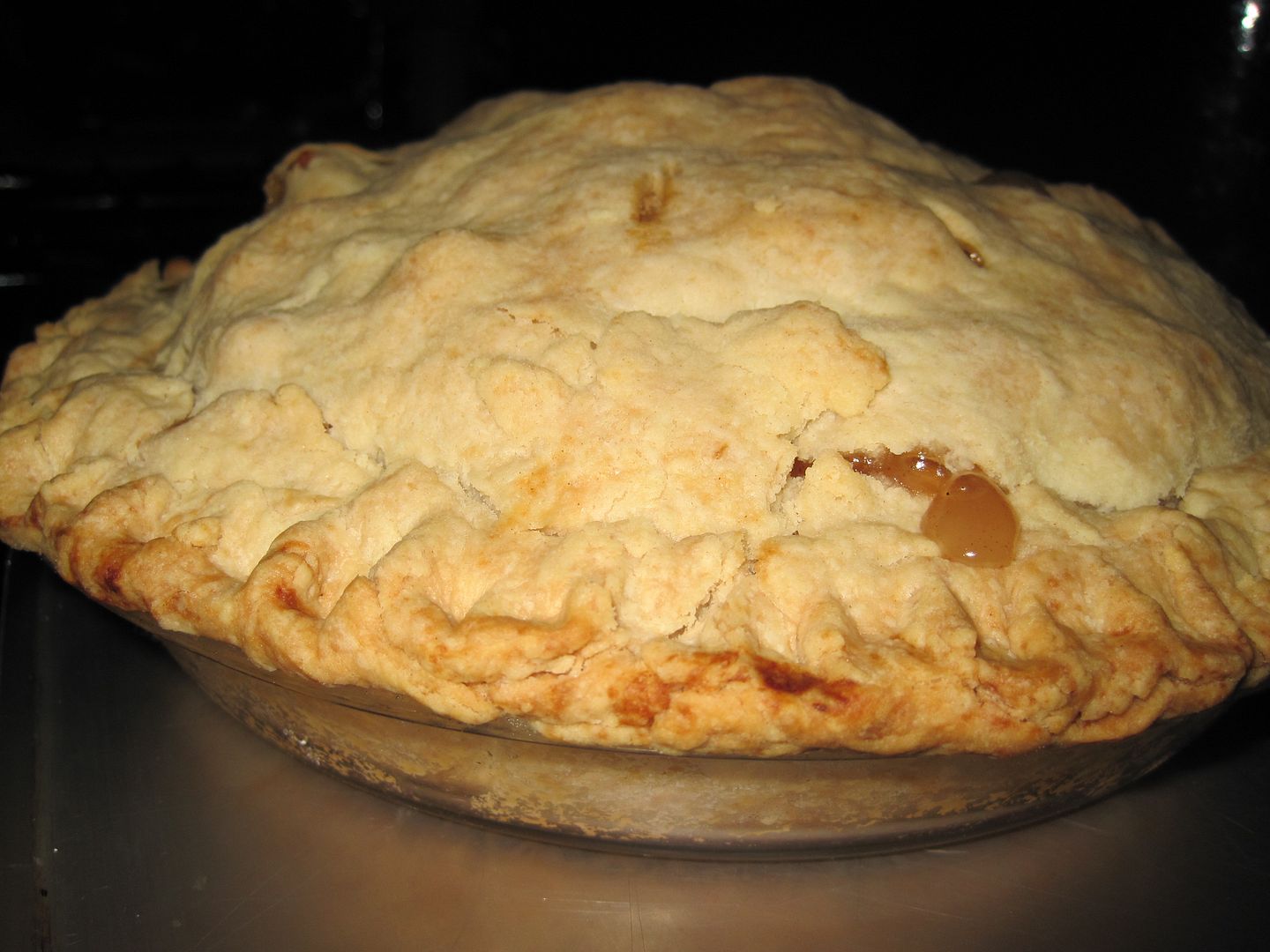 Let it cool for at least 30 minutes before cutting into it.