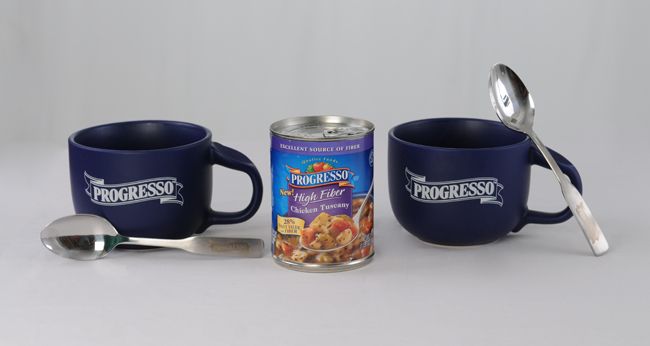 Soup weather! Yep, it's that time of year again and the timing for this giveaway couldn't be better. Progresso knows it's that time of year again too, so here's a great big reminder of where to get your next soup fix. We received this awesome gift package from My Blog Spark and in it are the two beautiful blue soup mugs with matching branded spoons. Best of all, we also received a can of delicious Progresso Chicken Tuscany Soup.
The Chicken Tuscany is part of the Progresso High Fiber line of soups. As with other Progresso products, these do not have any added MSG (monsodium glutamate) or artificial flavors. They are made just like I would make them, chock full of good for you veggies and natural flavors. This high fiiber line is just what you'd want if your trying to increase the fiber in your diet. Each serving contains seven grams of fiber which equals to 28% of the recommended daily fiber. That's pretty darn good, don't you think?
The Progresso High Fiber soups come in four delicious flavors: Chicken Tuscany, Creamy Tomato Basil, Hearty Vegetable and Noodles and Homestyle Minestrone.

Now I've said it here over and over again how I don't really buy a lot of canned foods. It's true, I wasn't lying! I don't buy a lot of canned foods, but the Progresso Soup is one of the ones I do buy. One, because my daughter loves soup and sometimes I just don't have time to make soup. This gives her a healthy and easily prepared meal when she comes home from school hungry. The second reason I buy Progresso is because, as I have already mentioned above, it's one of the canned soup products that's not full of MSG and artificial stuff that you can't pronounce.
Third and most important reason, they are just plain good. I even eat them myself and believe me, there aren't many canned items that I would eat without extenuating circumstances. I only got a couple of spoonfuls of the Chicken Tuscany soup we got. My daughter claimed the whole serving as her own. All I can say is, this soup was delicious! As most canned soups, it was a bit on the salty side for me, but the flavors from the herbs was stupendous! The beans were not overcooked, they had just the right bite to them. After this try, I'm wanting to try the other flavors! (and I'm not saying that because I got to sample it for free.)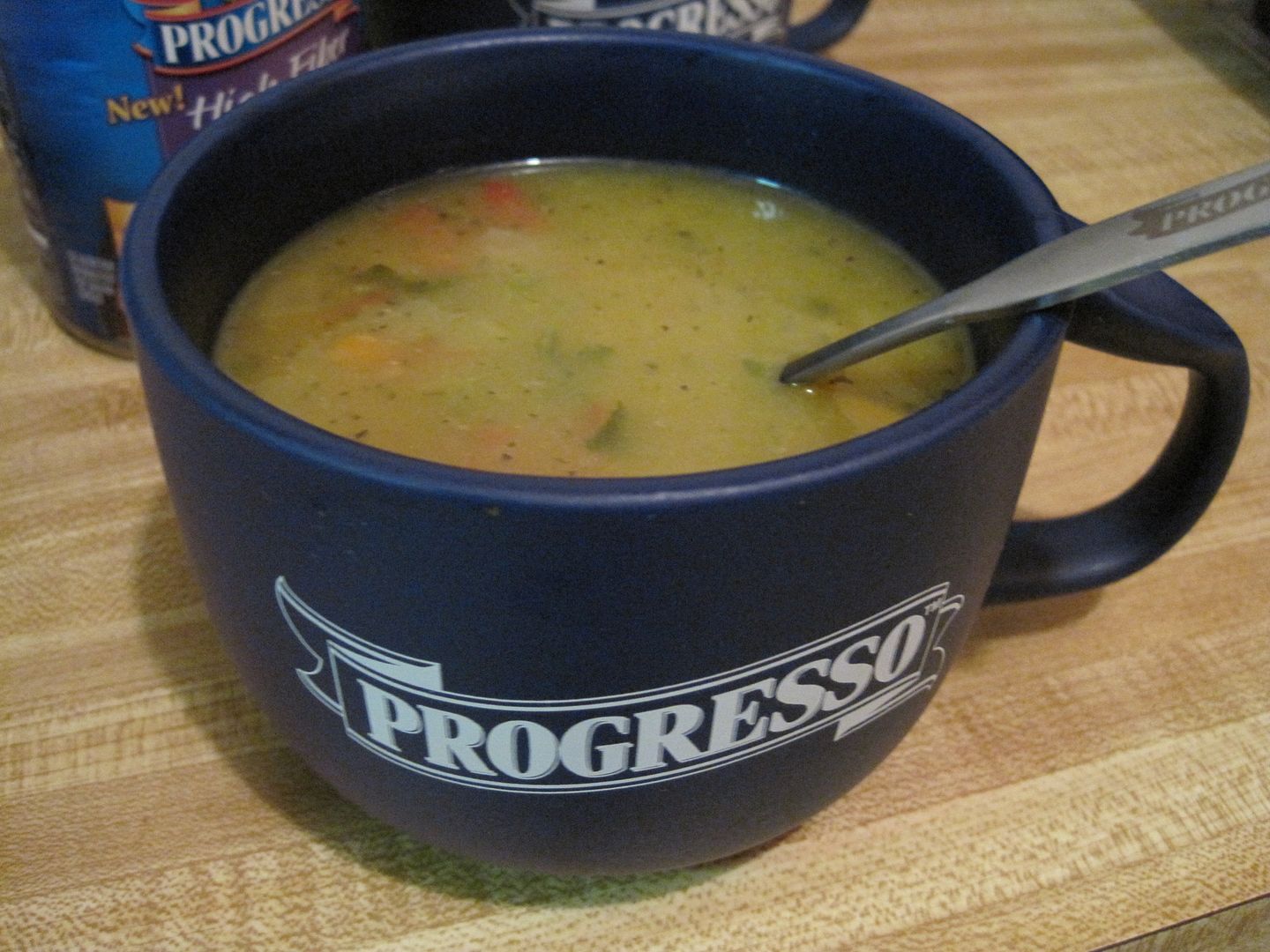 If you'd like to win this beautiful soup package, read on below to see how to enter this giveaway.
PROGRESSO SOUP GIVEAWAY
Prize: The soup package includes a sample of the Chicken Tuscany soup to try along with a prize pack that includes two branded soup mugs and two branded spoons (see first image above)
To Enter:
1. Leave a comment and tell me which Progresso High Fiber soup you would like to try
For additional entries you can also:
2. Share this giveaway in any media such as StumbleUpon, Digg, Facebook, etc. There is a share button at the end of this post for your convenience. Just make sure to come back and leave a comment for each share you make and you will gain an entry for each one.
3. Follow me on Twitter and
4. Tweet this giveaway. You can copy and paste the text below or use the Share This button.
Progresso Soup Giveaway on Cooked From the Heart @JMom http://tiny.cc/V3rgA
5. Blog about this giveaway and you will earn 3 entries. Leave a link to your post 3 times.
RULES
1. Giveaway ends on November 10, 2009
2. Open to US addresses only. No PO Boxes.
3. Winner will be chosen by random.org and contacted by email. Please respond in 48 hours or a new winner will be chosen.
The Progresso gift pack and product sample as well as the giveaway prize offered in this post were provided byProgresso and MyBlogSpark.