This was today's lunch, at the request of The Clone (my youngest daughter). We still have lots of tomatoes coming in from the garden and we have a huge bowl of them on the table. We have sliced tomatoes or salsa with almost every meal and still, it seems like we're not making a dent on the pile as more are added on every time we use some up.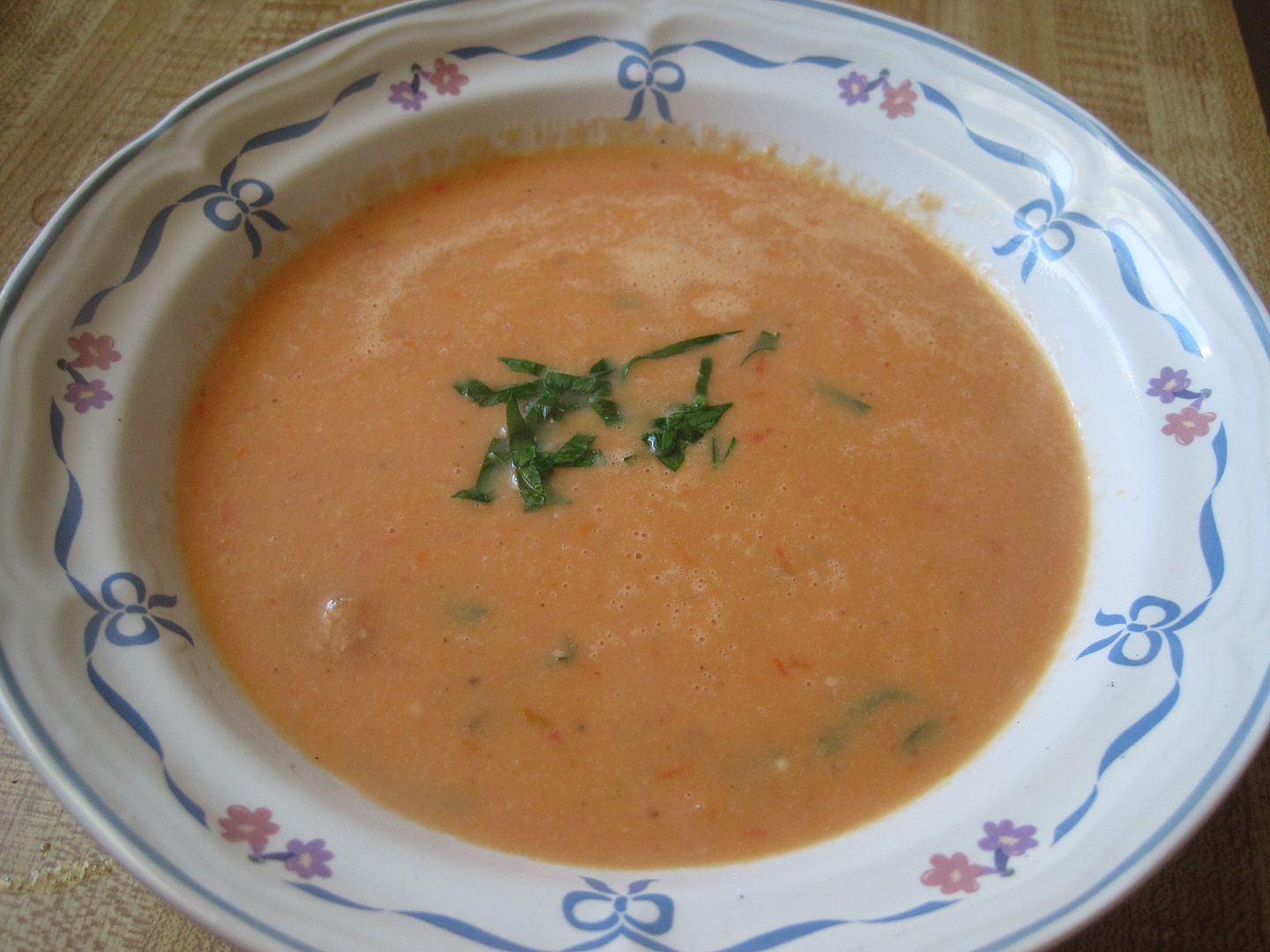 So for lunch today, we decided to make soup. This is such an easy recipe, it can be cooked in 30 minutes including prep time. There is so much flavor in the tomatoes that so little seasoning is needed. The salt I added to this was a mere dash. If you choose not to add any salt, you probably won't even miss it. And the one cayenne pepper that was added? You can barely taste it at first but the more you eat, it gives a background heat that is almost hard to pinpoint. It was actually a nice addition. I liked it and my daughter did not even notice the spice. Or if she did, she didn't say anything about it, so I guess that's good!
INGREDIENTS:
Tomatoes – about a pound (I used both cherry tomatoes, Roma tomatoes and a couple of yellow tomatoes)
1 small Cayenne Pepper
2 Cloves of Garlic, peeled
1 medium Onion, chopped
2 cups 2% Skim Milk
2 Tablespoons Olive Oil
Salt & Pepper to taste
2 Tablespoons fresh Italian Parsley, chopped
Heat olive oil and caramelize the onions over medium/low heat. In the meantime, while the onions are cooking, place the tomatoes, pepper and garlic in a food processor and process until blended. When the onions are soft and caramelized, pour in the tomato mixture. Slowly bring to a boil and season with salt and pepper. Let it simmer for about five minutes and pour in the milk. Let it come back up to a simmer. At this point, you're just about done. If you like your soup with some texture, you can finish up here or if you like it smoother, get an immersion blender and run it for a couple of minutes. That is what we did with this soup, and the additional blending made the soup creamier and thicker. Just before serving, stir in the chopped parsley.