Have you ever found yourself wanting two things at the same time and wish that you could have them both? Well, in cooking you can do that! 😉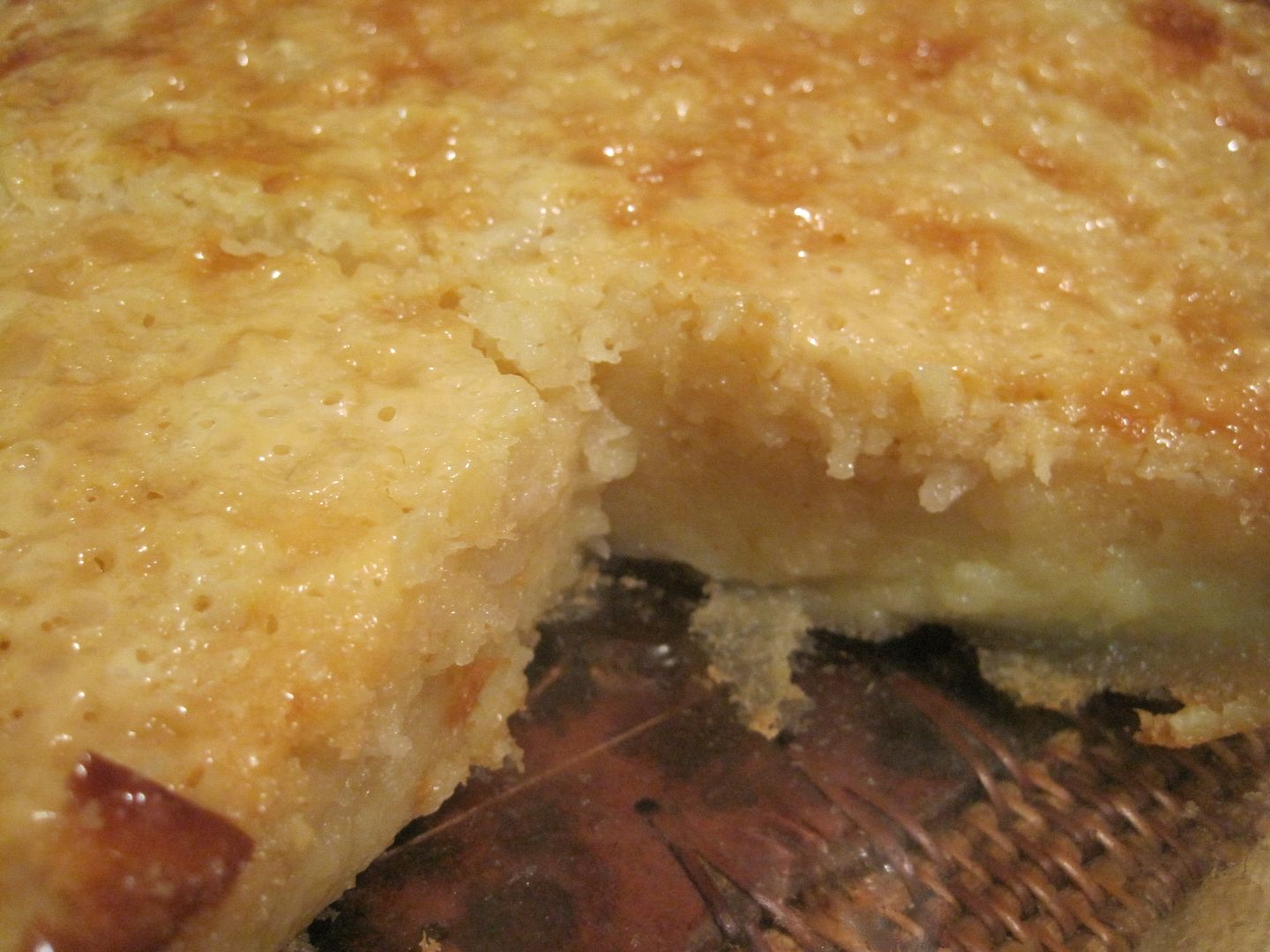 That's what happened a couple of weeks or so ago when, while perusing my friend's updates on facebook, I saw that she had made this yummy looking cassava cake. It looked so scrumptious, I wanted to lick it right off the computer screen! It helped that she's also an awesome photographer, you understand. She's been known to stir up intense cravings just from her photographs and musings of food. Well I wanted that cassava cake! I also wanted it the way she made it which was with small pieces of diced jack fruit. She said it just made the whole thing so fragrant. I could almost smell it just from looking at her photo. I wanted it bad!
So off to the pantry I went, searching for the ingredients to make myself a treat. Really a bad idea when you're hungry. As I stood there, rows and rows of canned and dried goods lined up in front of me wanting to be made into something delicious. I kept getting distracted thinking…
"maybe I should make some cupcakes instead…"
"oh look! cherries! how about a pie? …."
"Beans? I should make some chili."
"OH, I had forgotten this jar of Nutella back here…"
And so it went, but I pulled myself together and concentrated on what I went in there for in the first place. Stuff for Cassava Cake! I needed canned milks: evaporated, condensed and coconut. Check! Then I went to the freezer to pull out the frozen grated cassava….. I only had one pack! Half of what's called for in the recipe! Well, I thought to myself, I'll just make a half batch since I will probably be the only one to eat it anyway.
Then I turned around and spied, in the pantry, a half used bag of glutinous rice flour, left over from when my daughter and her friends made mochi. My mind immediately said, "mochico cake!" "But I was already going to make Cassava Cake!", I answered. But I oh, so wanted both of them then. I could smell them baking and turning beautifully brown as they baked. I can imagine their gooey lusciousness on my tongue! Right then and there, I decided, I knew I had to have them both. I had to. I couldn't help it. Well, I could have helped it, but I didn't want to. I just wanted to eat! So I cooked, and here's how I did it.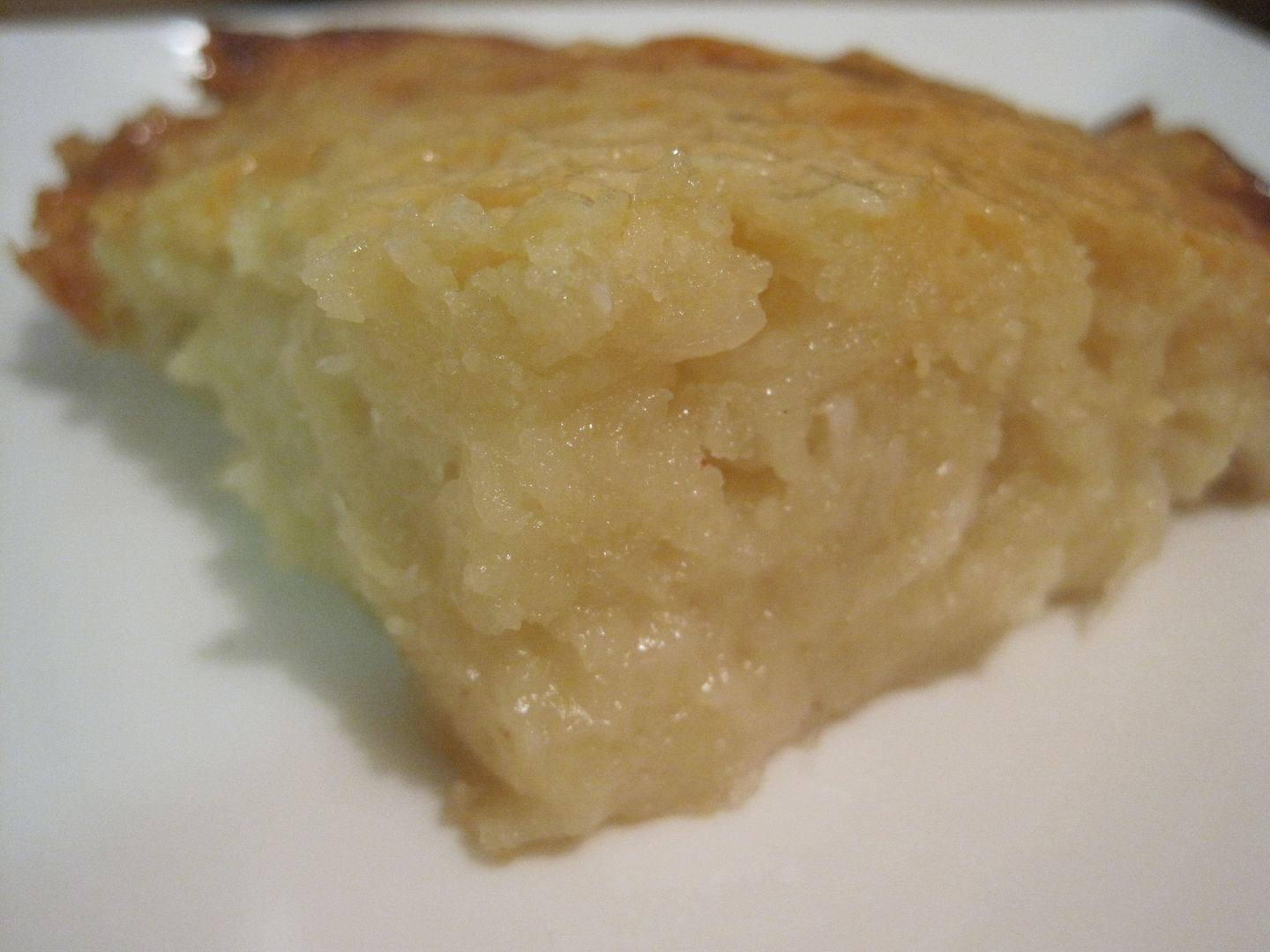 CASSAVA RICE CAKE
INGREDIENTS:
1 16oz. package of Frozen Grated Cassava
1 ½ cups Glutinous Rice Flour
¼ cup Granulated Sugar
½ teaspoon Salt
1 ½ teaspoon Baking Powder
½ jar of Macapuno Strips (young coconut jam) – approx. 6 oz.
1 14oz. can Coconut Cream
½ can Condensed Milk (save the remaining half for topping)
2 Eggs
2 teaspoons Vanilla
If you notice from the list, I didn't have jackfruit. Sadly, I think we used the canned jackfruit in the pantry for something else and when it came time to making this I just didn't have enough energy to drive however many miles to the Asian market. So I decided to omit it this time.
Anyway, all you have to do next is mix all the ingredients above in a large bowl until they are well blended. Pour the mixture into a 9x13x2 inches pan that has been buttered and bake in a pre-heated to 350 degrees F oven for 45 minutes to an hour or until it looks about done. If you must, you can do the toothpick test and stick a toothpick in the center. If it pulls out clean, it's probably done.
Take that half can of condensed milk you have left and pour it over the cake, spreading it evenly on the surface. Stick the cake back in the oven for another five minutes just until the top gets caramelized. Then take it out and enjoy! I recommend waiting a few minutes for it to cool off. It hurts like heck when you burn your tongue!