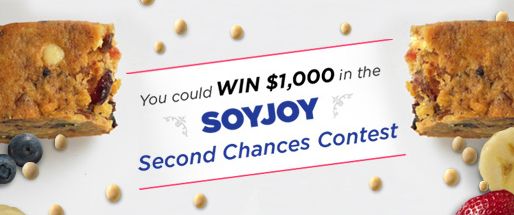 Do you believe in second chances? I do. I believe everyone needs a second or maybe a third or fourth chance, depending on the circumstances. After all, I have been known to do things that I later wished I hadn't done or could do over again. Nobody is perfect and to celebrate the spirit of second chances, SOYJOY is sponsoring an awesome contest.
If you have a story where maybe you didn't make a great first impression but manage to turn it around for a happy ending, you could win $1000 from the SOYJOY Second Chances Sweepstakes! All you have to do to enter is to tell your story where you took a second chance to turn your story to a good ending. You do this by visiting the SOYJOY Facebook page and upload your story in either a 30 second video or in 100 words. Then have your friends vote for you and maybe even ask them to enter as well! You have until October 3 to enter the contest.
If you're not familiar with SOYJOY, let me tell you a little bit about it. It's a nutrition bar that is made with "all-natural, minimally processed ingredients, like ground whole soybeans and real fruit." These bars have NO transfats, hydrogenated oils, artificial colors and flavors, preservatives and chemical additives. What they do have is a light and fruity taste that is not overly sweet nor is it overly dry like some of the 'good for you' nutritional bars. I always buy nutrition bars because my girls like them and they are convenient for them to take for lunch or snack. My daughter loved taking the SOYJOY samples that I received. It's a good thing that SOYJOY is available in most grocery stores. I found them in the nutrition bar aisle of our neighborhood store. Check them out next time you're in the store.
"I wrote this review while participating in a blog campaign by Mom Central on behalf of SOYJOY and received samples of their nutritional bars to facilitate my candid review. Mom Central also sent me a gift card to thank me for taking the time to participate."