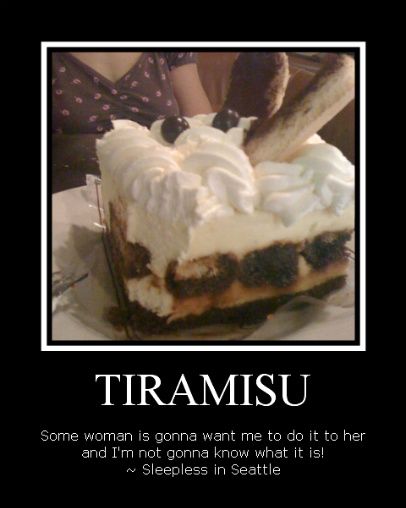 Some woman is gonna want me to do it to her and I'm not gonna know what it is!
~Sleepless in Seattle
You can find inspiration in places where you least expect them and I have come to trust in that form of serendipity. It has rarely failed me. Today was no exception. I haven't been cooking much, haven't been very inspired so I don't have a lot of new photos. I really had no idea what to enter for Food Quote when Arlene's photo popped up on my facebook feed this morning. So I didn't worry about it. Maybe I'll be a bit late again this week, I thought to myself. But then… again on Facebook, one friend posted something about the most memorable movie quotes. That was fun! I shared it on my wall too. Then two hours later my daughter posted this photo of a dessert we had a month or so ago, and the quote suddenly hit me! So there you go. TIRAMISU!
This week's entry to the Food Quote meme.