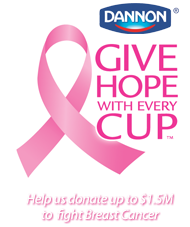 October is the National Breast Cancer Awareness Month to support the cause for finding a cure for this cancer. Every year, more than 290,000 women are diagnosed with breast cancer. It is the most common cancer among women in the United States and it is the second leading cause of cancer death in women. In 2010, according to the American Cancer Society's estimate, 39,840 women died from breast cancer. Although the number is lower than from previous years, that is still a staggering number.
To keep the number of deaths on a downward slide, Breast Cancer Awareness Month reminds us that the fight is far from over; to keep us aware, keep us educated and empower us. Many organizations, as you may have noticed, are supporting this cause and Dannon is one of them.
With every Dannon yogurt that you buy with the pink lid on it, there is a unique code printed under it. Enter that code at www.cupsofhope.com by November 30 and Dannon will donate 10 cents to the National Breast Cancer Foundation, Inc. ® (NBCF). The money raised will go to the NBCF, to provide women free mammograms and support breast cancer research nationwide.
Dannon pledges to donate at least $500,000 to the NBCF but they hope to increase that donation to $1.5 million this year.
Dannon and all the other participating companies are doing their part. Let's do our part by supporting the companies who are promoting Breast Cancer Awareness Month.
""I wrote this review while participating in a blog tour campaign by Mom Central on behalf of Dannon. In addition, I received a gift certificate and products to thank me for taking the time to participate.""