Welcome to another food giveaway from Cooked from the Heart!
I received the prize pack shown above to try out Betty Crocker´s® Boxed Instant Mashed Potatoes. Now you all know how we love our mashed potatoes and gravy in this house. I tend to be a purist when it comes to mashed potatoes though so I don't normally buy them boxed and labeled 'instant'. To me, it's just as easy to make your own from scratch but that's just my opinion. I know plenty of housewives who use the boxed mashed potatoes and they are none the worst for it. So hey, I'm game!
Besides, these are supposed to be made from 100% real potatoes and they really are easy to prepare. I don't know about tasting homemade though, but they taste pretty darn good! Hey look, if you eat the mashed potatoes and gravy from the colonel (and we do) then you won't notice the difference here. Actually, I would even go as far as to say that these Betty Crocker Mashed Potatoes are a step up better than those. The two boxes that I got were garlic flavored and butter flavored and I must say they know how to get me in the gullet. Just say 'Garlic' or 'Butter' and you got me.
So, do you want to try out Betty Crocker's Boxed Instant Mashed Potatoes? Here is a dowloadable coupon for $0.55 off one package of Betty Crocker Boxed Instant Mashed Potatoes. But if you'd rather get the prize package that I got above, then sign up for my giveaway below.

THIS GIVEAWAY IS NOW CLOSED – WINNER WILL BE ANNOUNCED AS SOON AS CONFIRMED
THE Betty Crocker´s® Boxed Instant Mashed Potatoes GIVEAWAY
The Prize: 2 boxes of Betty Crocker Boxed Instant Mashed Potatoes (one Roasted Garlic and one Homestyle Creamy Butter), a serving bowl, a trivet and a serving spoon.
My photo of the prize pack sucks so here's a better one to show you what you're going to get.
Here's how you can win this prize pack:
MAIN ENTRY: Just leave me a comment. Tell me my blog is wonderful or you can tell me where you heard about the giveaway.
ADDITIONAL ENTRIES – If you'd like more chances to win, just do any or all of the items below and leave a separate comment for each one that you do.
1. BLOG about this giveaway. A link as part of a list is fine. (worth 3 entries – leave comment 3 times with a link to your blog post)
2. TWEET this giveaway (you can tweet once a day – leave me a comment everytime you do). You can copy and paste the following text:
WIN the Betty Crocker Prize Pack at Cooked From the Heart http://bit.ly/czAe3H #giveaway
3. FOLLOW ME on Twitter
4. "LIKE" the Cooked From the Heart Facebook Page
5. FOLLOW Betty Crocker on Twitter
6. "LIKE" the Betty Crocker Facebook page
7. SHARE THIS – share this post as many times as you want (leave separate comment each time) on any of the social networking sites listed on the 'Share This' button at the end of this post.
END DATE: This giveaway will end on November 19, 2010 after which commenting will be closed. Winner will be announced soon after and notified by mail.
AND THE WINNER IS…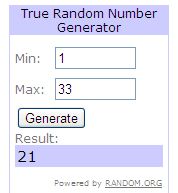 Comment #21 from Cheryl W!
Congratulations, Cheryl, and thank you to everyone who entered this giveaway. Another cool one coming up!
The products that I received, the giveaway prize pack and information were provided by Betty Crocker through MyBlogSpark. They will also fulfill your prize at the end of this giveaway.