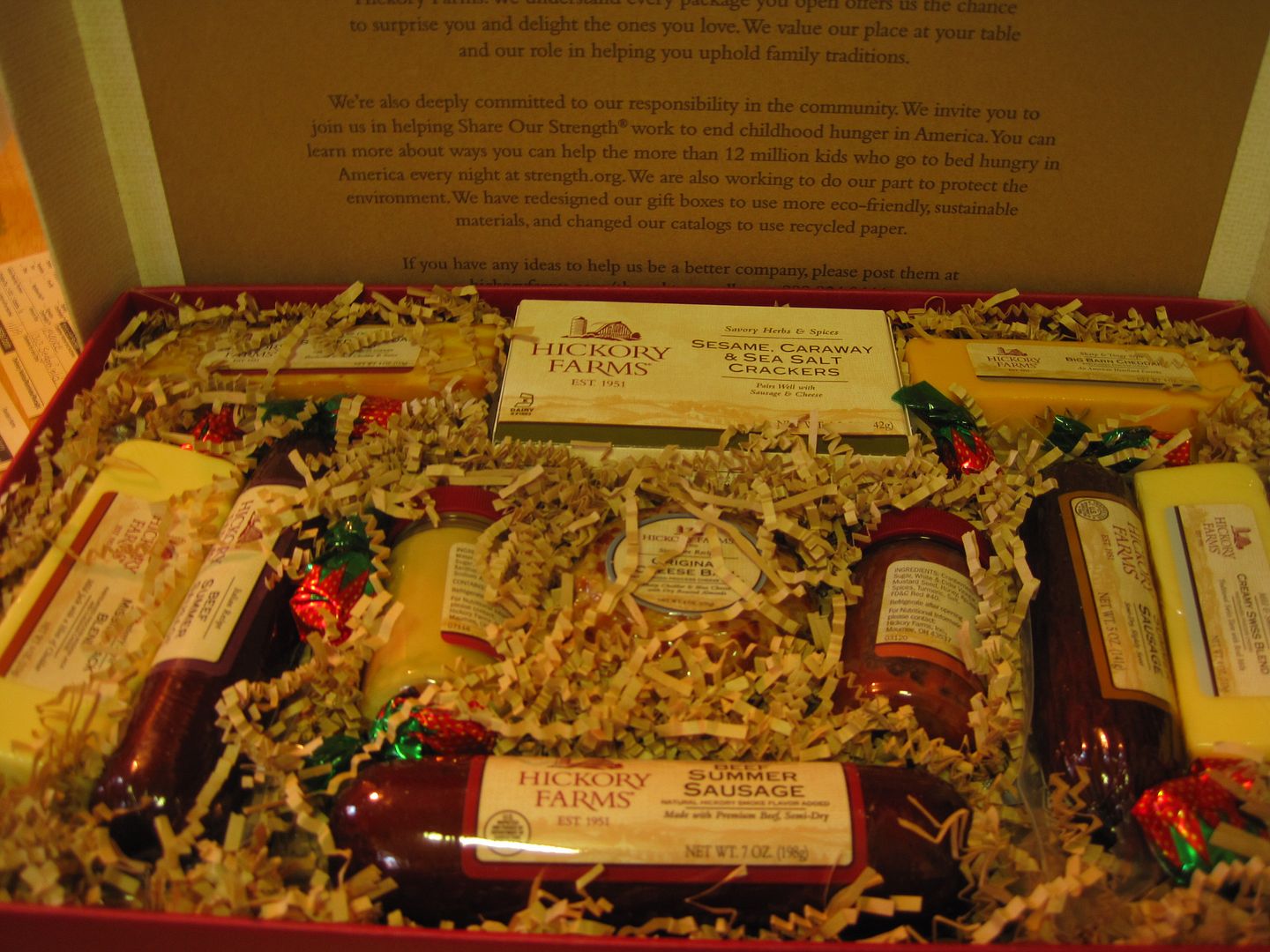 I received this Party Planner Gift Box for the Hickory Farms Blog Tour from Mom Central. It contains three varieties of summer sausage a variety of cheeses, crackers and sweet hot and cranberry flavored mustards. Just the perfect size for a sumptuous snack spread for a small party. I must confess, my girls immediately tore into this package since it arrived fortuitously around the time that they get home from school and they are usually ravenous.
The love Hickory Farms summer sausages! I actually buy them occasionally so they have something handy to snack on. So there was little chance that this box would sit around unopened for long.
We usually get at least one Hickory farms gift basket during the holidays and they are always a welcome treat. I'm sure you've already seen the Hickory Farms kiosks at the mall. Although some people may consider them as cliche' gift, keep in mind that there are still a great many of us who genuinely appreciate getting them. We usually savor our gift baskets all through the days between Christmas and New Year. Sometimes we've had them to snack on while waiting for the ball to drop on New Year's Eve.
When you make your gift purchase this year, keep in mind that for every Party Planner Gift Box sold, Hickory Farms will donate $5* to Share Our Strength's No Kid Hungry Campaign, a national nonprofit that is ending childhood hunger in America. Each of the Hickory Farms gift package comes beautifully package, you don't even have to gift wrap them!
Additionally, Hickory Farms provides free military shipping to military APO/FPO addresses on select products, allowing our troops across the globe to share in holiday traditions. Visit hickoryfarms.com to learn more about these two opportunities as well as the variety of gift boxes available!

"I wrote this review while participating in a blog tour by Mom Central Consulting on behalf of Hickory Farms and received a signature gift box from Hickory Farms to thank me for taking the time to participate."