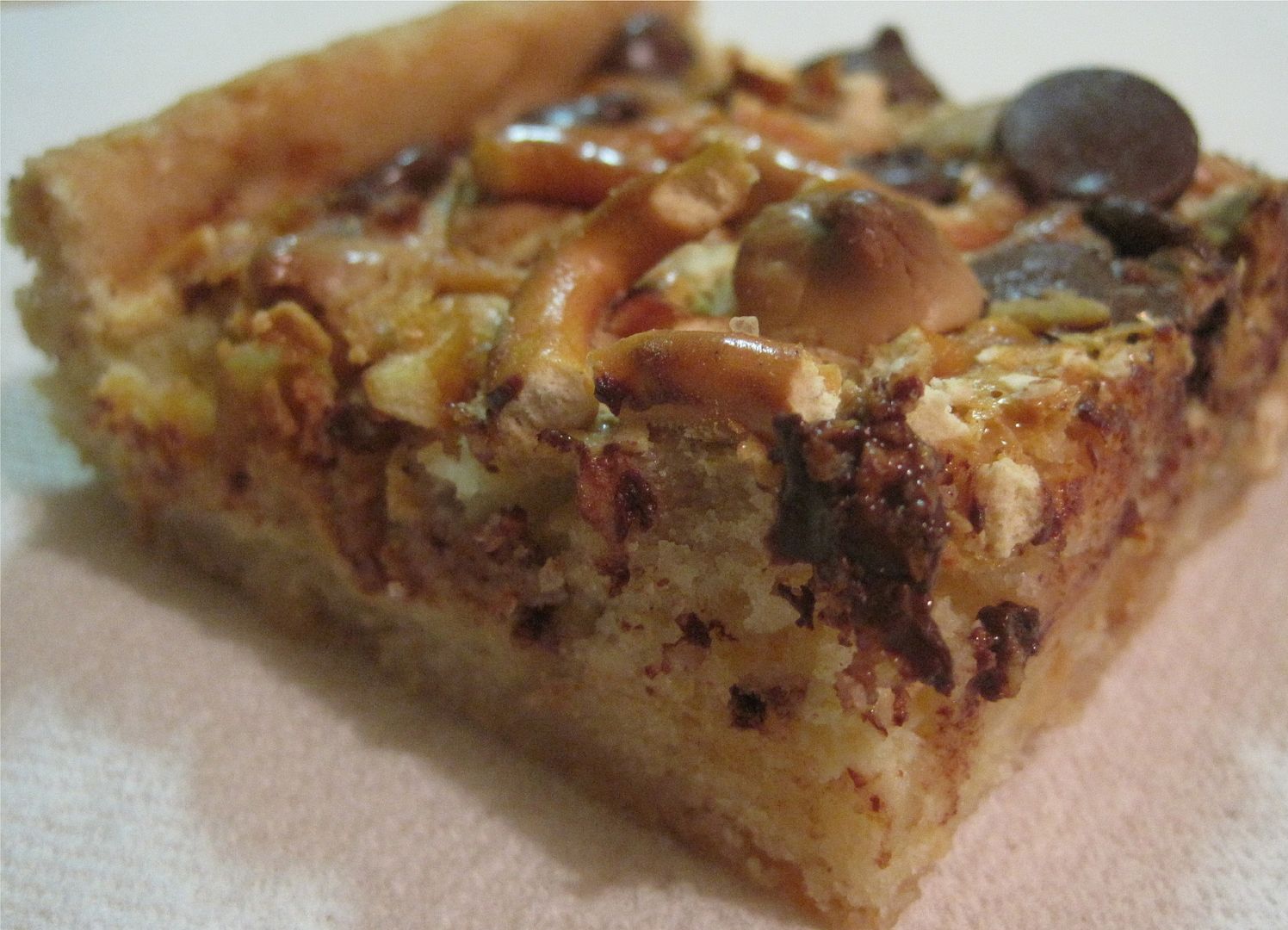 Here's the first baking attempt of the season and it's obvious we're a little out of practice. lol! No worries though. While my plan was to make this Cranberry Layer Bars from the Pillsbury website, I couldn't leave well enough alone as usual. First, the recipe called for a whole can of sweetened condensed milk. It seemed to me that it would make one hella sweet cookie bar what with the sugar cookie base and all the chocolate chips on top. I decided to cut it down to half a can and substitute a half bar of cream cheese for the rest.
Then when I started pressing the approximately 16 ounces of cookie dough into the pan, it seemed rather skimpy so I went ahead and used the whole 30 oz. package, which I got intending to use the extra as just plain ol' sugar cookies.
Then to make matters worse, I forgot to add the cranberries! Anyway, it was a happy accident because my girls liked this version and declared that they wouldn't have liked the cranberry version anyway. I had intended to use craisins instead of fresh cranberries and they had always been averse to anything resembling raisins. I'll use the craisins I bought in another recipe instead. So here's my version of the layer bar recipe.

INGREDIENTS
1 roll (30 oz) Pillsbury® refrigerated sugar cookies
½ (of 14 oz) can sweetened condensed milk
2 teaspoons grated orange peel/rind
2 medium eggs (or 1 large – I happened to have mediums on hand)
½ (of 8 oz) bar of cream cheese
1 cup white chocolate chips
1 cup semi-sweet chocolate chips
1 cup coarsely crushed pretzels
DIRECTIONS
Heat oven to 350°F. Lightly grease a 13×9-inch pan and line with wax paper or parchment paper. It will make taking the bars out of the pan easier when you use paper.
Break up cookie dough into pan. With floured fingers, press dough evenly in bottom of pan. Bake 18 to 20 minutes or until puffed and edges are golden brown.
In medium bowl, beat condensed milk, orange peel and egg until combined. Remove the partially baked crust from the oven and spread milk mixture evenly over crust; sprinkle evenly with chocolate chips and pretzels.
Bake for 25 to 30 minutes longer or until center is set. Cool 1 1/2 hours. Cut into 6 rows by 4 rows as suggested by the original recipe or into larger squared like I did. I only cut into 3 by 6.
When cutting, I suggest lifting the cooled cookie by the parchment paper and onto a cutting surface. I don't like cutting them in the pan because you can't cut is as neatly and because I don't like scarring the surface of my pans.
By the way, although we thought the pretzels seem like a weird addition at first, they turned out to be quite a surprising additional flavor what with the crunchiness and the slight saltiness that added a nice contrast to all the sweets.