It's been over a month since I revamped this blog yet I hadn't posted anything new. I have no excuse, unfortunately other than I just hadn't felt like it!
I have still been cooking and visiting blogs for inspiration. Just haven't been posting them.
So here's one recipe that I picked up from one of my favorite blogs, Kalyn's Kitchen. We eat a hella lot of pork at our house and it's nice to come up with a new way of cooking the same ol' meat.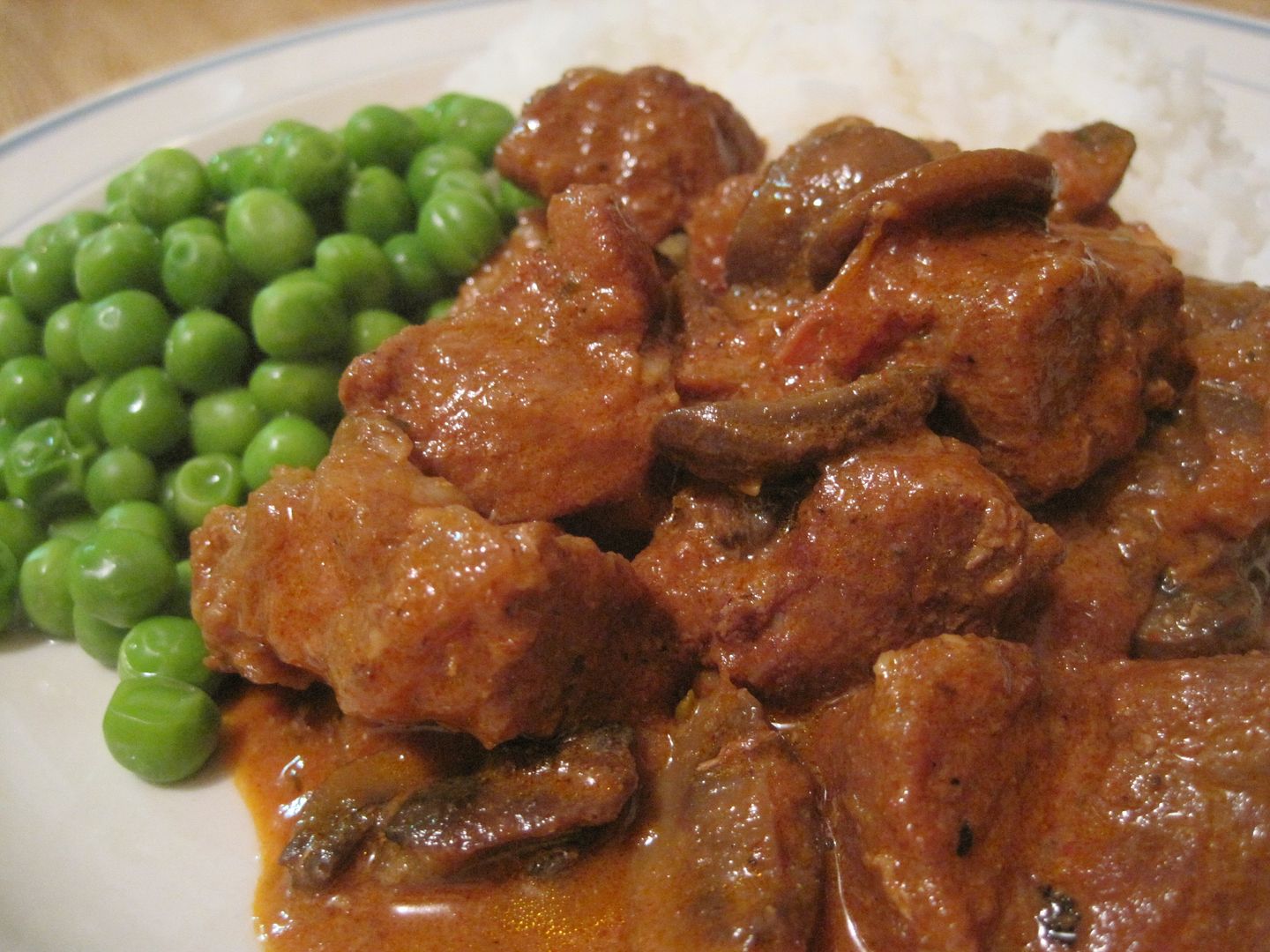 I followed Kalyn's recipe pretty closely but I tweaked it a bit to suit what I have in my pantry. If you'd like to see the original recipe, see Kalyn's Pork with Paprika, Mushrooms and Sour Cream.
Below is my adaptation of that recipe.

Kalyn's Pork with Paprika & Mushrooms
Prep time:
Cook time:
Total time:
A delicious pork stew adapted from Kalyn's Kitchen.
Ingredients
2-3 Lbs. Boston Pork roast, cut into one inch cubes
2 Tablespoons sweet paprika (Kalyn suggested using "Hungarian or Spanish paprika in a tin for best flavor" but I had the huge container or Paprika from Costco, so I used that instead of buying a new brand)
Salt and fresh ground Black Pepper for seasoning pork
2-4 Tablespoons olive oil
8-12 oz. crimini or white mushrooms, washed and cut into thick slices
1 Large Onion, finely chopped
2 Tablespoons finely minced garlic
1 more Tablespoon Paprika
2 Tablespoons fresh thyme
1 pound (about 4-6 tomatoes) fresh Roma tomatoes, diced
1-2 cups Chicken Stock
⅔ cup Sour Cream
Instructions
Get all your ingredients ready.
Cut meat into cubes, put into a large bowl and toss with sweet paprika, salt, and fresh ground black pepper.
Heat 2 tablespoon of olive oil in a heavy bottomed pot with a tight-fitting lid. Brown pork over medium-high heat, turning several times so all sides are nicely browned, about 5-6 minutes.
Remove pork to another dish and add 1-2 more tablespoons of olive oil to the pan, add sliced mushrooms and cook until nicely browned and all liquid has evaporated, about 5 minutes more.
Add chopped onion and cook until just starting to brown, about 3-5 minutes. Then add minced garlic, other 1 tablespoon paprika and thyme and cook about 1-2 minutes. Add petite diced tomatoes with juice and chicken stock, bring to a simmer, and cook about 10 minutes, or until the mixture is slightly thickened and flavors are well-blended.
After 10 minutes add the browned pork cubes back into the pan, cover and simmer about 40-60 minutes more, or until pork is tender. Add more broth if it looks like your stew is drying out too much. Turn off heat, stir in sour cream, and serve hot.
Notes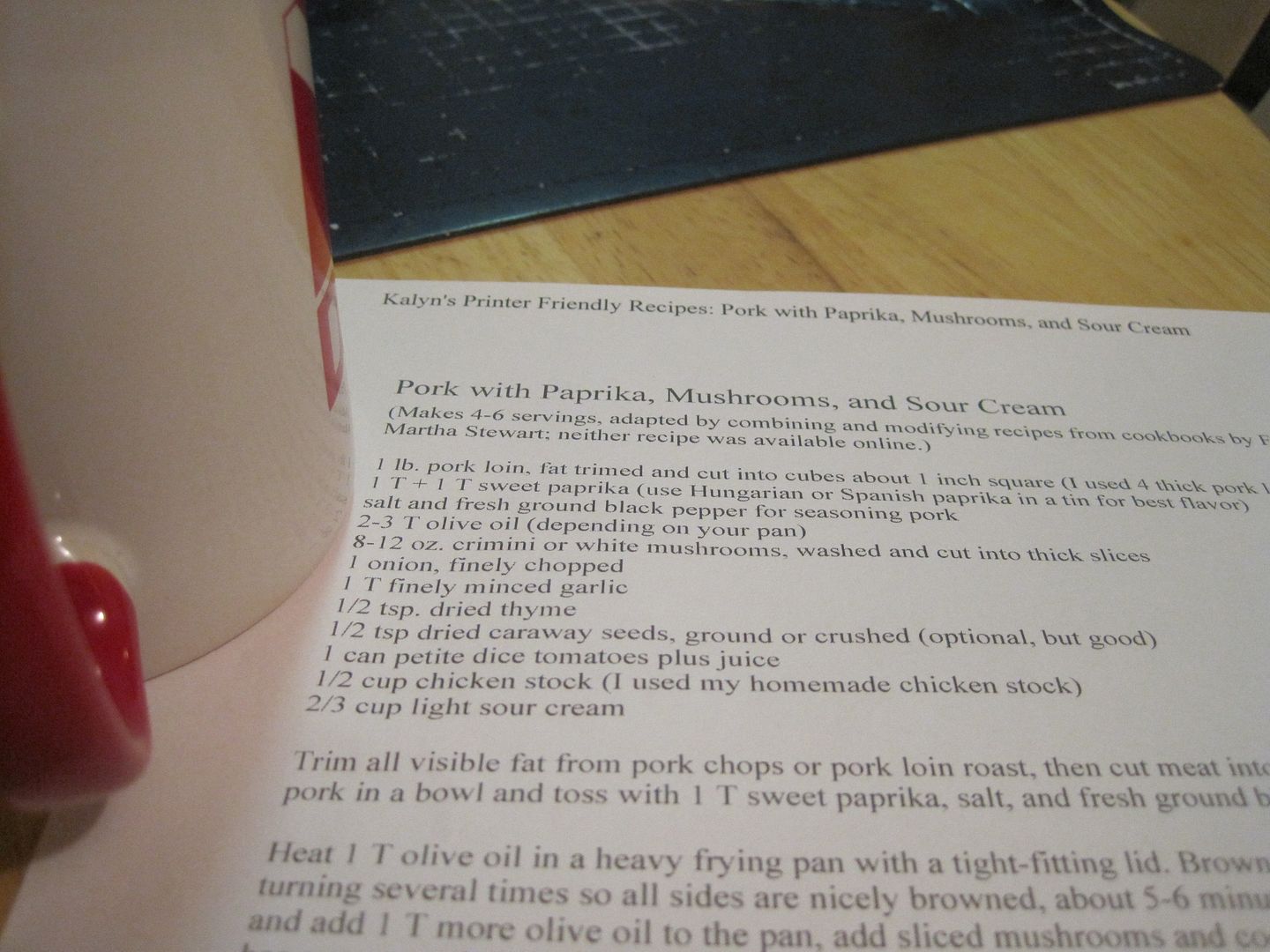 Some changes that I made from Kalyn's recipe: - I used pork butt, a fattier cut than the pork loins she used. This is just a matter of preference as I think the bit of fat in this cut adds more flavor to the dish. I'm also cooking for more people and a roast would be cheaper than chops. - I used fresh tomatoes just because I had some that needed to be used up. - I didn't have any carraway seeds so I omitted that but I will certainly try some with it when I restock my pantry - I adjusted the proportions of the other ingredients to accomodate the increased amount of meat used in this version