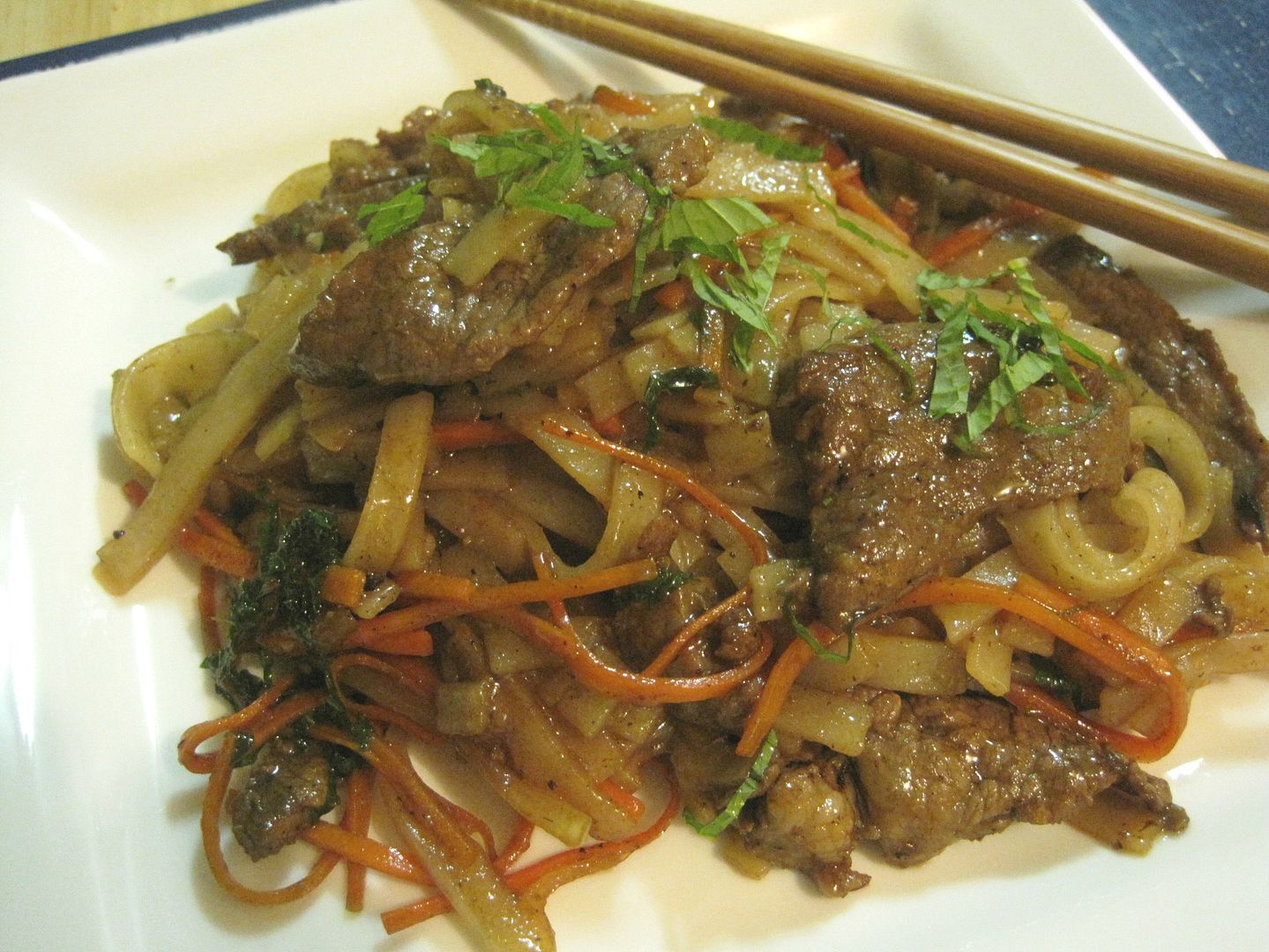 My husband just brought to my attention last week how lush the mint plants have gotten in the backyard and brought me a couple of leaves to smell. I haven't gotten that fresh aroma out of my system and I just had to come up with something to cook it with. This recipe came about based on what I had in my pantry and what I knew would appeal to both my meat eating husband and noodle loving daughter.
They both loved this dish! I did too. The mint was a refreshing addition and it brought back just the right hint of summer and freshness to this dish.

Rice Noodles with Beef & Mint
Prep time:
Cook time:
Total time:
Ingredients
1 lb. lean Beef, cut into thin strips
1 lb. lean Beef, cut into thin strips
¼ cup Soy Sauce
¼ cup Rice Wine Vinegar
2 Tablespoons Brown Sugar
1 teaspoon Salt
½ teaspoon Red Pepper Flakes
½ teaspoon Garlic Powder
2 Tablespoons Sesame Oil
2 Tbsp. Lemon or Lime juice
2 Tbsp. Soy
½ tsp. Red Pepper Flakes
1 Tbsp. Sugar
3 Tbsp. Fish Sauce
3 Tablespoons Oil
8 oz. Rice Noodles
3-4 sprigs of Mint, julliened
1 Carrot, julliened
½ large Onion, sliced thin
Instructions
Cut up the beef into thin strips and mix with all the marinade ingredients. Let it sit for at least 30 minutes or overnight in the refrigerator.
Place the rice noodles in a bowl of hot water to soften. It will become soft in about 20-30 minutes. Pour out the hot water so as not to overcook the noodles and make them soggy.
Mix the cooking sauce and set aside.
Heat up a wok or heavy bottomed skilled until it is scorching hot. Pour in a tablespoon of oil and when it is smoking, put half of the beef to sear. Quickly stirfry for a minute of two until the beef is cooked through. Remove the beef from the wok and repeat the process with the remaining half.
Heat up another tablespoon of oil and add the carrots and onions. Stirfry for a minute and add the noodles. Stir it around for a couple of minutes to warm through and get cooked a bit. It shouldn't require a long cooking time as the pre-soaking would have cooked it enough.
Add the beef mixture back in with the noodles and stir in half of the fresh mint and half of the cooking sauce. Reserve the rest for garnish.
Stir fry until everything is well blended and looking delicious. 2-3 minutes.
To serve, sprinkle more mint on top and the cooking sauce on the side for each person to adjust their seasoning.