October is Breast Cancer Awareness Month and I'm sure you've been seeing a lot of pink around. If you have and didn't know what it's for, then this is your notice. This is also your notice to go and have a mammogram done especially if you're over 40 like me. As much as it pains me, I have made October be the month to be squished. But that's OK. I want to be around as long as possible.
This year, 2011 Pink TogetherTM teamed up with General Mills in celebrating hope. PinkTogether.com is an online community of people who have been touched by breast cancer and share a passion for the cause. Here you can share messages of hope and others' personal journey. If you wish to share your personal story to encourage others and give them hope, you can do that here too.
When you visit PinkTogether.com, General Mills will donate $1 to the Komen organization for each Message of Hope that is sent to someone who has shared their story on PinkTogether.com (up to $25,000) during October. This is in addition to a $2 million donation General Mills is making to the Komen organization.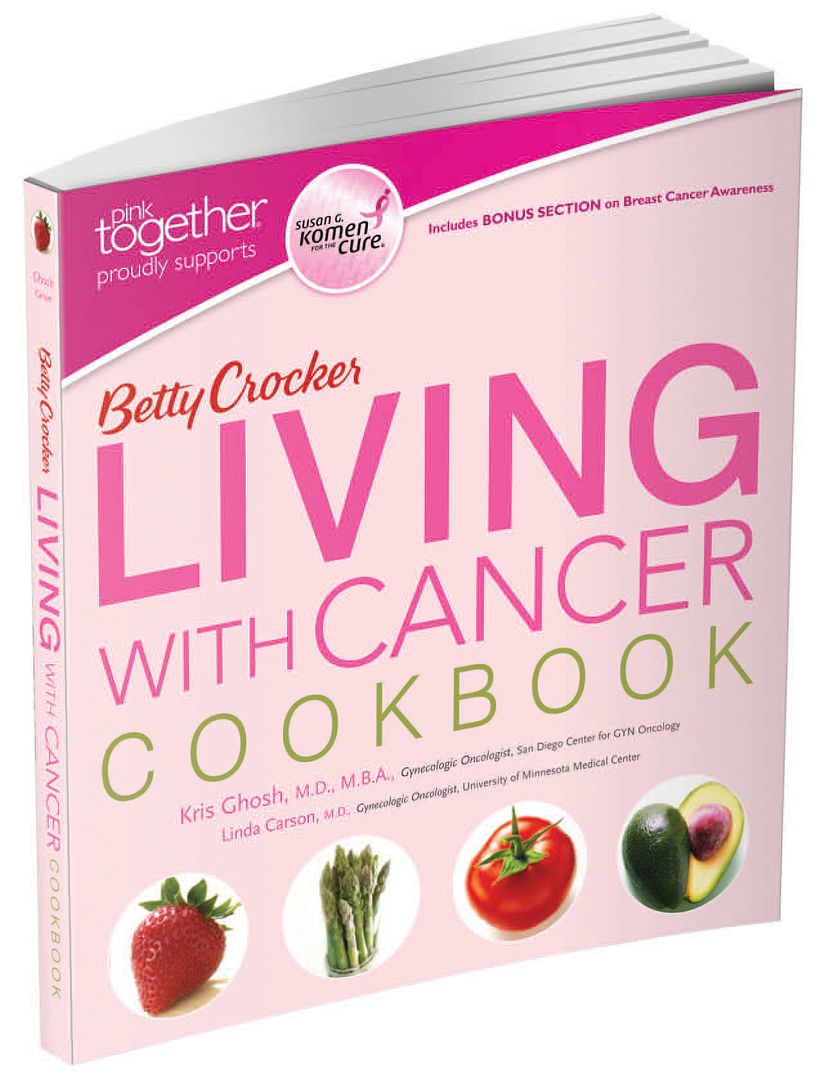 For the first time in its five-year history, at PinkTogether.com consumers can choose how $1 million of this donation will be shared between two important Komen programs: the Treatment and Assistance Program, which assists women in securing care they otherwise may not be able to afford, and Prevention Research, which helps unlock the keys to preventing breast cancer. Visit PinkTogether.com from September 19, 2011 through April 14, 2012 to make your choice. Results will be announced on Mother´s Day 2012 – Sunday, May 13.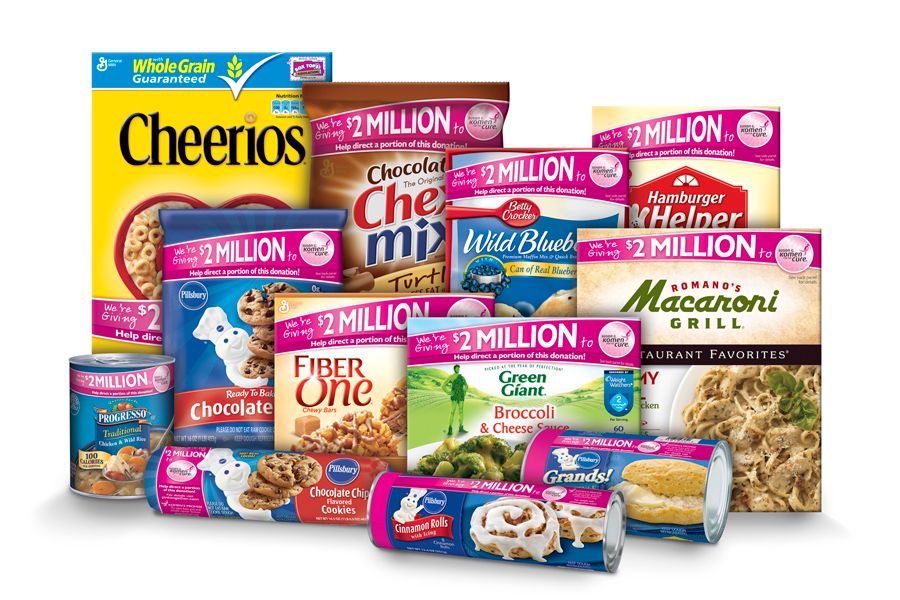 General Mills will also be turning the packaging of participating products pink in recognition of National Breast Cancer Awareness Month this October.
GIVEAWAY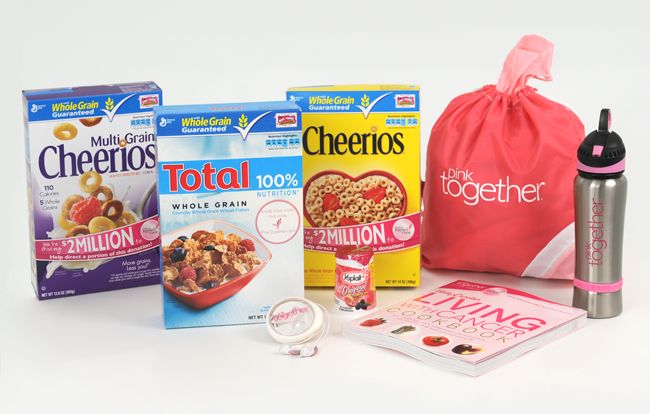 I received this very cool Pink Together prize pack which includes a really great cookbook, Living with Cancer, from Betty Crocker. There are some really great recipes in there in addition to useful information for anyone undergoing cancer therapy (or caring for someone who is). To end this month on a high note, you can win this exact same prize pack right here!
Prize:
A 16 oz. box of Total cereal
VIP coupons valid for one box of Cheerios and Multigrain Cheerios cereal and one cup of Yoplait yogurt
Betty Crocker Living with Cancer Cookbook Pink Together Edition, which includes a collection of more than 150 delicious recipes with complete nutrition information and a 32-page Pink Together Survivor Ambassador bonus section that shares inspirational personal stories of survival as well as recipes
Water bottle and removable silicone awareness bracelet
Drawstring sport backpack
Rhinestone ear buds
MAIN ENTRY: LEAVE A COMMENT – Tell me you visited and liked the PinkTogether Facebook page
OPTIONAL/ADDITIONAL ENTRIES – If you'd like more chances to win, just do any or all of the items below and leave a separate comment for each one that you do.
1. BLOG about this giveaway. A link as part of a list is fine. (worth 3 entries – leave comment 3 times with a link to your blog post)
2. TWEET this giveaway (you can tweet once a day – leave me a comment every time you do). You can copy and paste the following text:
Enter the 2011 Pink Together GIVEAWAY! http://wp.me/pkVRn-nG #giveaway @jmom #MyBlogSpark
3. FOLLOW ME on Twitter @jmom
4. "LIKE" the Cooked From the Heart Facebook Page
5. SHARE THIS – share this post or another non-giveaway post as many times as you want (leave separate comment each time) on any of the social networking sites listed on the 'Share This' button at the end of this post.
END DATE: This giveaway will end on October 31, 2011 (midnight EST) after which commenting will be closed. Winner will be announced soon after and notified by email. If picked, you will have 48-hours to reply with your mailing address or another winner will be chosen.
THIS GIVEAWAY IS NOW CLOSED. WINNER WILL BE ANNOUNCED AS SOON AS THEY HAVE CONFIRMED. THANK YOU FOR ENTERING THE GIVEAWAY!
The winner for thie giveaway was comment #2 from Jessie! Thanks again to all who entered the giveaway!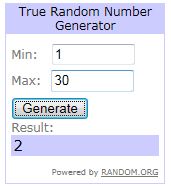 Disclosure: The Pink Together prize pack, information and coupons have been provided free of charge by General Mills through MyBlogSpark.