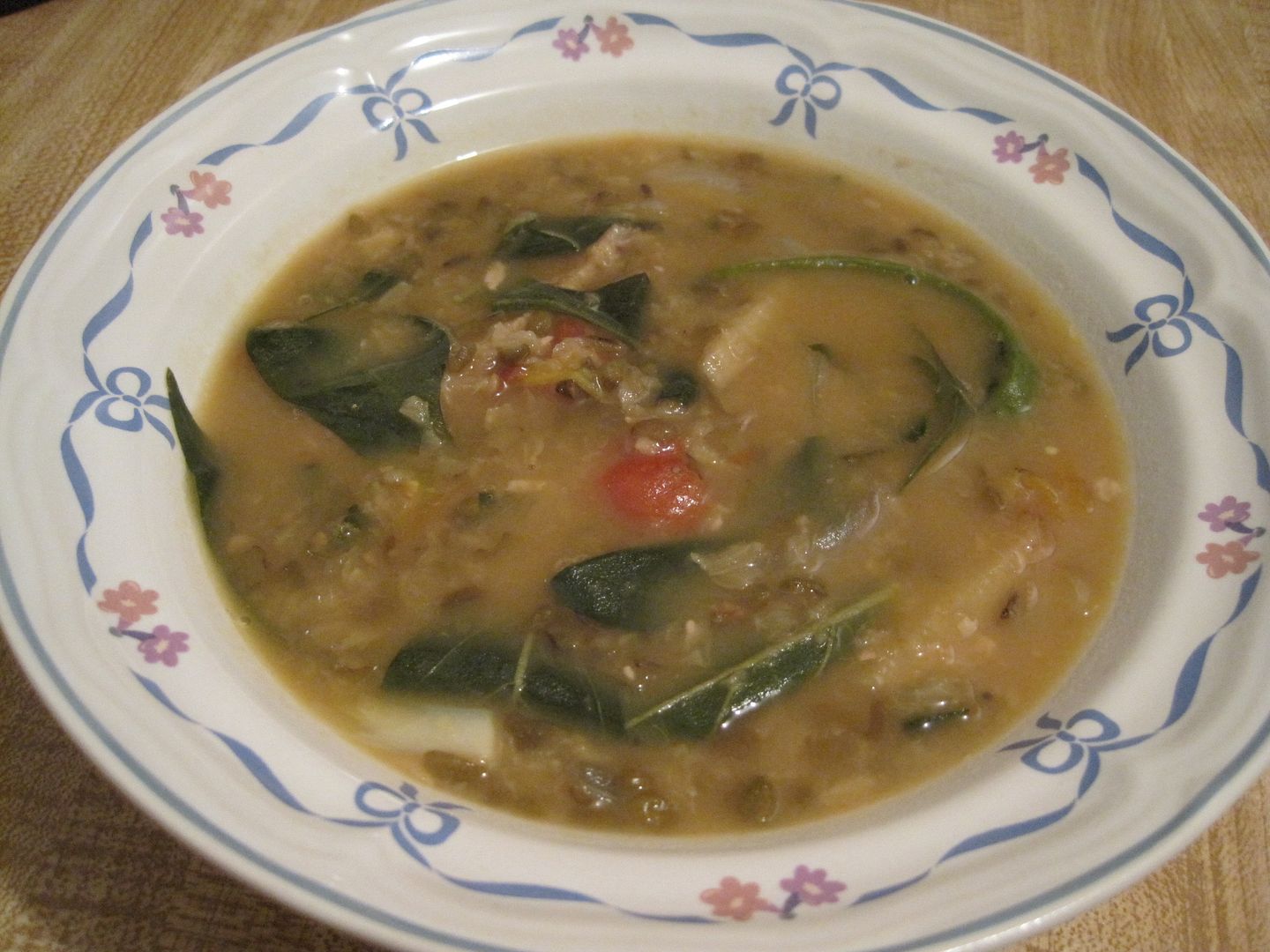 I am surprised how many people do not realize that the leaves of most pepper plants are also edible. I had mentioned to someone that I was having this soup with pepper leaves and they were genuinely surprised. Well, they are quite good, actually, and very mild sort of green unlike what you might expect it being the producer of such fiery fruits.
Well I had forgotten about these poor pepper leaves and I just recently found them in the depths of my freezer. They are several months old, from last summer, or even spring, I think; but they were still surprisingly ok in this soup! No freezer burn taste at all! So all's well that ends well.
When I made the first version posted on this blog, I used whole mung beans for this version, I used hulled and cracked beans. You can see the difference in the texture and thickness of the soup. I think I like this version better which is why I am reposting this recipe. I would also normally just give you the link to the old recipe, but since I am now also using the EasyRecipe plugin to conform to the new microformat for recipes, I might as well re-post the recipe here again.

Mung Beans with Pepper Leaves Soup
Prep time:
Cook time:
Total time:
This is a Filipino recipe that could be a soup or a main dish.
Ingredients
1 cup dried mung beans or mungo beans
1 Tablespoon oil
4-6 cups chicken broth or water
3 cloves garlic, chopped
1 small onion, sliced
1 Tablespoon fresh Ginger, chopped
1 cup tomatoes, chopped
1 pork chop, cut into small cubes
Pepper leaves (or Bittermelon leaves)
Fish Sauce, to taste
Instructions
First wash the mung beans as you would any dried beans and remove any beans that float and anything else that floats up. Drain and pour into double the amount of boiling water. This means for every portion of beans, put twice as much water to boil. In this case, since I am only cooking a cup of beans, I boiled two cups of water and dropped in the beans. Let boil for a few minutes until the beans are soft and some of the water has evaporated. Turn the heat down to low and let the beans simmer until almost all the water has evaporated and it is well cooked. If it is still hard, just add a bit more water and cook longer. (It's like cooking rice)
In the meantime, while the beans are cooking, prep the rest of the ingredients.
When all is in place, heat up about a tablespoon of oil in a pot and saute' the garlic, ginger and onions until fragrant.
Add the pork and tomatoes and saute' a little longer, until it starts to dry up and sizzle again.
Add a tablespoon of fish sauce, stir in the cooked mung beans, and add four cups of broth or water.
Bring to a boil and turn the heat down to simmer for about twenty minutes for the flavors to infuse.
When the soup is almost ready, taste and adjust the seasoning. Add the pepper/bittermelon leaves and let it cook for another five minutes or so, just until the leaves wilt. Turn off the heat, and serve.
Notes
This will probably serve only two. I made a small batch since I am the only one who likes mung bean soup in our house. Especially so when it has bitter melon leaves, which is what makes this dish for me. Normally, shrimps is also added to this recipe as in the older version but this time, I opted to do without the shrimps.