I do love to cook, and I do love to try out new things. Lately though, it's been a stretch to accomplish either of those things. I guess you can tell from the frequency of my food posts.
Take for instance, chicken. I have been having such a love/hate relationship with chicken especially as some people in my house think that chicken should almost always be fried. Well I couldn't stand to fry another damned chicken and I still have to feed the one who loves any kind of pasta.
Call it frustration or whatever, but this came about on a weeknight while trying to feed the meat eater and the pasta eater without having to cook two different things. But on this night, we were all pleasantly surprised to have gotten something that we all wanted and were happy about. First, the meat eater actually enjoyed this non-fried chicken and declared it to be quite tasty. The pasta eater loved the spaghetti with the 'chicken sauce' as she called it, and I…. I finally tried something new and I was not bored with it. It truly was good!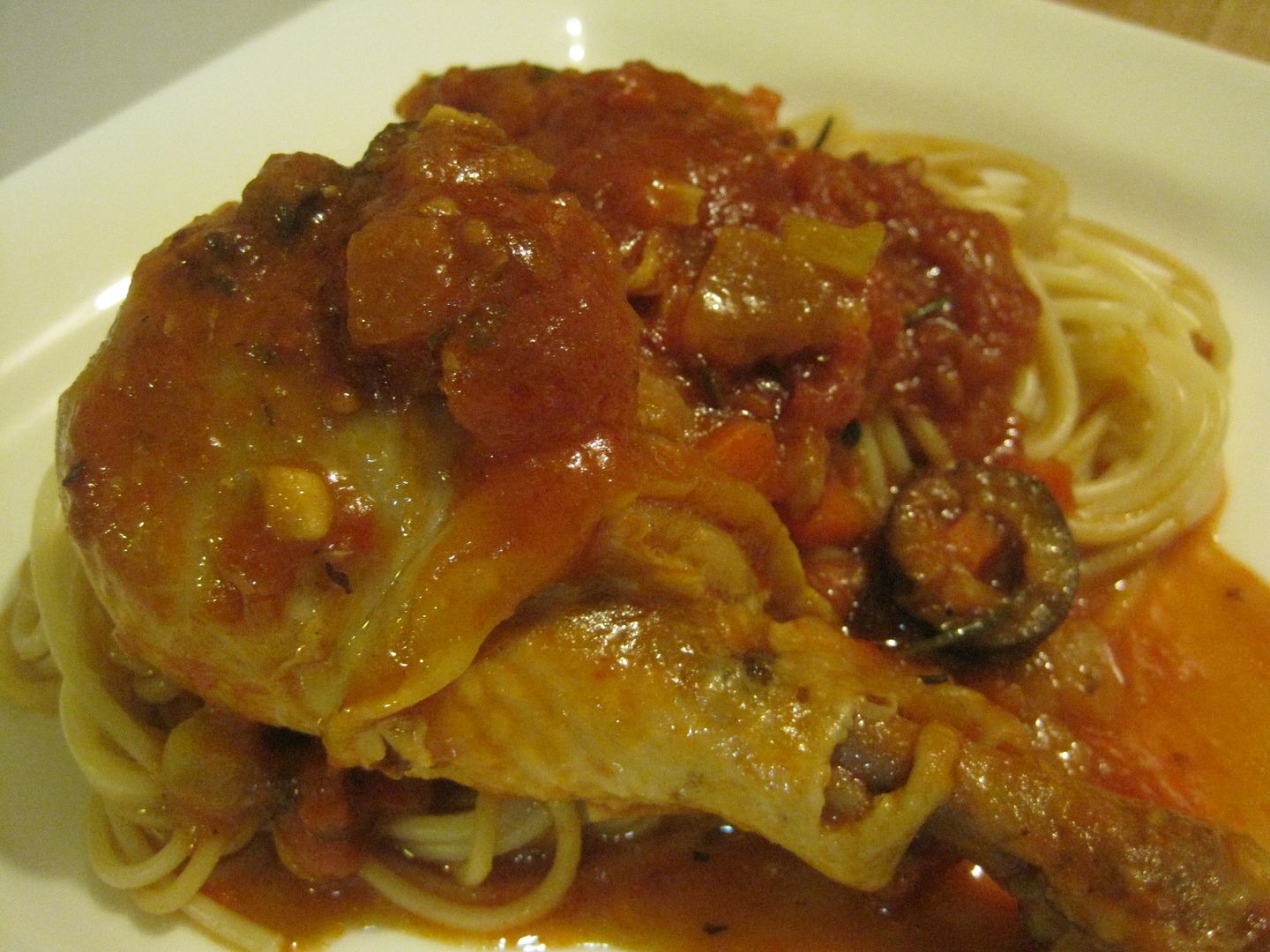 Chicken in Puttanesca Sauce
Prep time:
Cook time:
Total time:
Ingredients
4 Tbsp Olive Oil
6 chicken legs
1 whole head of garlic, peeled & chopped
1 large Onion, diced
1 Carrot, peeled & diced
1 Celery stalk, diced
½ cup Black Olives
28.2 oz can Cherry Tomatoes
1 sprig Rosemary
5 sprigs Thyme
1½ cup Chicken Broth
2 Tablespoons Tomato Paste
½ teaspoon Red Pepper Flakes
Kosher Salt to taste
Instructions
In a heavy bottomed pan, heat Olive Oil and add Chicken Legs. Lightly brown.
Add carrots, celery and onions. Cook for a few minutes until they start to wilt.
Add garlic, rosemary & thyme. Cook for another 5 minutes or so.
Add the pepper flakes, can of tomatoes, olives & broth. Stir.
Cover and let it come to a boil.
Lower heat and simmer for 30-45 minutes until the chicken is tender and sauce has thickened.
Taste and adjust seasoning. Add salt if you have to.
Notes
I found this sauce flavorful enough that I didn't have to add salt. So taste first before salting. Don't forget, the olives are salty. Pick out and discard the rosemary and thyme sprigs before serving.