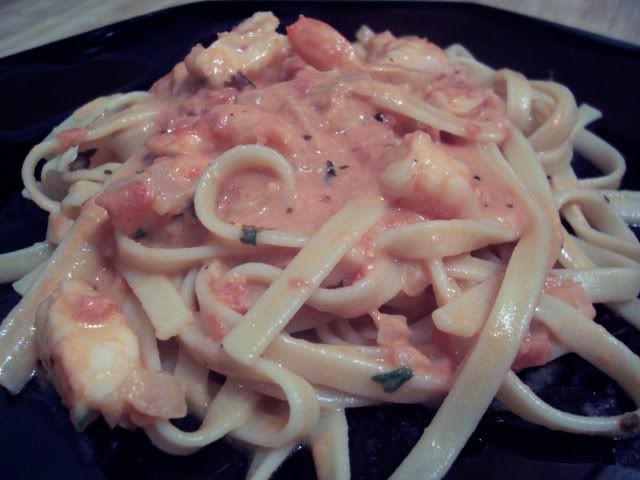 This is a creamy marinara sauce with shrimps, otherwise known as the pink sauce at my house. You can make it from scratch if you like, there's plenty of recipes out there to try. However, this is a quick go to meal for us on weeknights when you're just too busy or too tired to cook but don't want to go out to eat.
If you make your own marinara sauce and happen to have some saved up, that would be perfect for this pasta dish. If you don't, then the bottled variety would work just as well here too and that's exactly what I did with this recipe. I used the bottled marinara sauce that I keep in the pantry for occasions like this.
If you're a regular reader, you'll know that I have a daughter who just won't eat any kind of seafood so needless to say, her portion of this meal was sans shrimps and just pink sauce.

Creamy Marinara with Shrimps
Prep time:
Cook time:
Total time:
Fettucini pasta with shrimps in a creamy marinara sauce.
Ingredients
Olive Oil
1 pound Shrimps, shelled, deveined and cut in half
3 cloves Garlic, minced
1 Onion, diced
1 Tablespoon Dried Oregano or fresh Parsley
1 (24 oz) jar of Marinara sauce
½ cup Parmesan Cheese, grated
1 cup Heavy Cream
Salt & Red Pepper Flakes
1 lb. dried Pasta (type of pasta, your choice), cooked
Instructions
Cook the pasta in boiling water as directed or for about 8 minutes.
In the meantime, heat some olive oil (about 2 tablespoons) in a pan and add the garlic and onions. Saute' for several minutes until fragrant and onions are translucent.
Add the dried oregano. (if you're using fresh herbs, reserve some to sprinkle over the dish after it's cooked)
Add the Marinara sauce. Rinse the jar with about a fourth of a cup of water and add into the pan.
Stir and let the sauce cook for about 5 minutes. Add some salt and pepper if needed.
Add the heavy cream and parmesan cheese, stir to blend.
Drain cooked pasta from the water and add to the sauce, stir and cook for a minute or two just for the pasta to absorb some sauce.
(See NOTES below for instructions regarding shrimps)
Serve.
Notes
Normally, I would use fresh Italian Parsley and/or Basil for this dish, but I didn't have any so I used dried Oregano instead. Since my daughter doesn't eat seafood, the instructions above is only to cook the creamy marinara sauce. I cooked the shrimps separately by sauteeing them in butter and garlic, then adding it to the sauce after I had taken some sauce out for my daughter. If you don't have to have a non-seafood sauce, go ahead and saute' the shrimps with the onions and garlic.
Other shrimp with creamy tomato dishes you might want to check out:
Cappelini with Shrimp and Creamy Tomato Sauce from La Kocinera
Penne a la Betsy from the Pioneer Woman
Linguini with Shrimp and Tomato Cream Sauce from Eat, Live, Run