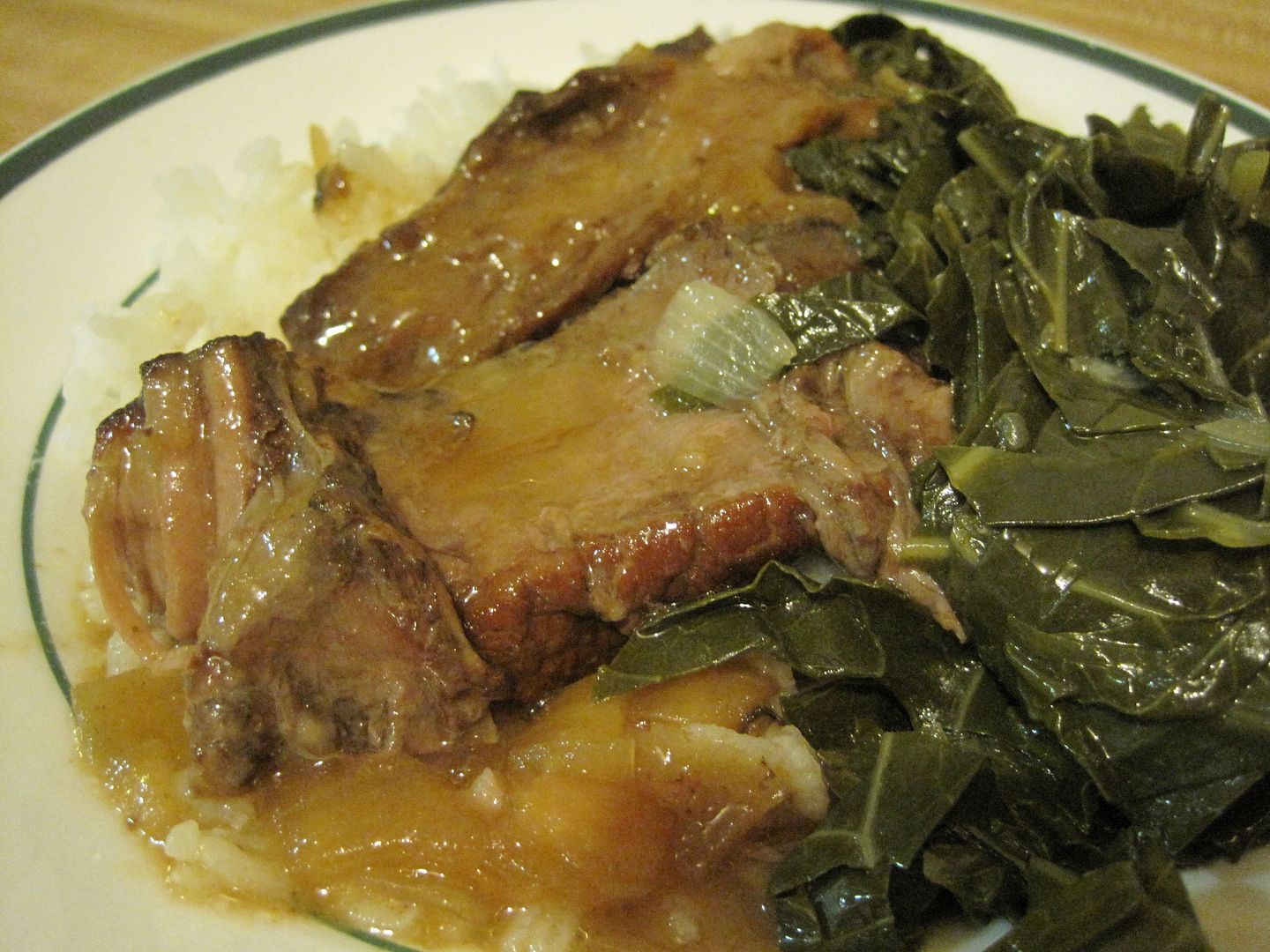 This is one of my daughter's favorite dinners. Not just the roast beef, but in combination with collard greens and rice. I have tried different variations with the roast such as adding carrots and potatoes, have tried it with leaner cuts other than chuck, tried it with herbs and spices, and even tried it with a thicker gravy thinking it would appeal to them. But no, after trying it once, they ask me to go back to  this tried and true favorite of theirs, chuck roast slowly braised in the oven with just the simplest of ingredients and only slightly thickened with cornstarch.
I have posted this roast beef recipe before, during the early days of this blog but it's time to update this family favorite and give it a post of its own rather than as a part of a meal like that old post.

A simple version of the classic roast beef recipe that you can build on or keep as is.
Ingredients
1 2-3 lb. Chuck Roast Beef
1 Onion, chopped
4 cloves of Garlic, chopped
2 bay leaves
3 cups of chicken broth (or water)
Salt & Pepper to taste
2 teaspoons Cornstarch dissolved in ¼ cup water (to thicken)
Instructions
Sear both sides of the beef under the broiler (or in a skillet) until lightly browned.
Transfer to a baking or roasting dish and add the chopped onion, garlic, bay leaves, and salt and pepper.
Pour the 3 cups of chicken broth or water, cover with foil, and bake in a 350 degree oven for 2-4 hours, depending on the thickness of the meat and tenderness.
About 30 minutes before you plan on taking the roast out, dissolve the cornstarch in a bit of water and add to the cooking liquid left in the pan. This will thicken it up, and you have instant gravy.
Notes
Most roasts will probably cook in two hours, but if you like it fork tender like we do, leave it longer. Just make sure the liquid doesn't dry out. If it looks like the liquid is getting low, just add more. This pot roast is also great for the slow cooker. While my family likes this served with rice and greens, I think it's also perfect with mashed potatoes.
Other pot roast recipes you might like:
Balsamic & Onion Pot Roast in a Crockpot from Kalyn's Kitchen
New England Pot Roast from Can You Stay for Dinner?
For a Filipino twist, try Oriental Pot Roast from Casa Veneracion.