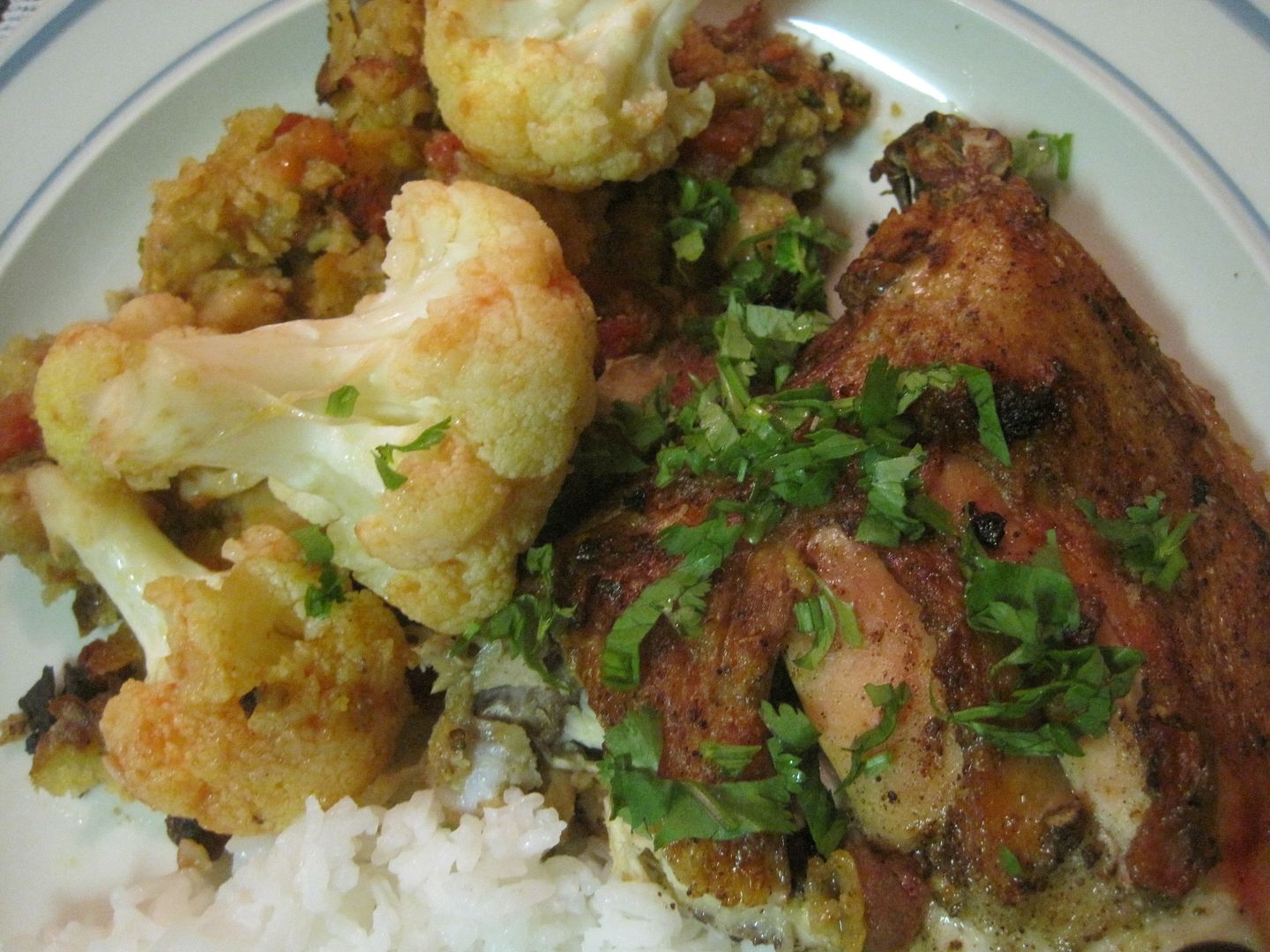 Some days, I feel like Pinterest determines what we're going to eat. Do you have days like that? I love using Pinterest for keeping up with recipes that I would like to try. I used to have to print out recipes that interest me and I would end up with piles of paper in my kitchen of recipes that need to be filed or never to be seen again. Pinterest is a much better system. When I need inspiration, I just look at my Pinterest boards and I always find something that kick starts our meals.
That is how I found the recipe for these Chicken Chilaquiles. I had some chicken leg quarters that I didn't know what to do with and I was tired of fried chicken, curry and adobo which are the usual favorites in our house. I wanted something new, but I also wanted something simple and easy. You know me. I should have named this blog the lazy cook 🙂
Anyway, this turned out quite well even though I got some skeptical looks from the family when I started crushing corn tortillas and told them it's for dinner.
But, just like in any dish, the proof is in the eatin' right? Well this pan got eaten up rather quickly with requests to add this recipe to our usual line up.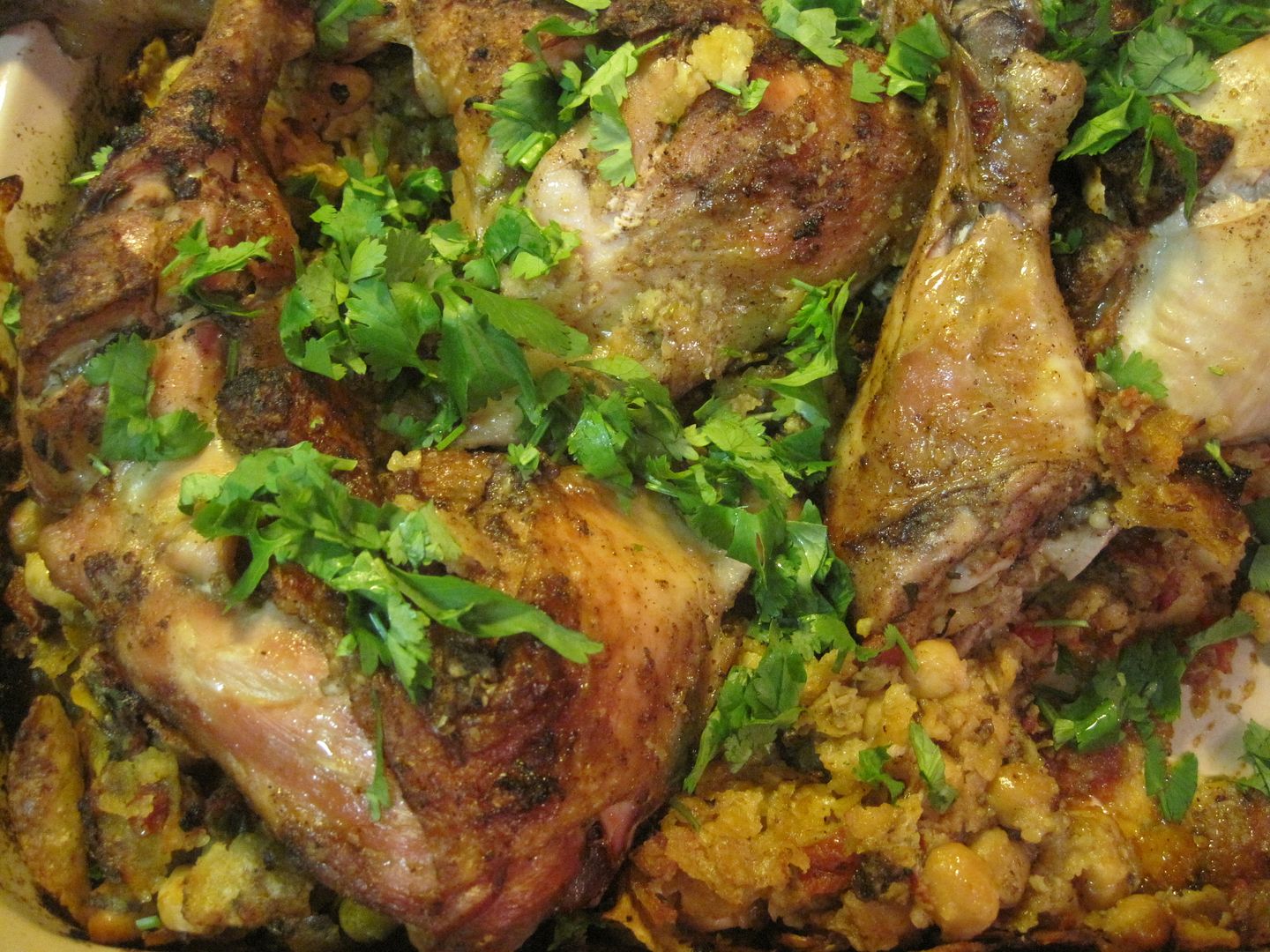 Chicken Chilaquiles
Prep time:
Cook time:
Total time:
Ingredients
2 garlic cloves, smashed
Kosher salt
1½ teaspoons ground cumin
1½ teaspoons chile powder
2 tablespoons extra-virgin olive oil
One 28-ounce can diced tomatoes, drained well
1 cup canned hominy, drained
¼ cup sliced pickled jalapeños
6 cups lightly crushed thick corn tortilla chips (6 ounces)
4 whole chicken legs (about 12 ounces each)
Chopped cilantro and sour cream, for serving
Instructions
Preheat the oven to 450°. On a work surface, mash the garlic cloves to a paste with a pinch of salt. Transfer the garlic paste to a small bowl and stir in the ground cumin, chile powder and 1 tablespoon of the olive oil.
In a 9-by-13-inch glass or ceramic baking dish, toss the drained diced tomatoes with the hominy, jalapeños, half of the spice paste and the remaining 1 tablespoon of olive oil. Gently mix in the crushed tortilla chips.
On a work surface, cut halfway through the joint between the thigh and drumstick on the underside of each chicken leg. Score the top of each leg 3 or 4 times, cutting to the bone. Rub the remaining spice paste over and into the chicken and arrange skin side up in the baking dish. Roast in the center of the oven for about 30 minutes, until the chicken is cooked through.
Leave the chicken in the oven and turn on the broiler. Broil for about 3 minutes, just until the chicken skin is golden and crispy. Transfer the chicken to a large plate and return the baking dish to the oven. Broil for about 3 minutes, until the tortilla chips are lightly browned. Return the chicken to the baking dish, sprinkle with cilantro and serve with sour cream.
NOTES:
Instead of using a work surface to smash the garlic and spices, I used my mortar which I think did a better and neater job of keeping the paste together. Also, I love garlic, so I ended up adding 4 cloves instead of just two. Like I always say, adjust recipes to fit your taste. Use recipes only as a reference. That's how I do it 🙂

The last instruction on browning, I only did the first step of broiling the chicken until they are nicely browned. I didn't bother with crisping up the tortilla chips. I kind of like them softened like a corn tortilla. But if you like the crunch, please don't omit that last step.
In addition to cilantro and sour cream, my daughters also added sliced avocados, making it even more yummy!
To round out the meal, we served this with pan roasted cauliflowers which I could have probably cooked and roasted in the same pan, making this a one pot meal. Next time, I'll remember to do that.